Updated Jun 12, 2018 -

World
Trump and Kim wrap up summit with "historic" document
Following their day of meetings, President Trump and North Korean leader Kim Jong-un signed a document that Trump described as "very comprehensive," and Kim called "historic."
The details: At first, the leaders did not disclose what the document entailed, but a photo later revealed that it declares the North Korean regime will work toward the "complete denuclearization of the Korean peninsula" and commit to a "lasting and stable peace." In return, Trump vowed to provide unspecified "security guarantees" to North Korea.
"The letter that we're signing will be very comprehensive, and I think both sides will be happy with this ... we have developed a very special bond. People are going to be very impressed and very happy."
— President Trump
Live updates...
...In reverse chronological order
All times listed are local to Singapore, which is 12 hours ahead of the U.S. East Coast.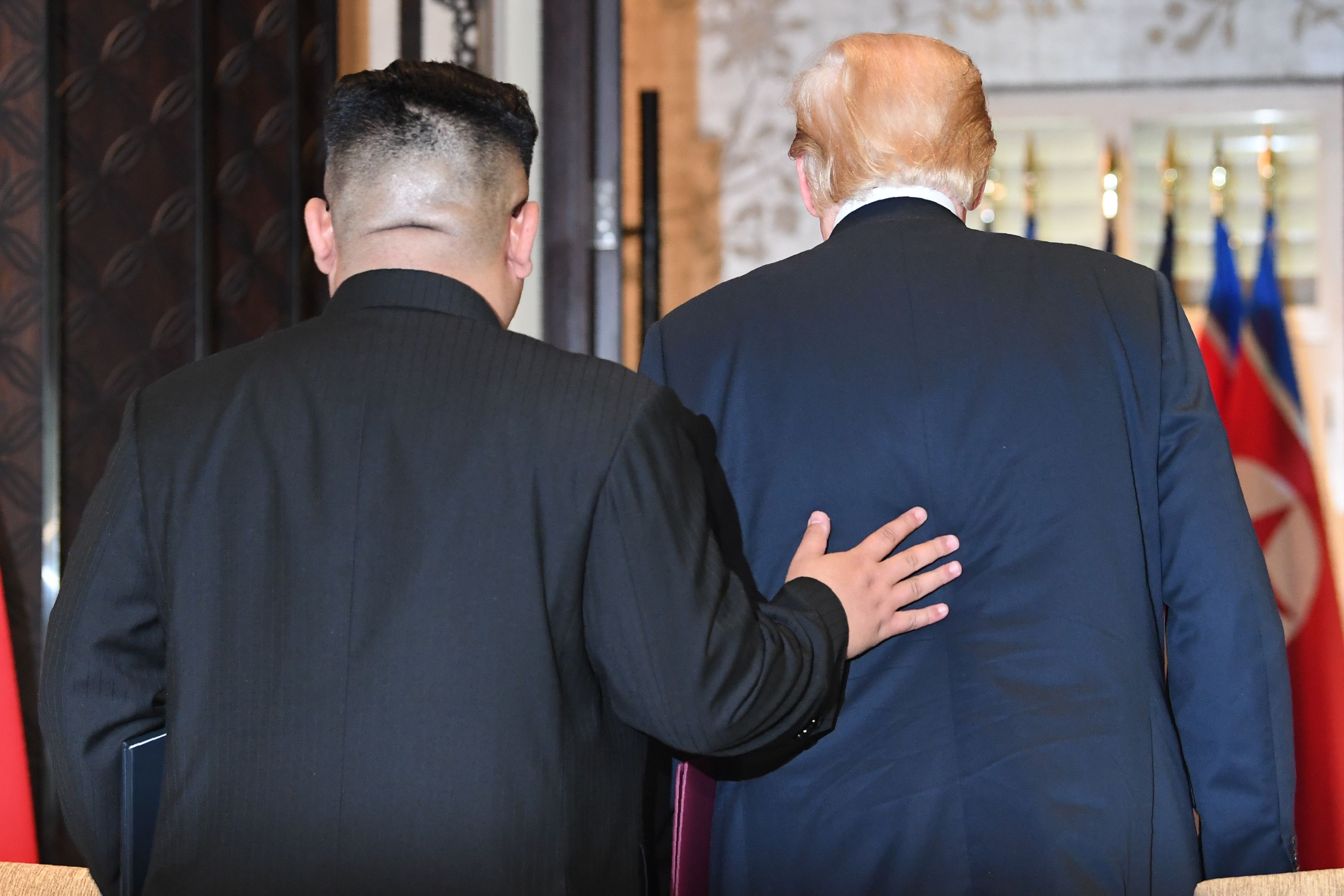 [1:40pm] Trump and Kim sign a "historic" document.

Kim: "Today we had a historic meeting and decided to leave the past behind and to sign the historic document. The world will see a change ... I'd like to express my gratitude to President Trump for making this meeting happen."
Trump later says he has learned that Kim is "a very talented man. I've also learned that he loves his country very much." Asked about denuclearization, he says they'll be "starting that process very quickly."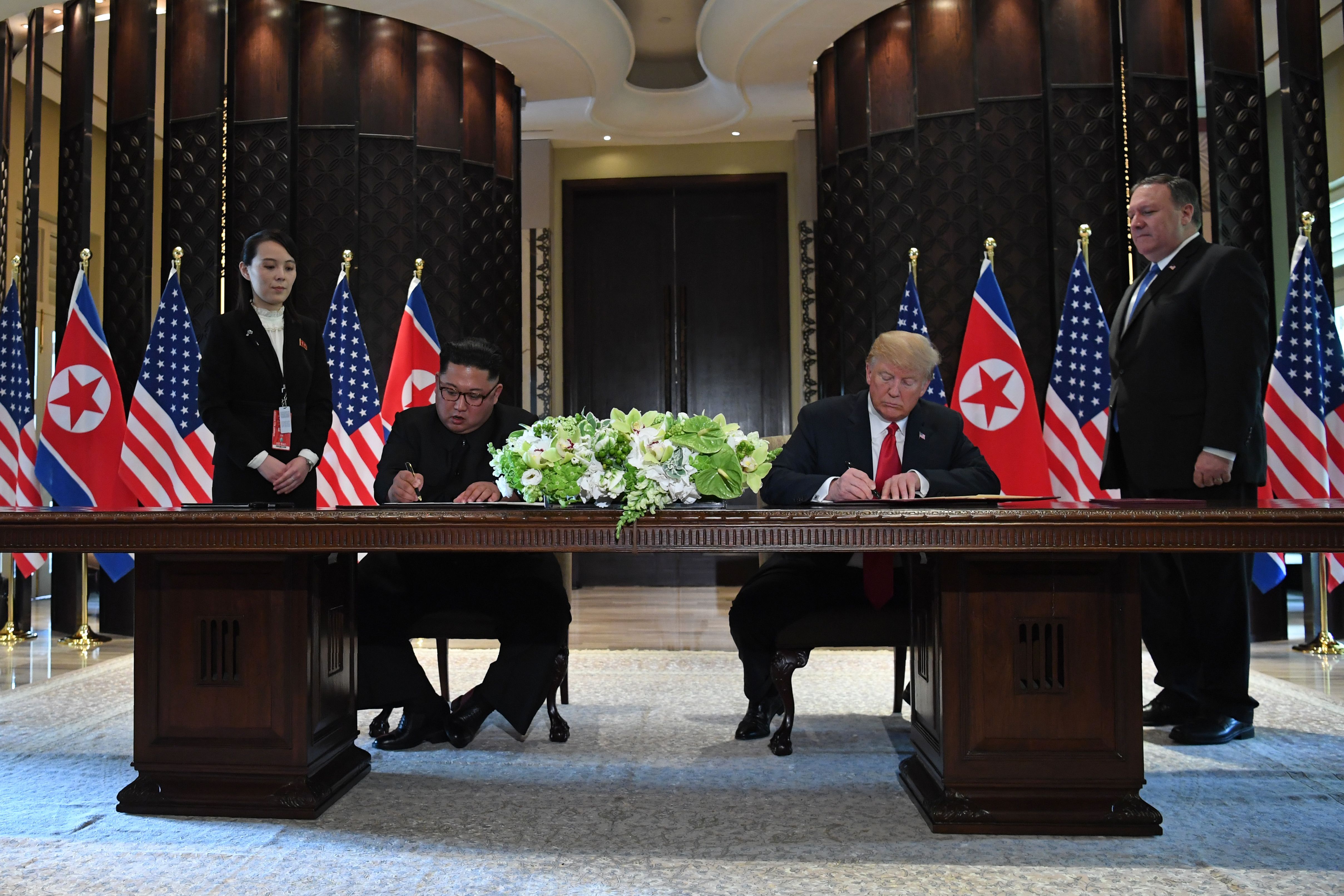 [12:40pm] Trump and Kim finish their working lunch, then stroll side-by-side through the Capella Singapore resort en route to an unscheduled "signing."

Trump stops to chat with reporters, and describes the series of meetings as "really fantastic," "top of the line," and "better than anybody could have expected." Kim smiles.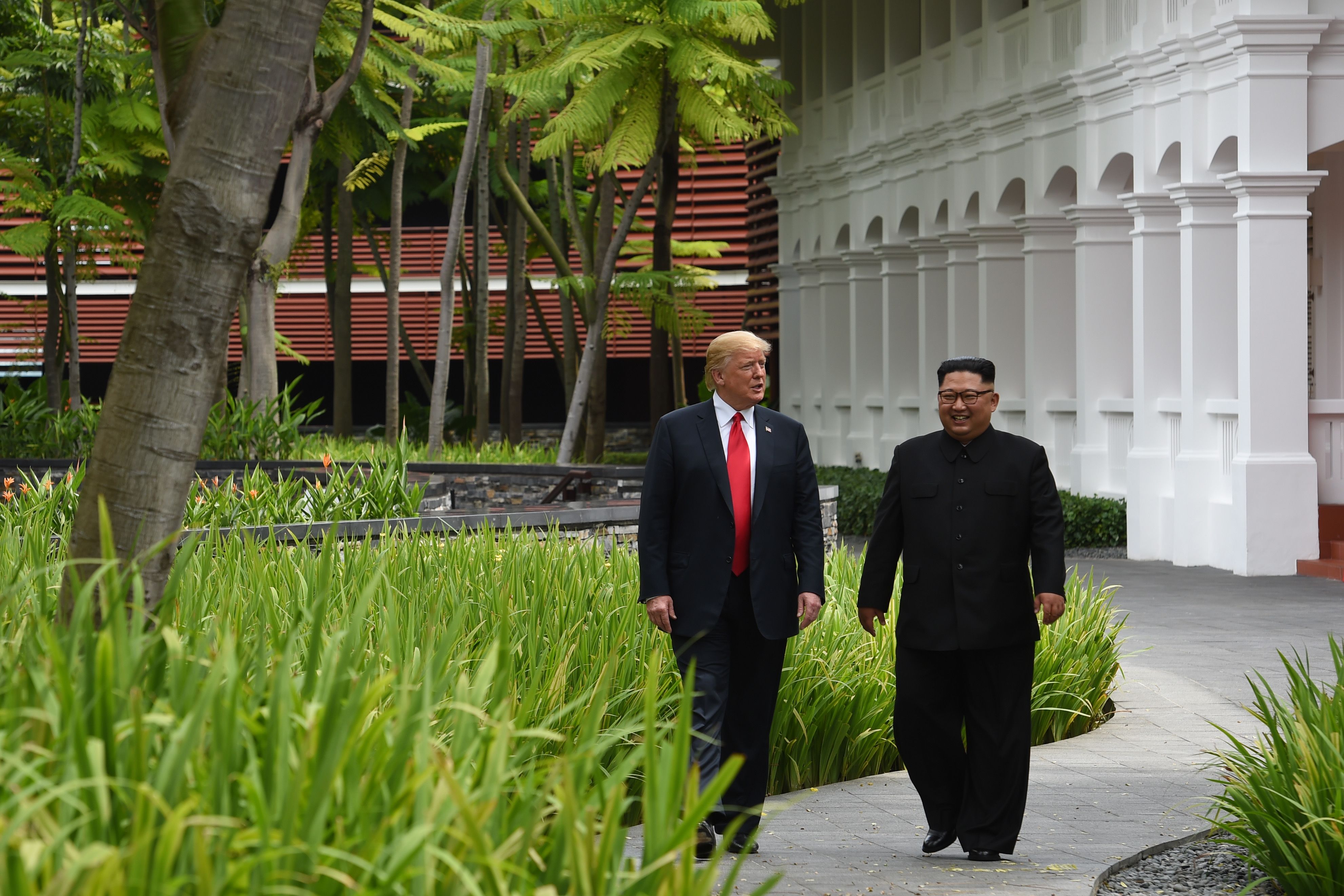 [11:45am] Trump and Kim dine on short rib confit, sweet and sour crispy pork, and soy braised cod with an assortment of appetizers and desserts during their working lunch.

Secretary of State Mike Pompeo, Chief of Staff John Kelly, and National Security Adviser John Bolton, Press Secretary Sarah Sanders, Ambassador Sung Kim, and NSC Asia Chief Matthew Pottinger are all present.

[11:40am] Trump and Kim enter the dining room, with Trump asking photographers whether they got a good picture "that makes us look nice and handsome and thin." Kim chuckles.
[9:57am] Trump tells Kim, seated across a long rectangular table during their expanded meeting: "It's a great honor to be with you, and I know we'll have tremendous success together. We'll solve the big problem, the big dilemma, that until this point has been unable to be solved."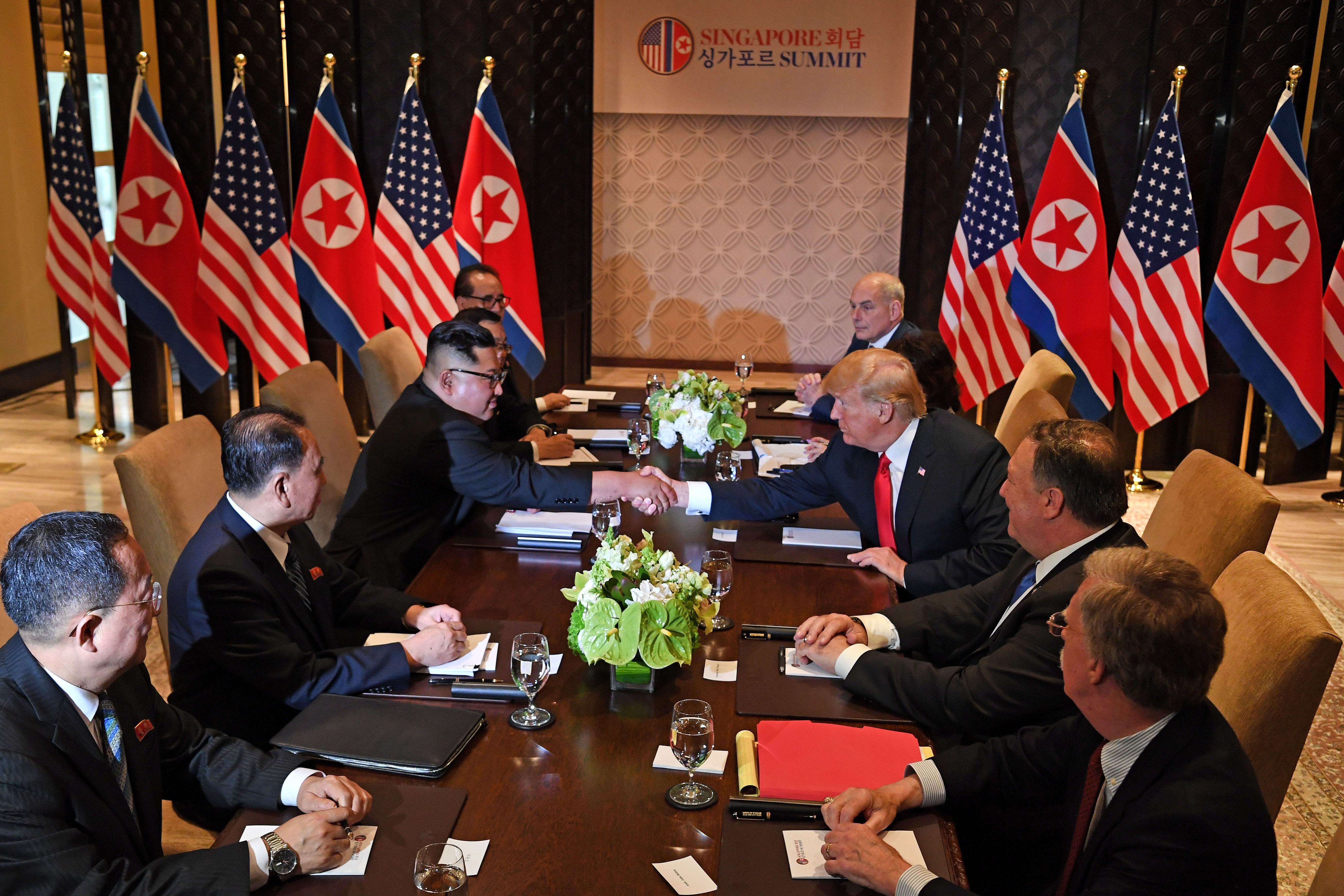 [9:53am] Trump and Kim enter their second, expanded meeting with members of their respective delegations.

On the U.S. side: Pompeo, Kelly, and Bolton are all present.
On the NK side: Chairman Kim Jong-Un, Vice Chairman Kim Yong Chol, Foreign Minister Ri Yong Ho, and former Foreign Minister Ri Su Yong are in attendance.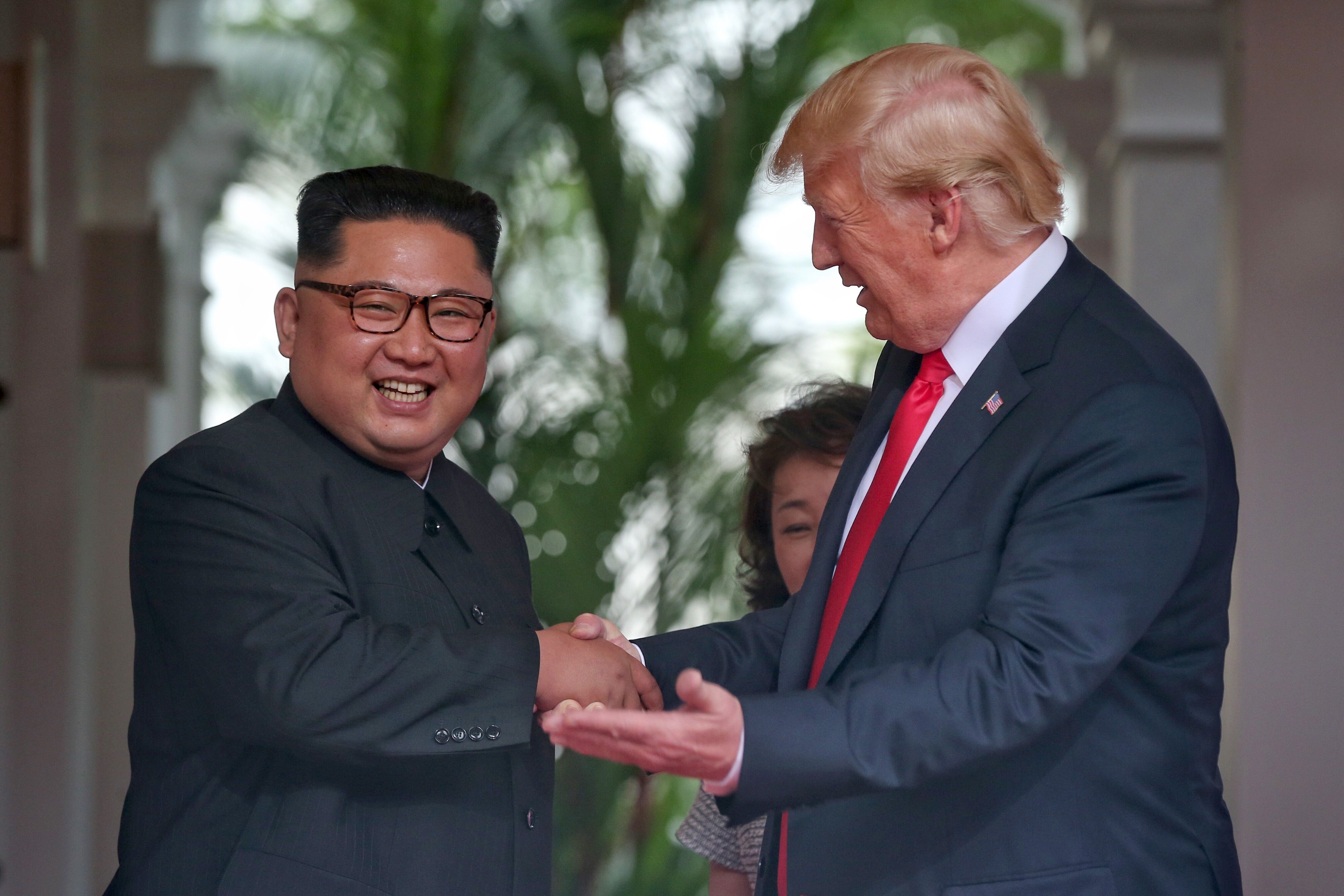 [9:50am] Trump, Kim leave their bilateral meeting, which lasted 38 minutes, and head to their second, expanded meeting.

Kim tells Trump: "Many people in the world will think of this as a (inaudible) form of fantasy ... from a science fiction movie," per CNN's Jim Sciutto.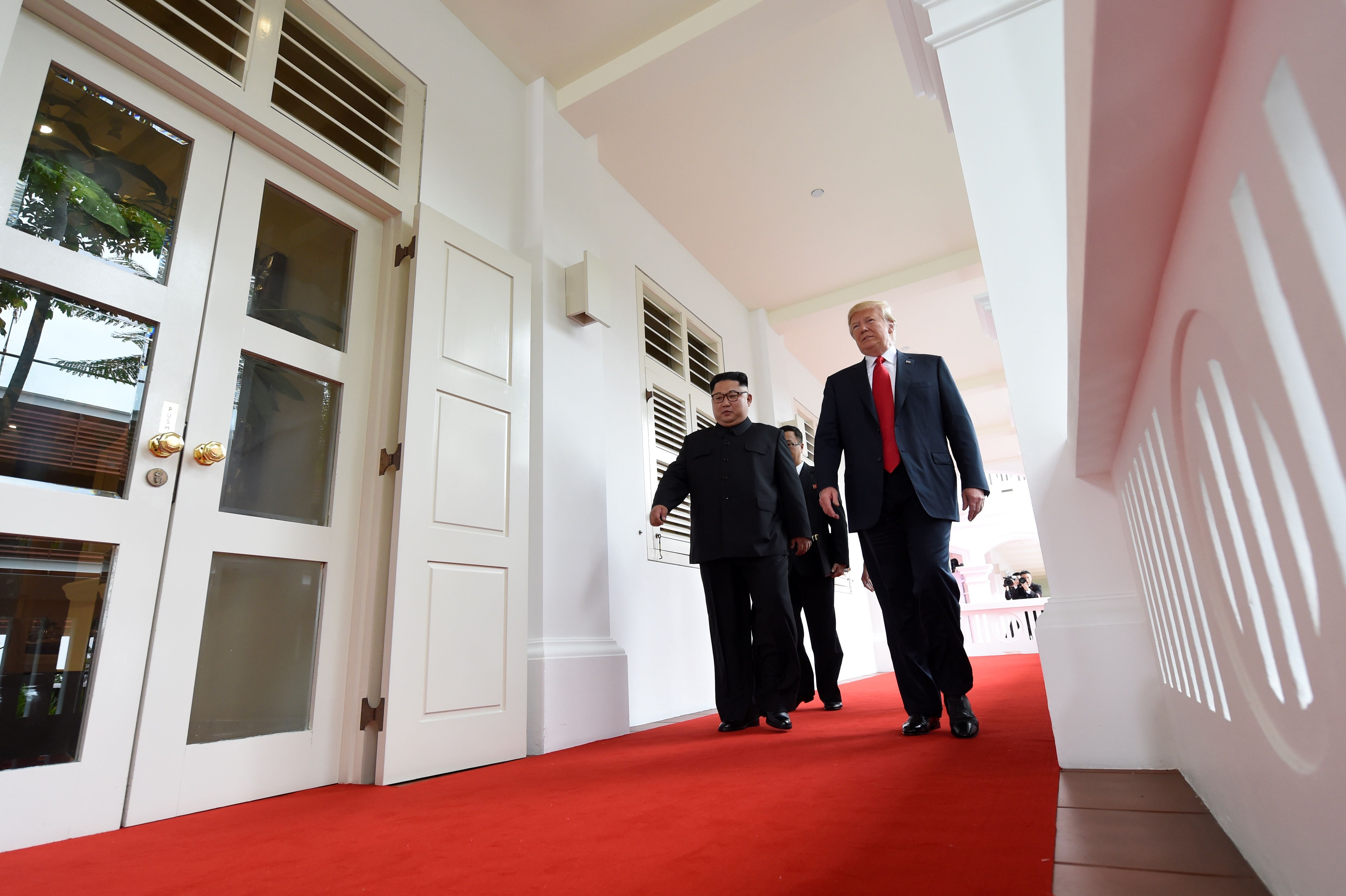 [9:06am] Prior to their bilateral meeting, Trump and Kim share warm remarks while speaking to the press.
Trump: "I feel really great. We'll have a great discussion. Tremendous success. This will be tremendously successful. It's my honor. We will have a terrific relationship."
Kim, speaking in Korean: "It has not been easy to come to this point. For us the past has been holding us back, and old practices and prejudices have been covering our eyes and ears, but we have been able to overcome everything to arrive here today."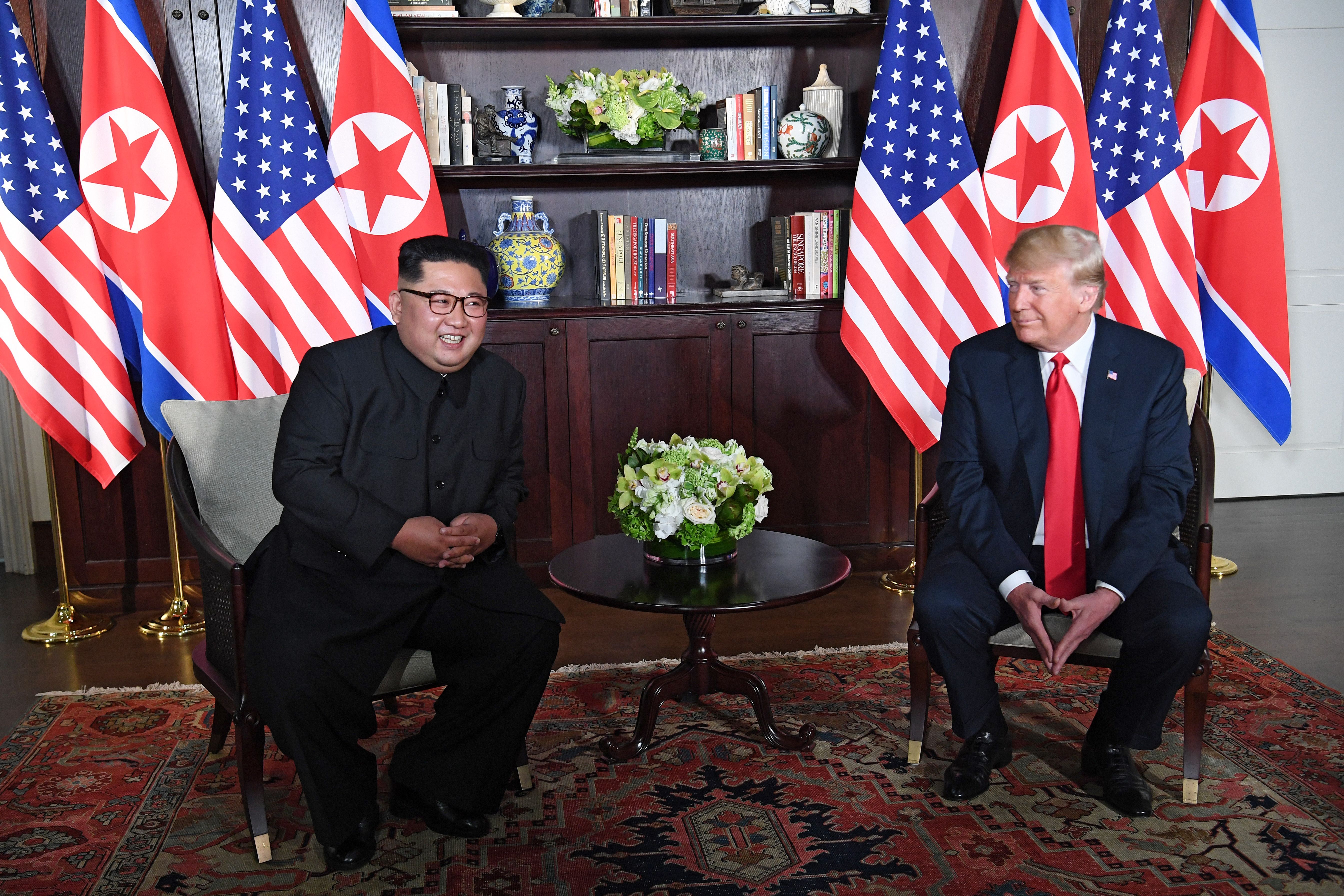 [9:02am] Trump and Kim greet each other, and share a historic handshake. The two leaders then walk along a colonnade, inside the hotel, and up a flight of stairs, per pool reports.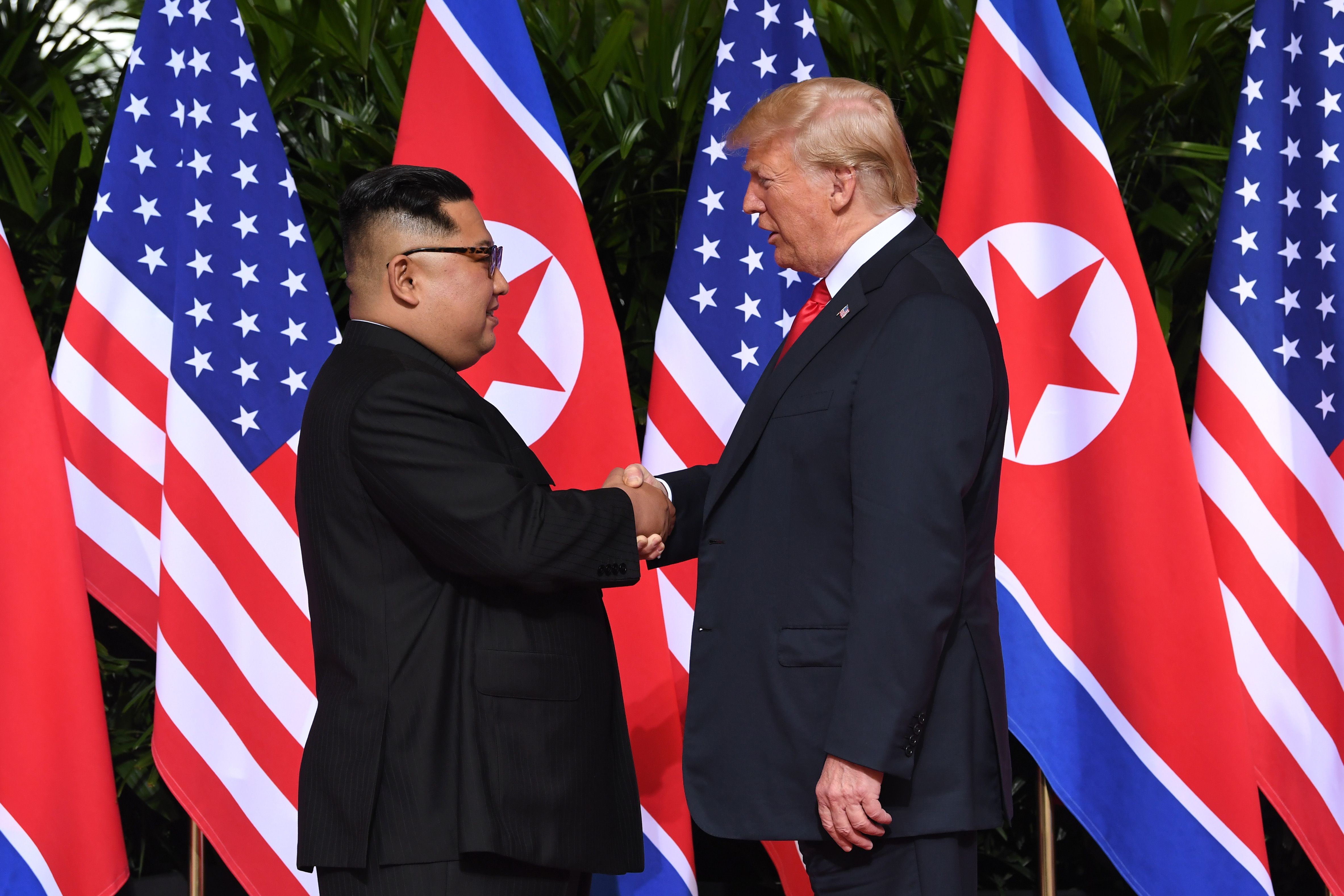 [8:20am]: Several of what appear to be Kim's "running bodyguards" are spotted on the property.
[8:14am] Trump's motorcade arrives on site. According Korean media, Kim arrived to the venue seven minutes earlier than Trump "to show respect, its cultural, the young one should arrive earlier than the elder one."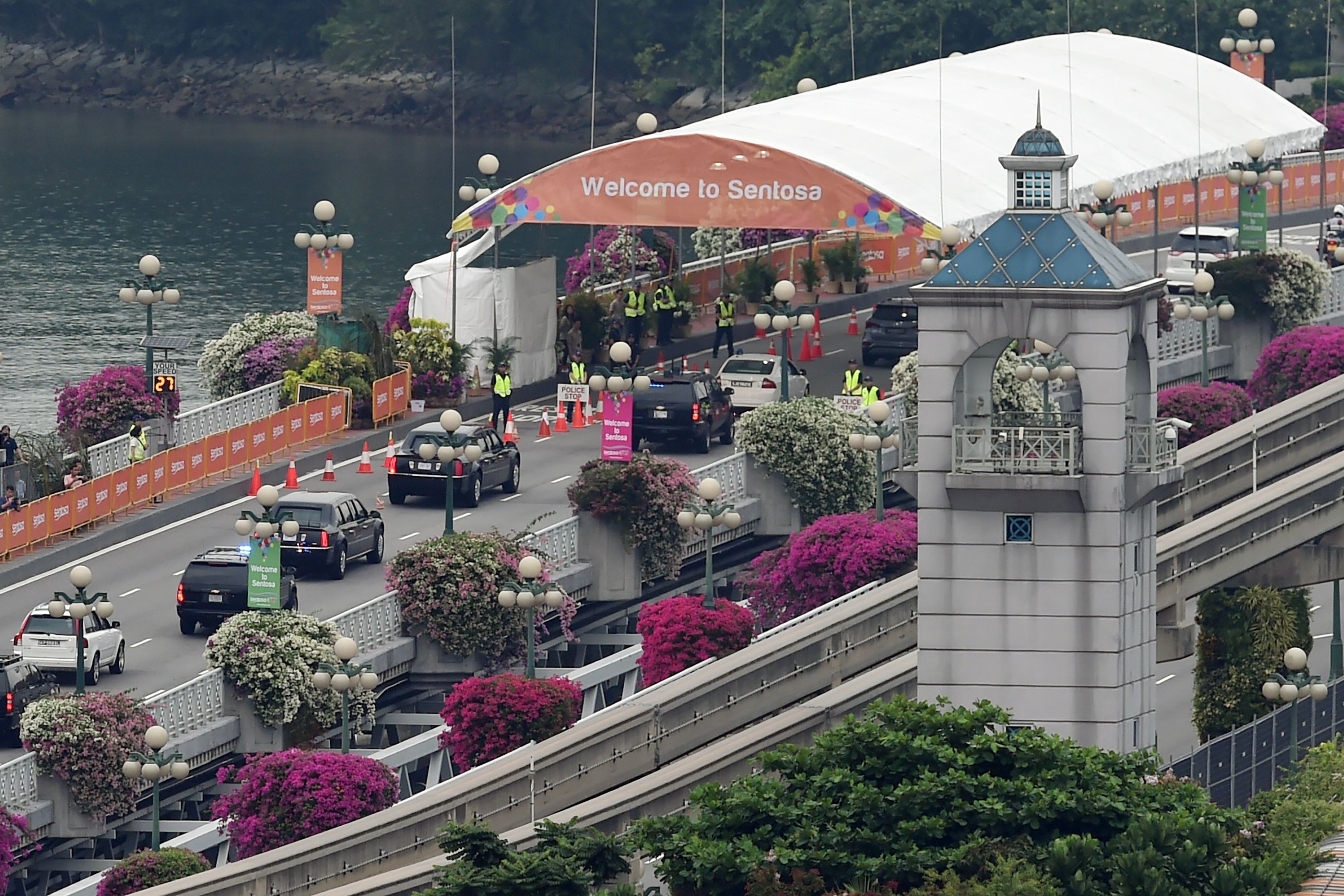 [8:07am]: Kim's motorcade arrives at Capella Singapore on Sentosa Island on Tuesday. The Capella is "a magisterial, high-ceilinged, tropical resort converted from onetime British barracks," per White House pool reports.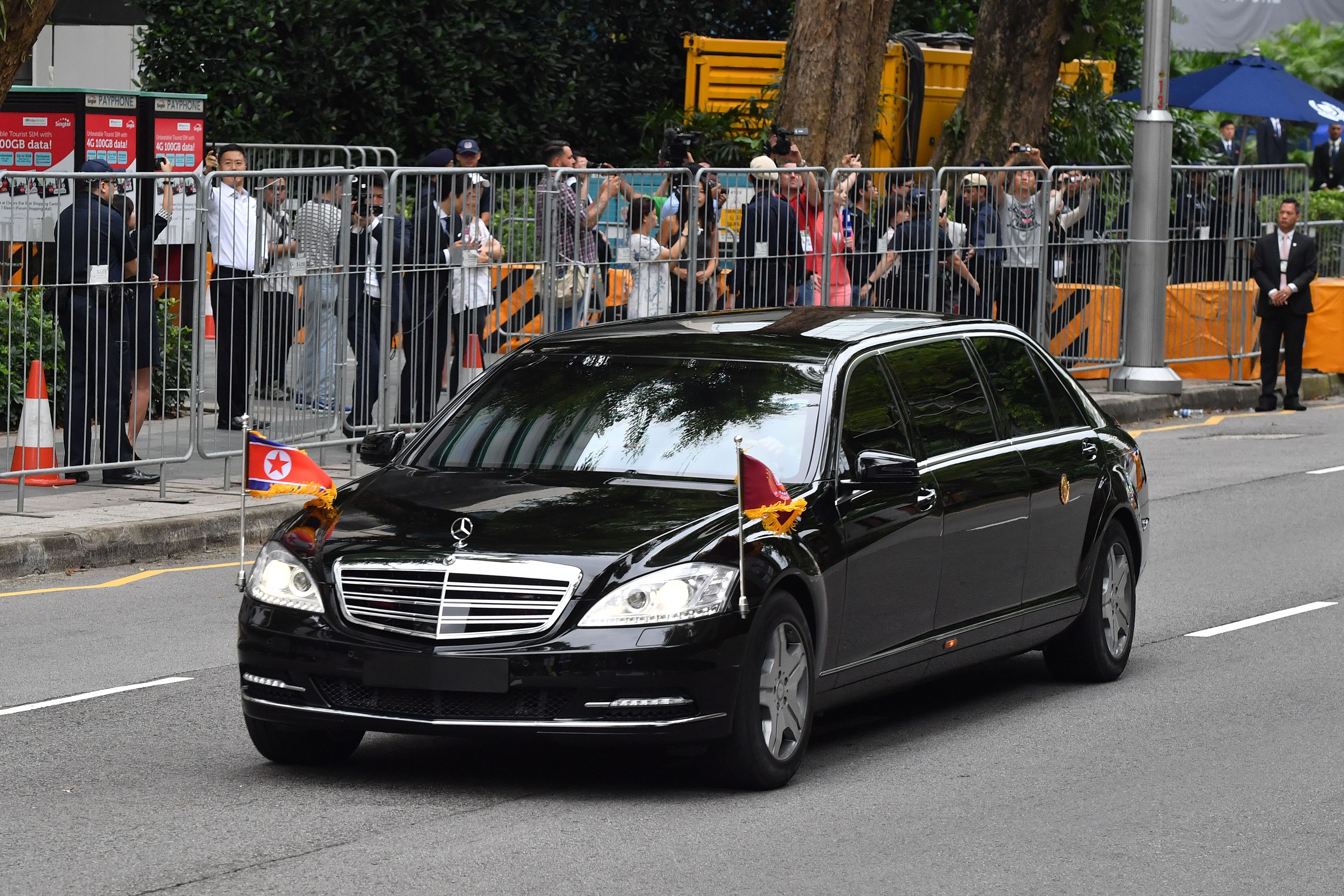 1 controversial thing
Analysts have described the presence of North Korean flags positioned beside American flags throughout the summit site as a propaganda win for Kim, as a signal he's being treated as an equal to the U.S. president.
Bonus
North Korea's lead newspaper has published several photos of Kim touring Singapore, which will likely shock North Koreans who are not accustomed to such a modern city.
Go deeper