How the North Korea summit is playing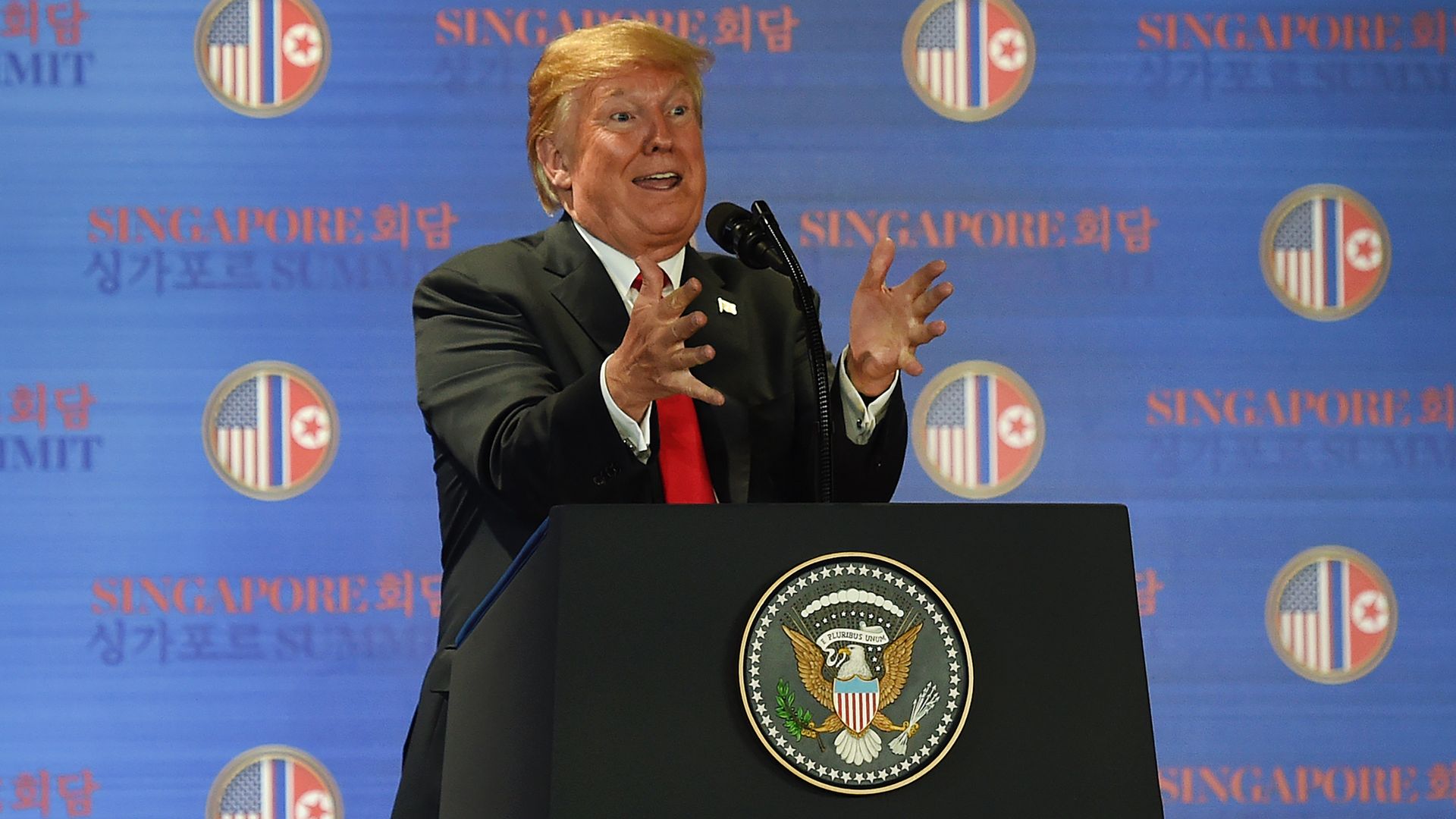 The flash commentary immediately after the long awaited summit between President Trump and North Korean leader Kim Jong-un called the joint statement signed by both leaders a home run for Kim, with Trump basically signing a weak memorandum of understanding.
The big picture: Trump himself brushed back against that criticism at his post-summit press conference, painting it as a first step that would hopefully lead to substantial outcomes in the future: "[W]e haven't given up anything other than — you're right — I agreed to meet. … Only a person that dislikes Donald Trump would say that I've made a big commitment."
NBC's Andrea Mitchell tweeted from Singapore: "Now that we've been given their statement it is far less than advertised. No new commitments. No timetable. No definitions. Glad they met but no breakthroughs."
Michael McFaul, former U.S. ambassador to Russia under President Obama, called the statement "much much less than a binding deal. It's nothing new, ... we gave up a lot for nothing. ... Very thin."
NBC News chief foreign correspondent Richard Engel said from Seoul that while Trump could claim authentic successes by defusing war talk and getting a declaration of what Engel called "peace in principle," Kim Jong-un was "the biggest winner": "He got the recognition with the president of the United States on a world stage, and all he had to do was sign a piece of paper reaffirming something that he has already said in the past."
Ambassador Chris Hill — who served under Presidents Clinton, Bush and Obama — said on MSNBC that the document appeared to be "drafted in haste," and is missing words like "verified": "There needs to be a companion action document."
A source close to President Trump told me after the summit that today was about "the longer play":
"Everyone got what they wanted out of this. Team MAGA [Make America Great Again] is going to say he's done more than anyone else ever could and he's just getting started. His detractors will say there's no tangible win and he's either naive or palling around with a dictator while taking shots at democratic allies."
"But ... what exactly did we give up? Maximum pressure continues. We didn't lift sanctions. We got hostages back. We got the players to the table."
"Trump approaches some meetings as legitimate 'get it done' interactions, and some as softer personal sessions. This was about establishing supremacy, setting the tone in some way for a longer play."
The source, an experienced judge of Trump's body language, said the president "looked in control and at ease":
"There are always smiles and thumbs up, points and nods. But all of Trump's cues suggested that he thinks he's the dominant player. He decided when to end the first handshake and photo op and escorted Kim offstage."
"That being said, Kim gets a P.R. win with his night on the town and by not making any public-facing mistakes in his massive turn on the world stage."
"Trump believes he's got a real chance to pull this off in the coming months. Otherwise he would have either made a big scene and bailed, or demanded some type of quick and public concession so he could claim victory, then go home and regroup."
Go deeper:
Go deeper