Trump: U.S. ending "war games" on Korean peninsula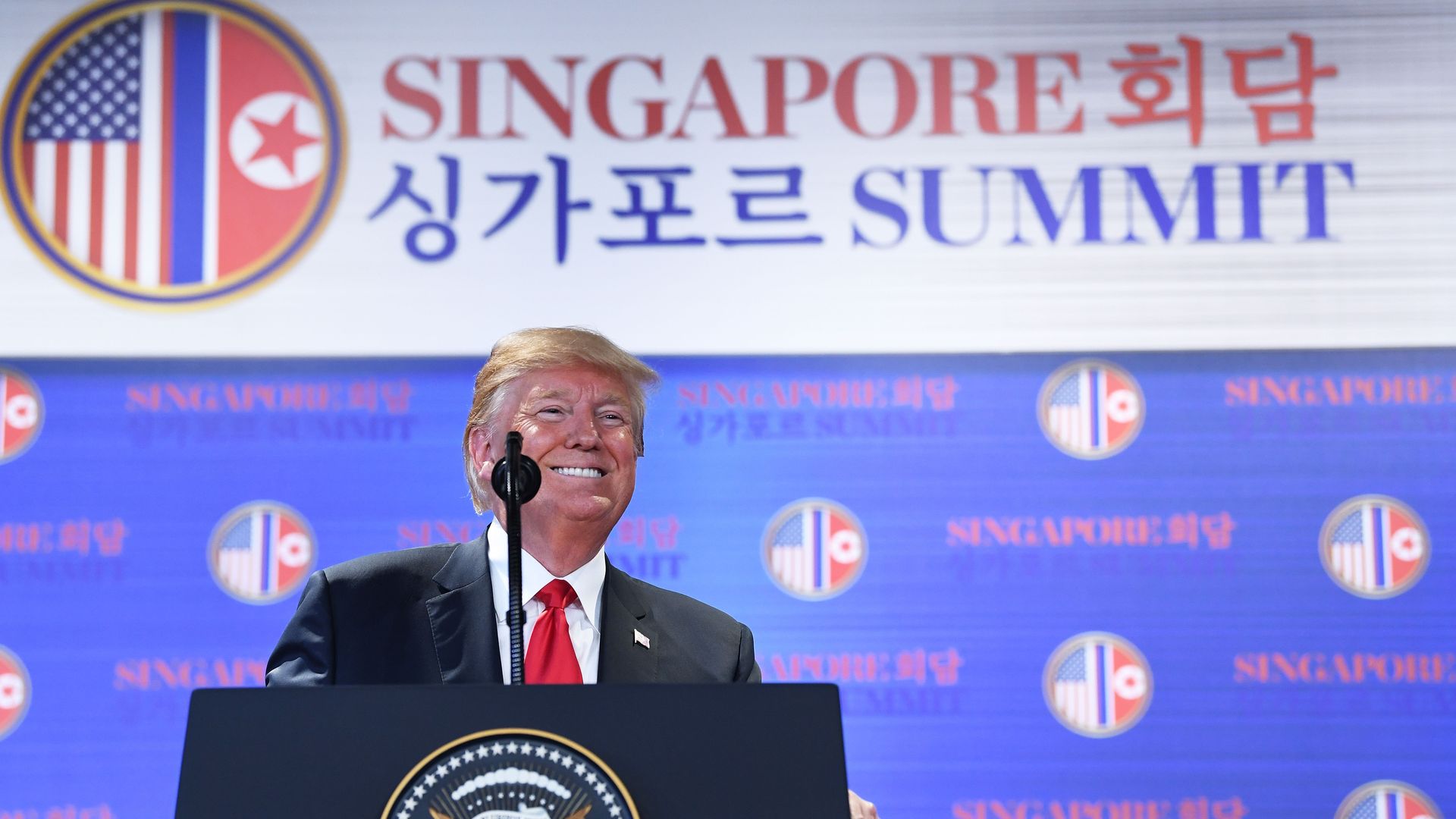 President Trump confirmed that the United States would be ending its joint military exercises with South Korea at a press conference after his summit with North Korean leader Kim Jong-un, calling them "a very provocative situation."
Why it matters: While North Korea has agreed to "complete denuclearization" of the Korean peninsula as its major concession, Trump was light on details about what that process might look like or how it could be verified.
"I gave up nothing. I'm here. I haven't slept in 25 hours. … Only a person that dislikes Donald Trump would say that I've made a big commitment."
— Trump pushing back on the idea that he hadn't secured anything in return for the U.S.
The other big takeaways: Trump touted Kim's agreement to denuclearization throughout the press conference, saying that he had also agreed to destroy "a major missile engine testing site."
But Trump couldn't expound on a framework for international verification of that denuclearization, adding, "It's going to be achieved by having a lot of people there …We're going to have a lot of people there and we're going to be working with them on a lot of other things." He added that denuclearization would be overseen by a combination of Americans and international workers.
Sanctions against North Korea will remain in place but "will come off when we are sure that the nukes are no longer a factor."
The remains of American soldiers lost in the Korean War will be returned to the U.S., according to Trump.
Embassies could be open "hopefully soon," though Trump added that it's a "little bit early for that."
Trump will go to Pyongyang "at a certain time" and "also will be inviting Chairman Kim at a certain time to the White House."
More quotes:
On human rights in North Korea: "It's a rough situation over there. … It's rough, it's rough in a lot of places by the way — not just there."
On Kim taking over as leader at age 26: "He is very talented … I don't say he was nice. Very few people at that age — one out of 10,000 couldn't do it."
On Kim's genuine commitment: "He was very firm in the fact that he wants to do this. I think he might want to do this as much or even more than me."
How he tried to convince Kim: "They have great beaches, you see that whenever they're exploding their cannons into the ocean, right? I say, boy, look at that view, wouldn't that make a great condo? ... Think of it from a real estate perspective."
Go deeper: Check out Axios' live updates on the Trump-Kim summit.
Go deeper