Updated Jun 12, 2018 -

World
Despite lack of plan, North Korea denuclearization could still happen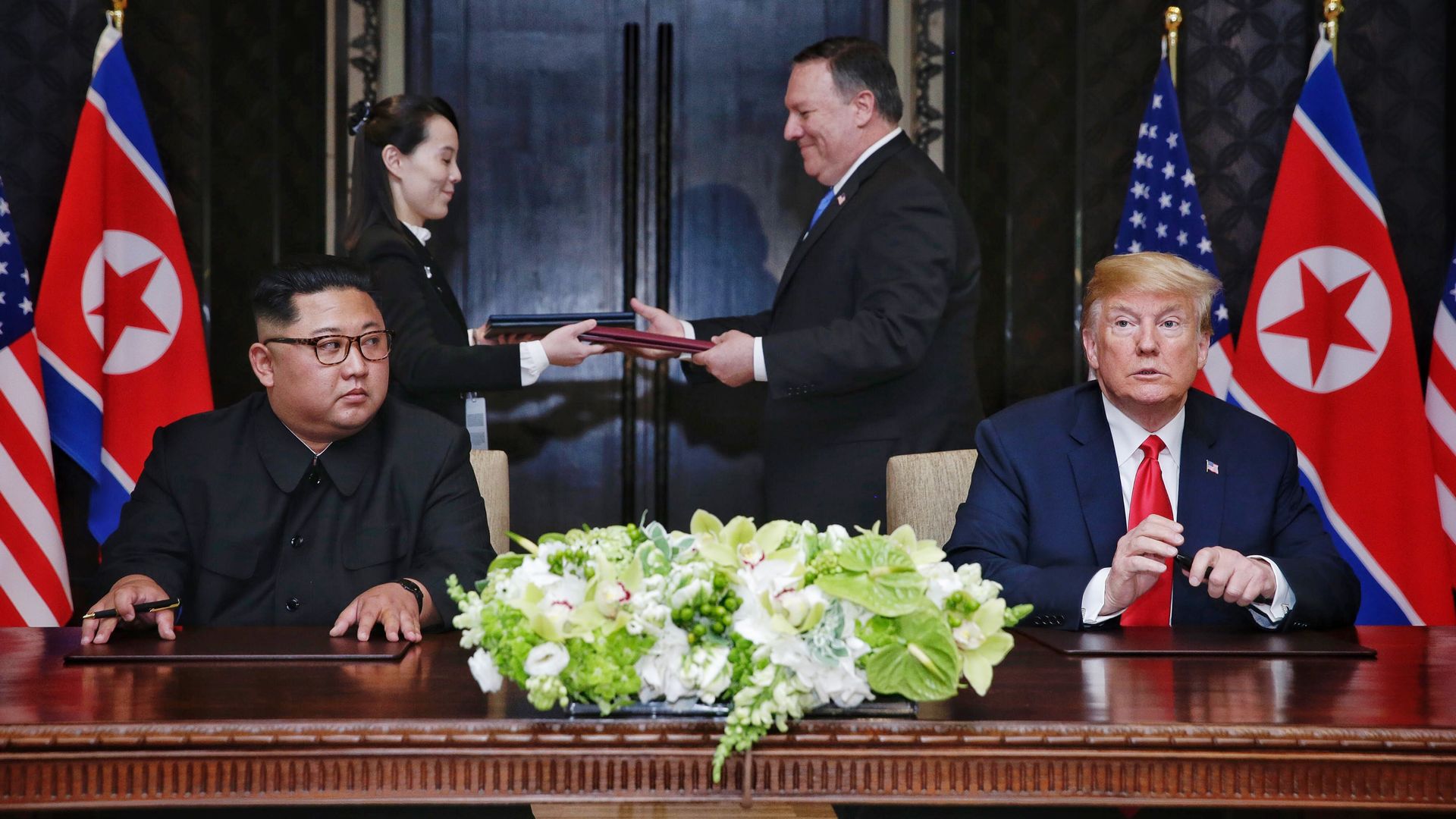 The leaders of the U.S. and North Korea, who only six months ago appeared to be heading for war, have now declared their commitment to "a lasting and stable peace regime on the Korean Peninsula." However, the joint statement from last night's meeting did not mention a formal framework for denuclearization.
The big picture: Although it feels like watching an old movie again, with new actors and some twists in the context, we have yet to see how this version ends. Despite mounting disappointments, Trump's North Korea diplomacy still deserves the benefit of the doubt as it continues to evolve.
Ever since he accepted an invitation to meet with Kim last March, Trump vowed to achieve the complete, verifiable, and irreversible denuclearization (CVID) of North Korea. In the absence of any CVID discussion during the summit, many pundits have declared it a victory for Kim and criticized Trump's diplomacy.
The other side: A CVID would have been useful in 2003 when it was first introduced as a framework for North Korea's then still-nascent nuclear program. But Trump may have realized that a CVID is no longer a realistic goal, and Kim would not easily accede to the concept.
This isn't necessarily bad news: CVID can be achieved only when North Korea becomes a normal state that no longer sees the need for nuclear armament. In this regard, the joint statement set the right tone for future negotiations, which should focus on not just denuclearization but also normalization for North Korea.
What's next: Secretary of State Pompeo will soon discuss next steps with his North Korean counterpart, who will make a tough negotiating partner. At the same time, Pompeo will face domestic difficulties as the Trump administration tries to sell the deal before November's election. He will also need to work closely in this process with not only the two key U.S. allies — Japan and South Korea — but also China.
Gi-Wook Shin is chair of Korean Studies at Stanford University, director of the Walter H. Shorenstein Asia-Pacific Research Center and senior fellow at the Freeman Spogli Institute for International Studies.
Go deeper