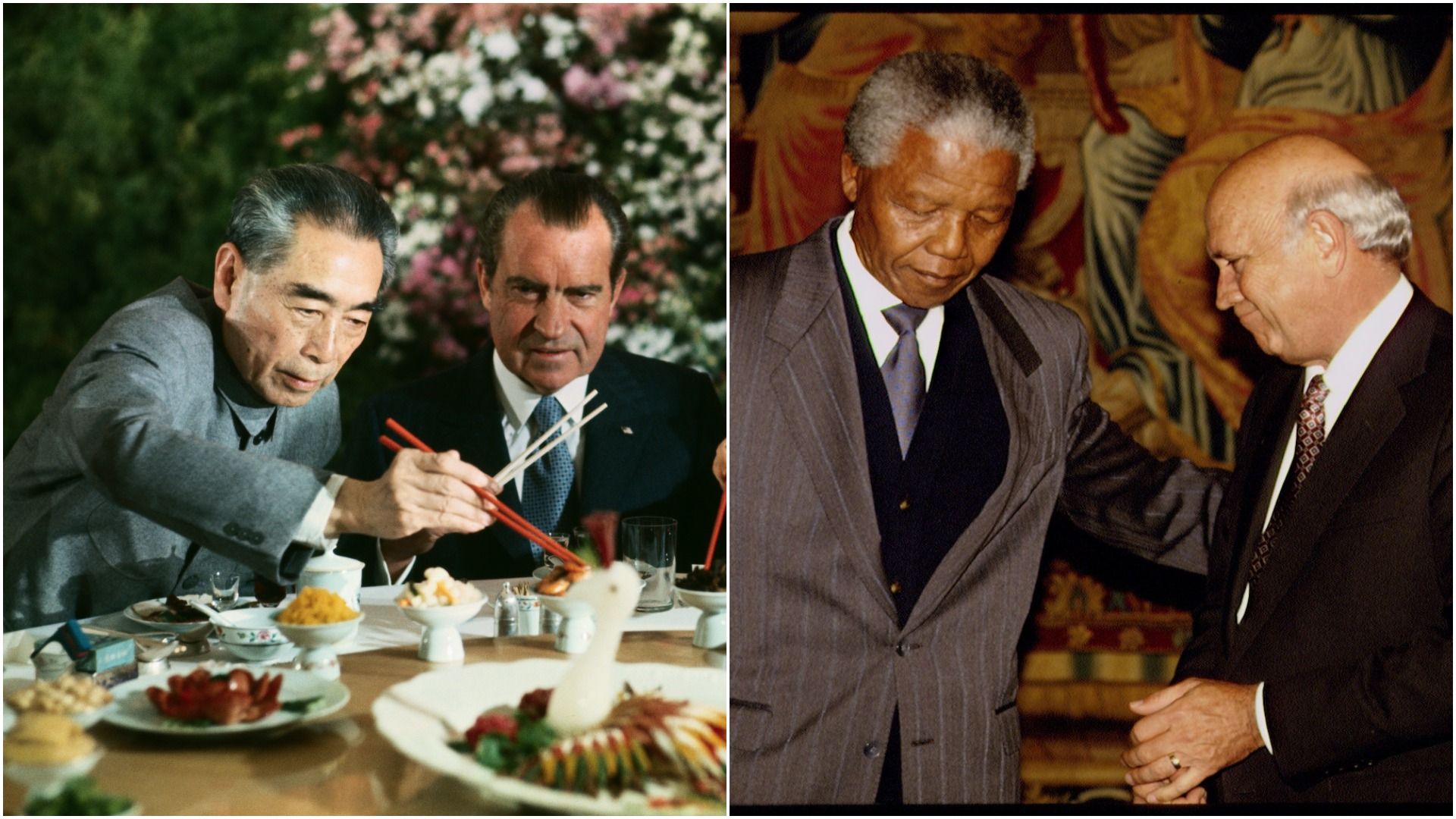 President Trump and Kim Jong-un have arrived in Singapore for a historic summit between two adversaries looking to strike a nuclear deal that could also have huge economic consequences for both sides — and it's a crossroads that other leaders have faced before.
The big picture: While Trump has stated that he doesn't think he has to prepare much for the long-awaited summit, both leaders might look to history for key lessons on how to make their meeting successful. Two prime examples are President Nixon's 1972 trip to China and apartheid South Africa's attempt at denuclearization.
Nixon to China
The backdrop, per the BBC's Yuwen Wu, who was a student in China in 1972:
"China at the time [of Nixon's visit] was totally isolated from the outside world amidst the chaos of the Cultural Revolution, having had no formal relationship with the US for more than two decades."
"And just as Kim Jong-un has been telling the North Korean people that they need to co-exist peacefully with the US, the Chinese government had to convince its people that it was necessary to welcome the Americans to the heart of the third world revolution."
How it happened:
Both countries announced the coming visit on television — with each side claiming the other had expressed the willingness to meet.
"This carefully choreographed broadcast was emblematic of both countries' painstaking preparation for Nixon's icebreaking trip to Beijing that sent shock waves across the world.
"Truckloads of supplies were ferried to shops to fill the shelves, with a wider variety of goods on offer than usual ... Much of the interaction between the Nixon party and 'normal' Chinese people also appeared to be staged by Beijing."
Why it matters:
"[At the Great Wall, Nixon] told the journalists and Chinese guests: 'As we look at this wall, we do not want walls of any kind between peoples.'"
"Relations between the US and China have gone through many ups and downs since 1972, but it's fair to say the historic Nixon visit made it possible for the relationship to be built and tested in the first place."
South Africa's denuclearization
The backdrop, per a worthy-of-your-time CBC Radio report:
"If North Korea agrees to dismantle its nuclear program after a scheduled summit with U.S. President Donald Trump and South Korean President Moon Jae-in next week, it will be the second time a country has voluntarily done so." South Africa was the first.
Yes, but: "The story of how [then-South African President F.W. de Klerk] ditched the apartheid regime's nuclear weapons has been strangely absent in the current frenzy of speculation on North Korea's nuclear intentions," Terence McNamee of the Wilson Center writes for Foreign Policy.
How it happened:
"It was a political move ... De Klerk saw it as the only way to foster peace with other countries." De Klerk shares a Nobel Peace Prize with Nelson Mandela for ending apartheid.
"The nuclear weapons arsenal in South Africa was always viewed through the prism of regime survival ... These weapons were seen symbolically, if not practically, as the ultimate guarantor of white dominance and supremacy in South Africa," according to McNamee.
Why it matters:
Like the South African model, "whether or not Kim Jong-un follows suit and agrees to dismantle his country's nuclear program will depend on whether or not he sees the program as vital to his country's livelihood."
Go deeper