Go deeper: Why Trump is tweeting about "Awan & Debbie"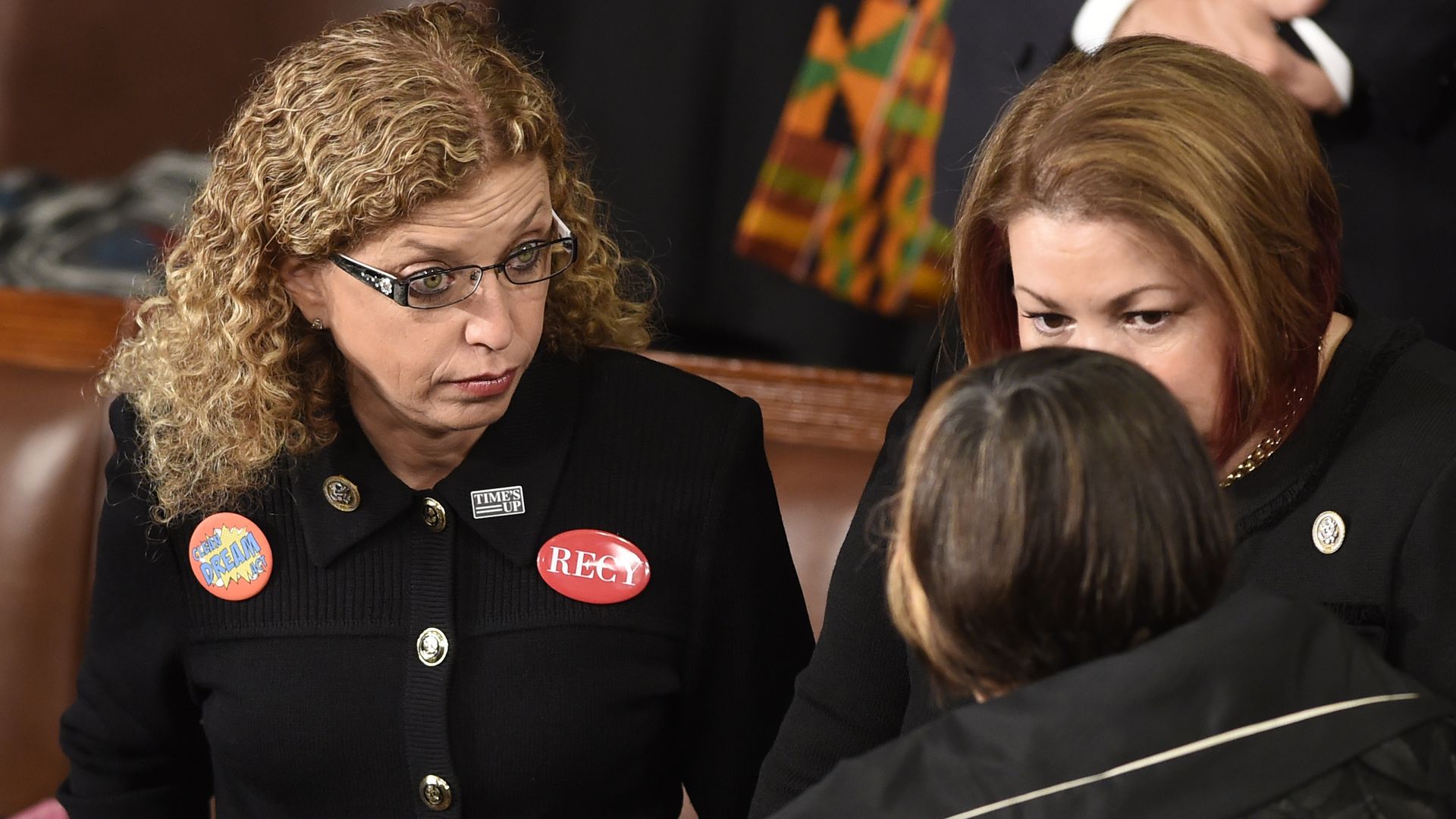 President Trump tweeted about a "Democrat I.T. scandal" on Thursday morning, demanding that the Justice Department not let "[Imran] Awan & Debbie Wasserman Schultz off the hook."
Between the lines: This is the second time in a week that Trump has tweeted about speculative, right-wing theories. While Awan, a former congressional I.T. aide, is under FBI investigation and faces fraud charges, as of right now, there is no evidence that the most salacious accusations are true.
Key players:
Debbie Wasserman Schultz is a Democratic congresswoman and was the former Chairwoman of the Democratic National Committee during the 2016 elections. She came under harsh scrutiny, particularly from conservatives, when WikiLeaks released emails revealing that the DNC had favored Hillary Clinton over Bernie Sanders.
Imran Awan was an I.T. specialist in Congress for 13 years. He and his family were contracted to work for various Democratic lawmakers, including Wasserman Schultz. Awan was arrested last summer by the FBI and Capitol police at an airport while headed to Pakistan, and was charged with fraudulently obtaining a loan by claiming to have owned the home that he, his wife and children were renting.
What they're saying:
For more than a year, Luke Rosiak, an investigative reporter for the Daily Caller, has reported allegations against Awan and his family — citing government records, presentations from House investigations, House staffers, a Marine who allegedly provided key evidence to the FBI, as well as undisclosed and unnamed sources.
The gist of the accusations are that Awan and several family members scammed Congress — making millions of dollars in salary every year, often getting paid without doing work, stealing IT equipment, and ultimately hacking congressional emails and stealing congressional data.
Conservative media have run stories accusing Wasserman Schultz of intentionally covering up for the IT aide. The speculation culminates in suggesting that Awan was behind the stolen DNC emails leaked to WikiLeaks in 2016.
Daily Caller headlines on the storyline include:
What we know:
According to the New York Times:
Awan began working as an I.T. specialist in 2004. His wife, two brothers, and a friend also started I.T. work on the Hill shortly after. At times they were contracted by Rep. Debbie Wasserman Schultz.
Last year, the Capitol Police began investigating Awan after being tipped off by members of Congress who said there was some level of fraudulent activity taking place. The details haven't been disclosed.
When lawmakers were told of the investigation, many stopped seeking Awan and his family's I.T. services.
Wasserman Schultz refused to fire Awan, saying there was no credible evidence against him. She also said she suspected there were religious and racist motives behind the accusations.
Last July, Awan was arrested at an airport while heading to Pakistan.
Awan and his family are still under investigation for stealing computer equipment, but no charges have been filed yet, CNN has reported.
This week, Fox News reported that Awan and his wife were poised to strike a plea deal in a bank fraud case at their hearing next month.
Be smart: There is a lot that is still unknown, but several right-wing news outlets have managed to leverage Awan's association with Wasserman Schultz and the investigation to spin a story, which questions the validity of the U.S. intelligence community's conclusion that Russia was behind the DNC hacks, without providing evidence.
How it got to Trump
In February 2017, Youtube conspiracist George Webb suggested that the Pakistani-American I.T. workers were actually spies.
Around the same time, the Daily Caller began building a case against Awan and his family with multiple reports over more than a year. A story from February 2 was headlined, "Exclusive: House Intelligence, Foreign Affairs Committee Members compromised by rogue IT staff."
Following Awan's arrest last July, Fox News' Sean Hannity and Geraldo Rivera speculated that Awan could have been the source of the infamous DNC emails given to WikiLeaks.
Trump then retweeted this July 27 tweet:
And then in August, Trump retweeted this:
Fox News reported earlier this week that Awan and his wife were set to take a plea deal at their hearing scheduled for July 3, which seemed to lead to Trump's Thursday tweet:
Go deeper: Digging into Trump's latest "Spygate" conspiracy tweet
Go deeper