Trump's hurricane briefing strayed far from storms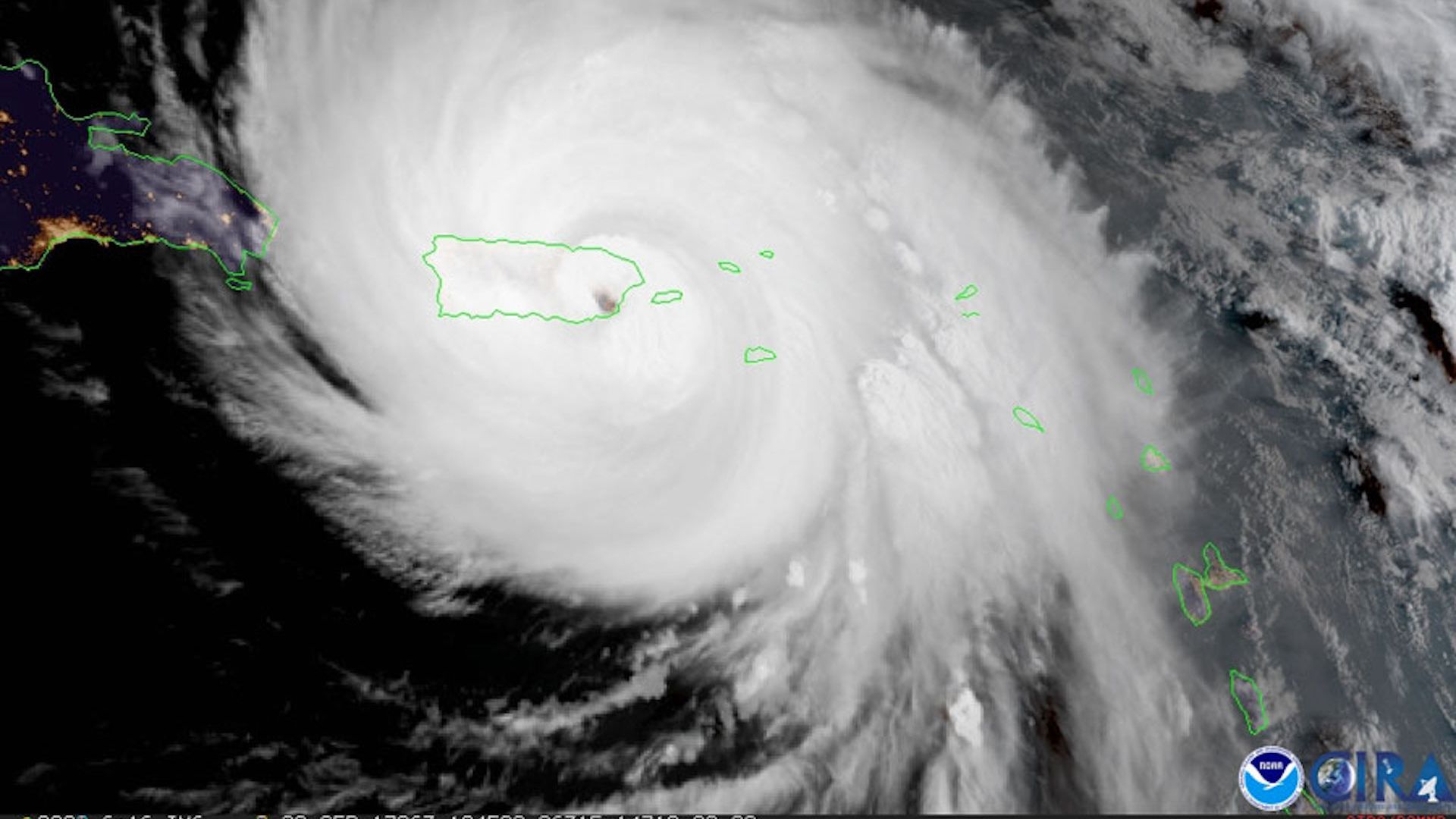 President Trump went to FEMA on Wednesday for an annual hurricane forecast briefing, but this one was anything but normal, a transcript reveals and audio obtained by the Washington Post shows.
The big picture: The 2017 Atlantic hurricane season was among the most damaging on record, causing tens of billions in damage and possibly more than 4,000 deaths between the mainland U.S. and Puerto Rico. Hurricane Harvey, which caused the heaviest rainstorm ever observed in the U.S., had total costs of $125 billion alone.
Why it matters: President Trump was roundly criticized for the government's sluggish response to Hurricane Maria in Puerto Rico in September 2017. A recent study found that storm may have killed more than 4,500 people, which would be a higher toll than Hurricane Katrina caused in 2005. The briefing was aimed at familiarizing the president with the forecast for the upcoming hurricane season, as well as preparation underway at FEMA and other agencies.
Be smart: Typically, the annual hurricane briefing involves the secretary of Homeland Security, FEMA director, head of the National Oceanic and Atmospheric Administration, Hurricane Center director, and other specialists. For example, here's video of President Obama's 2016 hurricane season briefing. Trump's briefing, however, involved nearly the entire cabinet, from Small Business Administration leader Linda McMahon to Attorney General Jeff Sessions and Vice President Mike Pence.
First Lady Melania Trump made her first public appearance since May 10 at the event.
All praise, no prep: The public and private portions of the meeting featured Trump praising his cabinet and touting his accomplishments, while barely acknowledging the threats posed by another hurricane season. The private briefing, a tape of which was obtained by the Post, featured more glad-handing, and displayed the president's inability to stay on topic.
For example, the Post's Josh Dawsey reported:
When Deputy Secretary of Defense Patrick Shanahan began speaking, Trump within 10 seconds moved the conversation to negotiating airplane prices. He said the government was getting ripped off on ships and planes because the "ordering process for the military is so bad. . . . It's not a competitive bid."
"We saved $1.6 billion on Air Force One," he said. "Can you believe it? I got involved in the negotiations. The press refuses to report that, but that's okay. . . . People were really surprised."
"What a great Cabinet this has turned out to be," Trump said, according to the Post. "Our level of popularity is great."
According to a NOAA spokesman, Neil Jacobs, the assistant secretary of commerce for environmental observation and prediction, did have the opportunity to brief the room about the actual hurricane outlook. The forecast calls for a near to slightly above average Atlantic season. The first named storm, Alberto, has already made landfall on the Gulf Coast.
One weird thing: While reporters were in the room, Trump made comments suggesting that Houston residents were at fault for needing to be rescued by the Coast Guard as floodwaters rose during Hurricane Harvey.
"People went out in their boats to watch the hurricane.  That didn't work out too well.  That didn't work out too well," Trump said.
Go deeper: Hurricane season is kicking off
Editor's note: This story has been updated to include comment from NOAA.
Go deeper