The big picture: Hurricanes are slowing down, making floods worse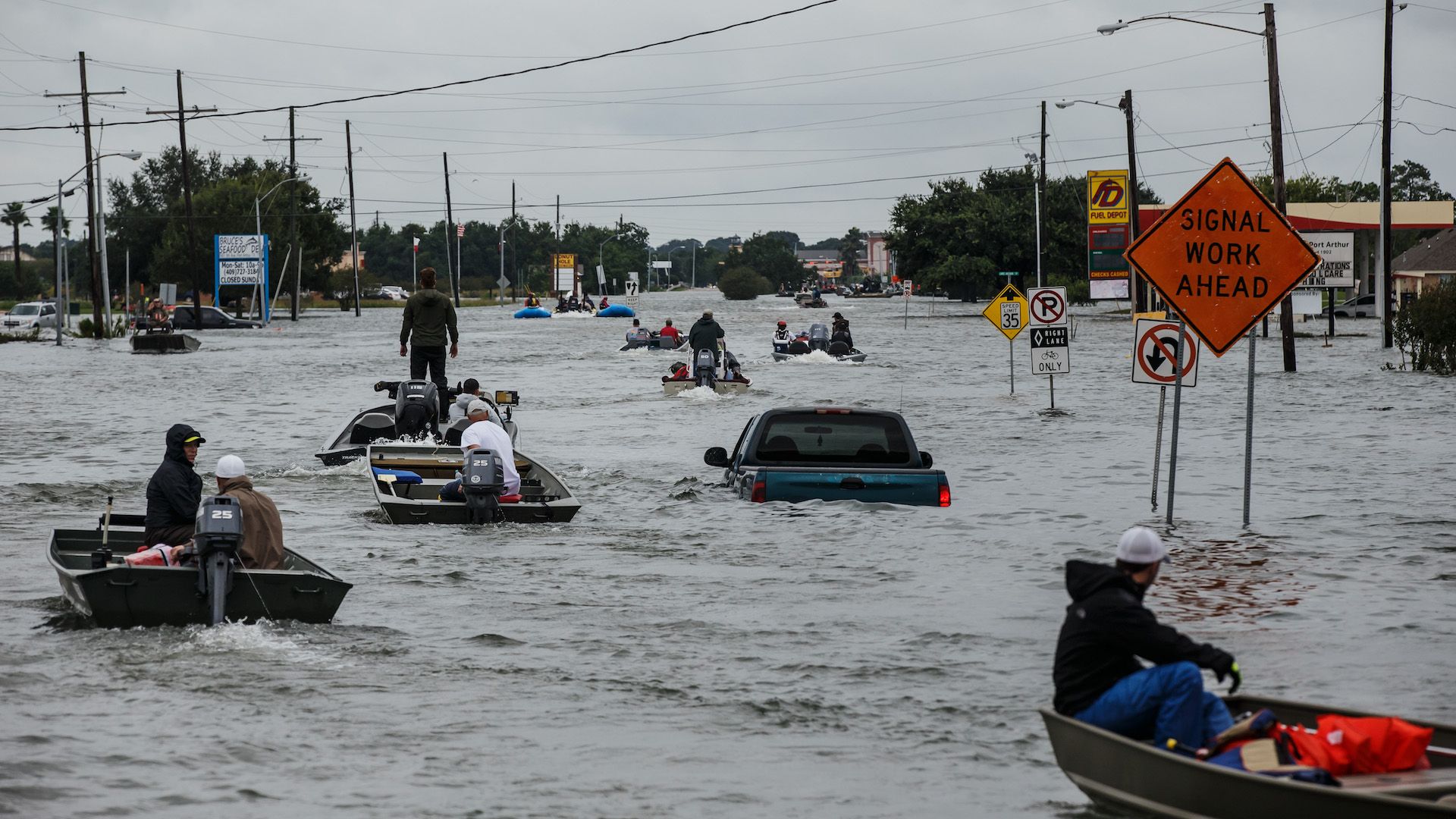 Last year, Hurricane Harvey dumped more than 5 feet of rain on the Houston area in just a few days making it the heaviest rainstorm the U.S. has ever recorded. Now, a new study shows that multiple factors, each of them climate change-related, are raising the risk of similar, meandering hurricanes in the U.S. and other parts of the globe.
Why this matters: Hurricanes are nature's most powerful and destructive storms, inflicting billions in damage each year. In the U.S., inland flooding, not coastal storm surge, is now their deadliest threat, and new data suggests this problem is going to get worse as the climate continues to warm.
Global storm slowdown: A new study published Wednesday in Nature finds that tropical cyclones — which is a catch-all term for hurricanes and typhoons — move more slowly than they used to. This, combined with the increase in rainfall already expected to occur from such storms as the seas and air temperatures warm, paints a troubling picture of future storms.
What they did: Hurricane researcher Jim Kossin of the National Oceanic and Atmospheric Administration examined storm track data from around the world during the period from 1949 to 2016, and found a statistically significant decrease in storm forward speed, particularly in the western North Pacific Ocean and the North Atlantic.
Their findings: Over land areas affected by hurricanes in the North Atlantic Ocean Basin, Kossin found that hurricanes have shown a decrease in forward speed of about 20% during the period.
In the western North Pacific Ocean, where some of the world's most intense and damaging storms strike, that slowdown over land areas has been closer to 30%.
Storms have also slowed down over Australia, by about 19%.
Slower storms have more time to dump greater amounts of rainfall, and this, combined with the capacity of a warmer atmosphere to hold more moisture, means we should expect tropical cyclones to pose more water dangers than ever before.
"The two ways that you get more rain are to increase the rain rate and the other way is to get it to slow down."
— Jim Kossin
Why this makes sense: Tropical cyclones may be gigantic storms, but they are steered by mid-level winds, and in some ways are at the mercy of atmospheric circulation patterns beyond their control. Because climate change is altering circulation in ways we're only beginning to understand, it's logical that these storms' behavior would change as well. "Human influences are having an effect on global circulation," Kossin said, describing such storms as moving "fairly passively" based on mid-level winds.
Ryan Maue, a meteorologist unaffiliated with this study, likened hurricanes to "corks in a stream," and said that while many questions remain about how hurricanes will respond to climate change, this study represents a step forward.
"The arrows all point to more intense, wetter and slower hurricanes like Harvey."
— Ryan Maue, meteorologist at Weather.US
The catch: It's possible that data quality issues, particularly in the early parts of the record used in the study, influenced some of the findings. However, Kossin said storm track information tended to be more reliable in the pre-satellite era compared with other metrics, like storm intensity. "We're generally pretty good about estimating the location of a storm," Kossin added.
Bolstering the case: Shortly before this new research came out, a separate study was published that used computer modeling to project possible changes in tropical cyclones. It, too, found a slowdown in storm forward speed as the world warms, along with higher precipitation rates. Kossin said these modeling findings back up the observational evidence.
Go deeper