Lock her up and let him out: Trump's approach to justice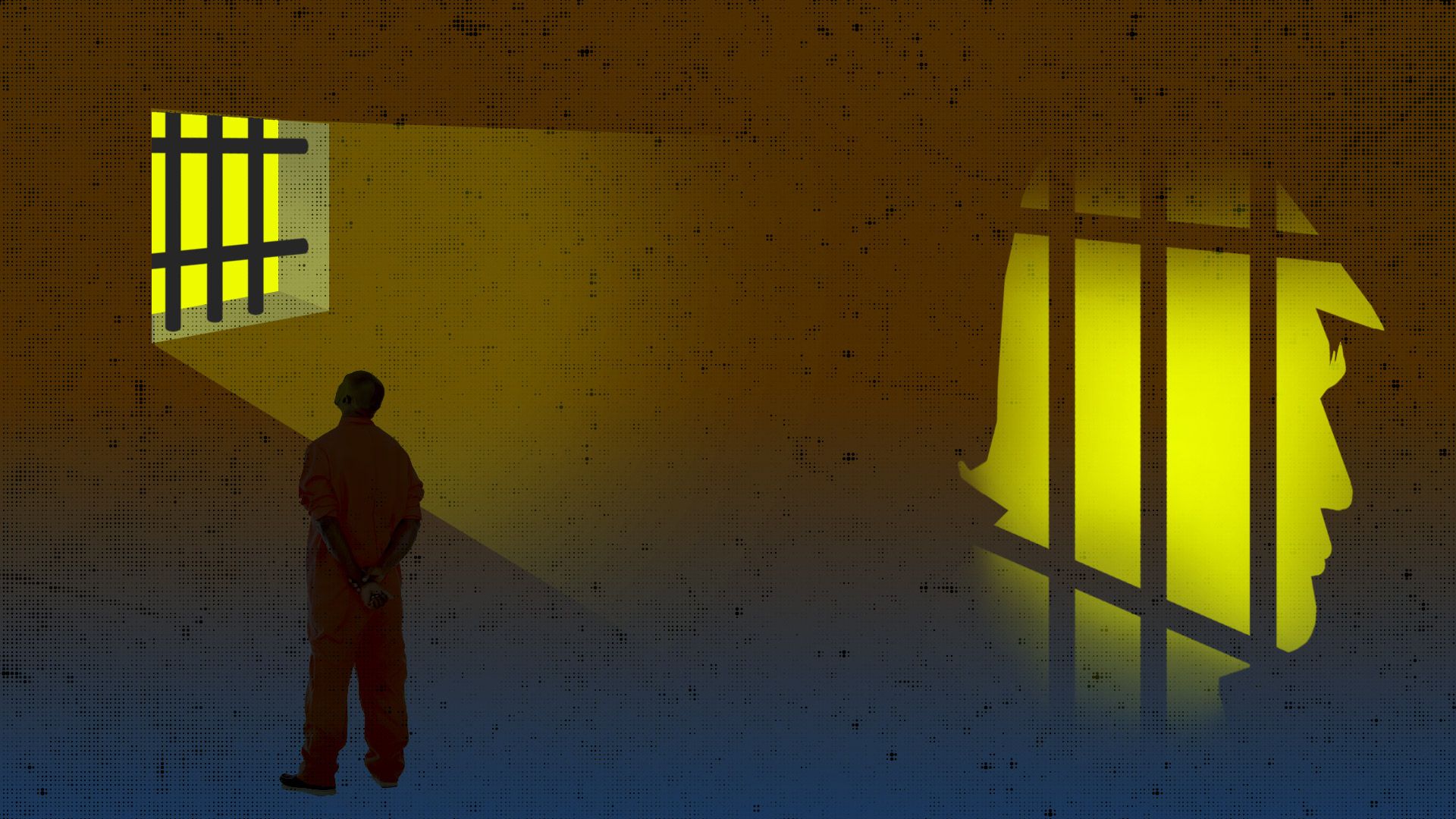 President Trump commuted the sentence of 63-year-old Alice Johnson after meeting with Kim Kardashian, adding to the list of pardons and commuted sentences for controversial criminals such as Joe Arpaio, Scooter Libby and Dinesh D'Souza.
Why it matters: Trump's decisions on whether someone deserves to be jailed or released from prison are based on anything from unexpressed gratitude to celebrity advocacy.
Lock them up:
Hillary Clinton. Throughout the 2016 presidential campaign, Trump would lead his supporters in chants of "lock her up." In the second presidential debate, Clinton commented, "It's just awfully good that someone with the temperament of Donald Trump is not in charge of the law in our country." To which Trump infamously replied, "Because you'd be in jail."

(Trump's) charges: Deleting personal email accounts, fault in the Benghazi attacks.

James Comey. Trump wasn't Comey's biggest fan even before the election, but he's been especially critical of Comey since he leaked his bombshell memos detailing his interactions with the president, which helped fuel Special Counsel Robert Mueller's Russia investigation. Trump claims those memos were classified.

Charges: Giving up classified information, lying to Congress.

Chelsea Manning. The former U.S. soldier who leaked confidential information to Wikileaks served a little more than 6 years in prison for violating the Espionage Act before President Obama commuted her sentence in January of 2017.

Charges: Trump has tweeted, "Ungrateful TRAITOR Chelsea Manning, who should never have been released from prison, is now calling President Obama a weak leader. Terrible!"

Huma Abedin. The State Department released emails from Hillary Clinton's top aide found on her husband Anthony Weiner's laptop, which contained confidential information.

Charges: Trump tweeted at the time, "She put Classified Passwords into the hands of foreign agents. Remember sailors [sic] pictures on submarine? Jail!" This tweet has since been deleted.

Snoop Dogg. He released a music video last year in which he points a gun at the head of a Trump mask.

Charges: "Can you imagine what the outcry would be if @SnoopDogg, failing career and all, had aimed and fired the gun at President Obama? Jail time!"

People who burn the American flag.

Charges: Weeks after the election, Trump tweeted that "there must be consequences - perhaps loss of citizenship or year in jail!"

Gitmo prisoners released by former President Obama. He reduced Guantanamo Bay's population to just 41 before the end of his time in office. Trump tweeted that 122 of them returned to terrorist activity, although 113 of those 122 were released under President George W. Bush, according to Snopes.
LaVar Ball's son. Three UCLA basketball players were detained in China for shoplifting, including one of LaVar Ball's sons, LiAngelo Ball. Trump was in China around that time and allegedly asked Chinese President Xi Jinping to release the boys, which he did. LaVar Ball seemed to downplay Trump's involvement, which led to Trump calling Ball an "ungrateful fool!"
Let them out:
Joe Arpaio. The former Arizona Sheriff and current candidate for Senate, was criticized for alleged racial profiling and other egregious police misconduct. Trump pardoned him last August.

Charges: Contempt of court.

Kristian Mark Saucier. The former Navy Seal who took photos of classified engineering areas of a nuclear-powered attack submarine. Trump pardoned him in March of this year.
Charges: Unauthorized retention of defense information.

Scooter Libby. President George W. Bush commuted the advisor of former

Vice President

Dick Cheney's federal sentence, but Trump gave him a full pardon in April.

Charges: Obstruction of justice, false statements and two counts of perjury.

Jack Johnson. He was a famous American boxer, nicknamed the Galveston Giant, who became the first African-American world heavyweight boxing champion. Johnson died in 1946, but Trump pardoned him last month.

Charges: Violation of the White Slave Traffic Act, a racially-motivated law which outlawed transporting women across state lines.

Dinesh D'Souza. The prominent conservative pundit served in the Reagan administration and worked at both the American Enterprise Institute and the Hoover Institution. Trump pardoned him at the end of last month.

Charges: Campaign contribution fraud in Wendy Long's 2012 U.S. Senate race.

Sholom Rubashki. He was the former CEO of a kosher meatpacking company based in Iowa. Trump commuted his sentence in December.

Charges: Bank fraud, false statements and reports to a bank, wire fraud, mail fraud, money laundering and aiding and abetting, willful violation of order of Secretary of Agriculture and aiding and abetting.

Alice Johnson. Kim Kardashian saw a video about Johnson, who was serving a life sentence for a nonviolent crime, and decided to help release her from jail. She spoke with Jared Kushner over the phone, and eventually met with President Trump in the Oval Office to request a pardon. Trump signed a commutation of her sentence on June 6th.

Charges: Johnson was given a life sentence for non-violent drug charges.
Go deeper