The big picture: U.S. allies erupt in 'open trade war'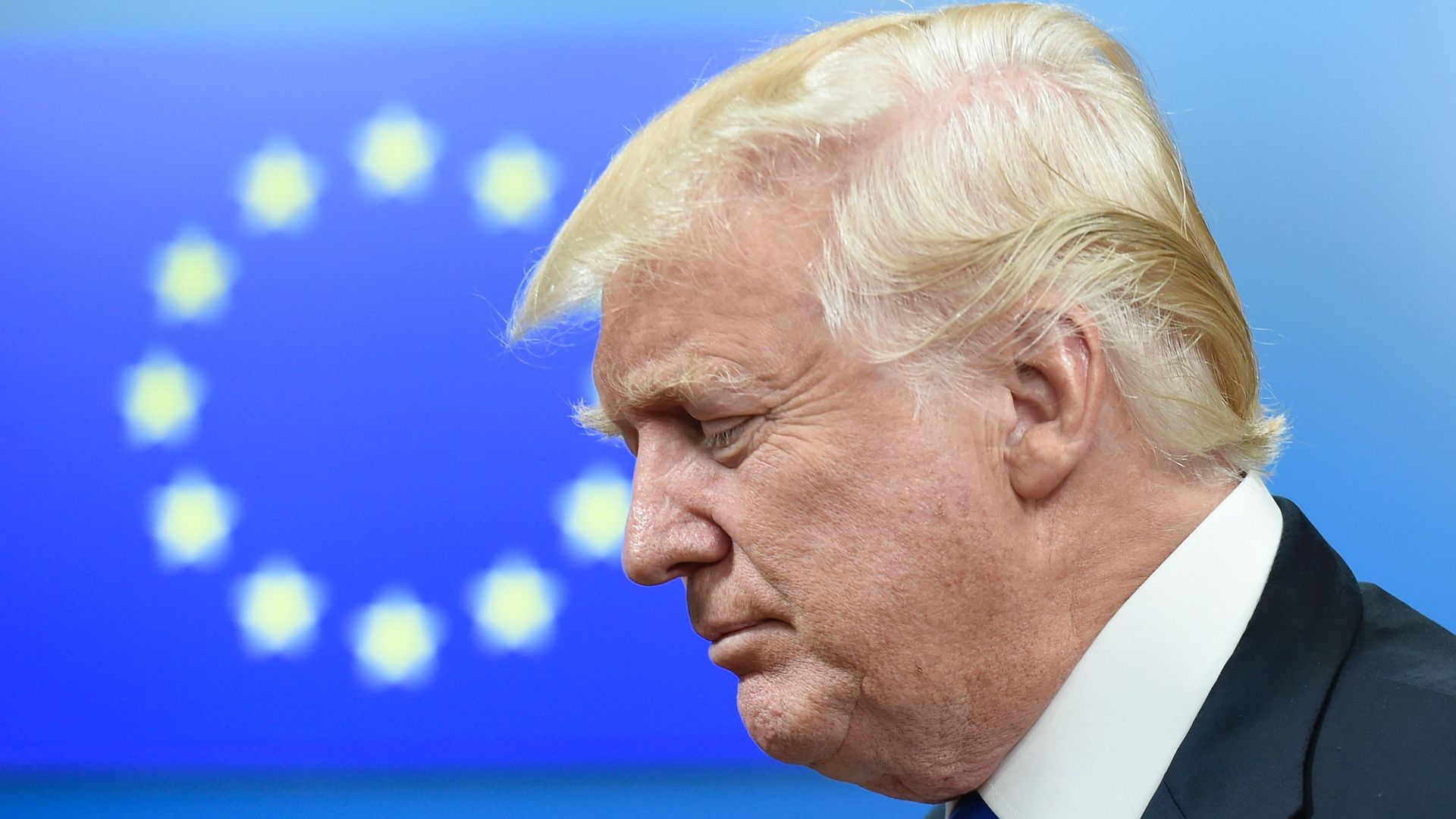 Days ahead of a G-7 meeting this weekend in Quebec, many analysts say the U.S. is in an open trade war with its most steadfast allies.
Be smart: President Trump still appears to be winging it, throwing out one extreme idea after another. His latest threat on NAFTA may merely be his maximalist negotiating strategy at work: No one — perhaps even he — knows. But the EU, Mexico and Canada appear to be drawing a hard line in the sand, creating an atmosphere of brinksmanship.
Details:
The EU today slapped tariffs on $3.4 billion in U.S. exports of peanut butter, boats and Harleys, aimed at congressional leaders' districts.
Canada is targeting $12.8 billion in pens, orange juice, maple syrup, mattresses and toilet paper, also aimed at powerful congressman.
Mexico imposed tariffs Tuesday on $3 billion of U.S. pork, cheese and steel, aimed at farmers.
"An open trade war has finally erupted in the backyard of the U.S., with potentially dire repercussions for the survival of NAFTA"
— Eswar Prasad, a Cornell University professor,
tells the FT
Quick take: Until now, this has been a one-way war declared by President Trump, who for decades has railed against the supposed negotiating incompetence of U.S. trade officials. Now, as president, he has lurched from crisis to impasse, and yesterday threatened to tear up the quarter-century-old NAFTA treaty, saying that he prefers to negotiate separately with Mexico and Canada. Both U.S. neighbors reject the idea.
By the numbers:
The Commerce Department today reported that the U.S. trade deficit fell to a seven-month low in April, to $46.2 billion, reports Reuters' Lucia Mutikani. In addition, Commerce revised the March figure to a lower figure than previously reported — $47.2 billion, down from $49 billion.
And, in a survey released yesterday by the U.S. Business Roundtable, 95% of CEOs said there is at least a moderate risk of reduced U.S. exports from retaliation by trading partners. And 89% said lower U.S. economic growth is at least a moderate risk.
Republicans are also pushing back: Legislation attached by Republican senators to the must-pass defense authorization bill would put handcuffs on Trump's ability to use national security as a basis to impose tariffs, as he has done, report WSJ's Siobhan Hughes and Kristina Peterson.
What trade analysts are saying:
David Wessel at Brookings thinks that Trump faces tough opposition: "It's really hard to believe that he is going to abolish NAFTA, that the American business community with its integrated supply chains (and their friends on the R side in Congress, will meekly accept this, or that Mexico and Canada would agree to such an obvious divide-and-conquer tactic."
Bill Reinsch, at the Center for Strategic and International Studies, predicts that Canada and Mexico will maintain a united front against Trump. "Remember the Benjamin Franklin quote: 'We must all hang together or most assuredly we will all hang separately.'"
Edward Alden, at the Council on Foreign Relations suggests that we are watching Trump's calling card — "Make threats, and if they don't work, double down, and then if that doesn't work, triple down.'"
Go deeper: American products that now face Trump's trade war
Get more stories like this by signing up for Steve's weekly newsletter, Axios Future. 
Go deeper