Go deeper: How Trump can separate migrant families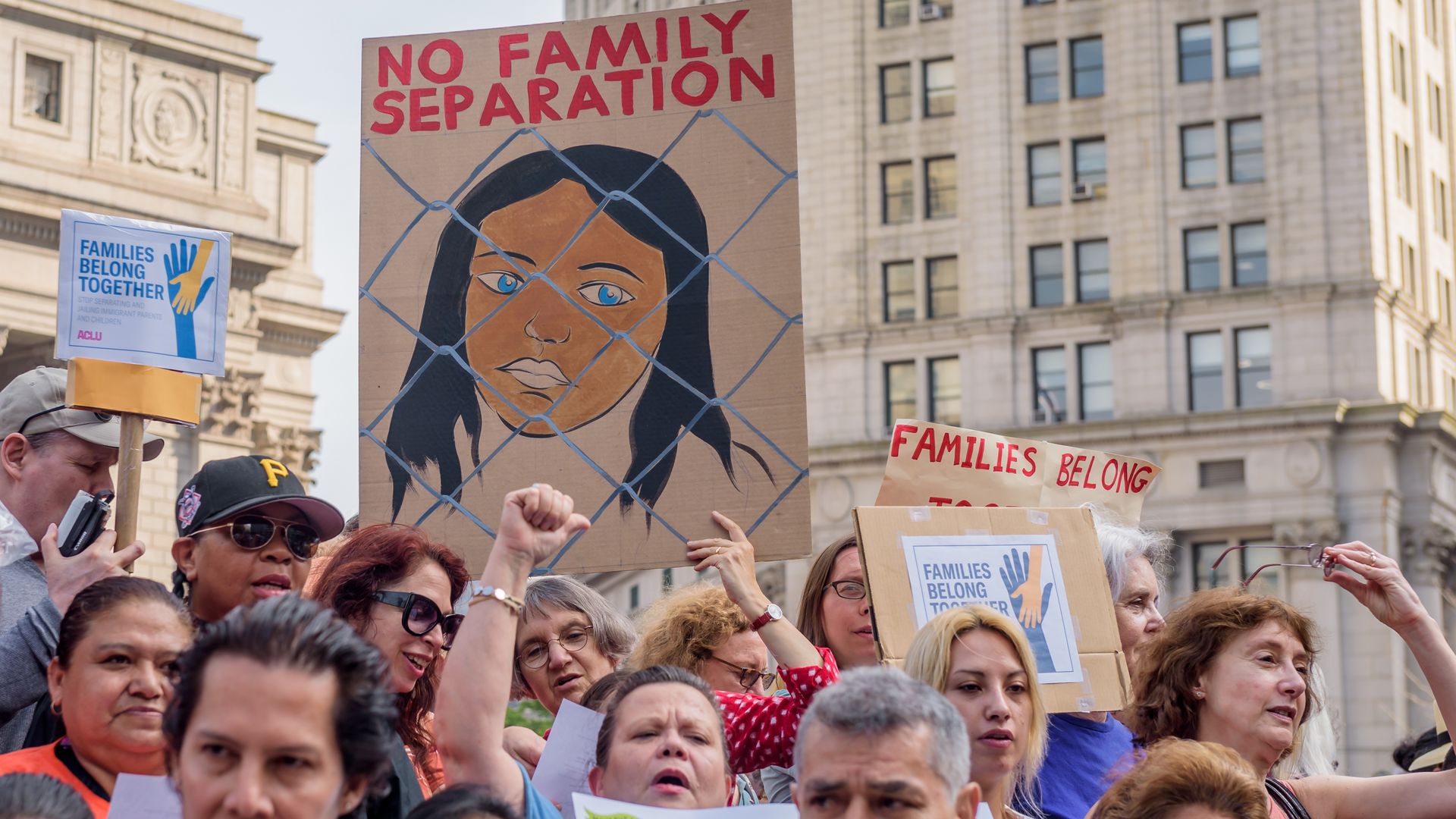 President Trump tweeted this morning — again — incorrectly claiming that the current practice of separating undocumented children from their parents when they cross the border stems from a "law" passed by Democrats.
Why it matters: While a later court decision on a deal reached by a Democratic president opened the legal possibility of separating children immigrants from their parents, only the Trump administration decided to take advantage of the ruling and enforce the practice.
The backstory: It all starts with two mechanisms from the Clinton and George W. Bush administrations designed to protect undocumented children who arrived at the border:
The Flores Settlement was agreed to in 1997 by the Clinton administration following lawsuits against poor conditions in child immigrant shelters. The agreement required unaccompanied minors to be released from detention and placed with their parents, relatives or the "least restrictive" shelter.
The Trafficking Victims Protection Reauthorization Act (TVPRA) was passed in 2008 and mandated how undocumented immigrants under the age of 18 who crossed the border without their parents should be treated, in order to protect them from trafficking situations. This included releasing child immigrants from detention within 3 days and evaluating the danger and risks of being trafficked before returning them to their home country.
Yes, but: a more recent federal court ruling left the door open for the Trump administration's current policy:
In 2015, the 9th Circuit Appeals Court ruled the Flores Settlement applied to both accompanied or unaccompanied minors — but did not apply to their parents. This eliminated the possibility of keeping whole families in detention long term, because the children were not permitted to be there, thanks to the previously instituted protections. Therefore, immigration enforcement could either release the whole family into the U.S. — or release the children and keep the parents in detention.
Leon Fresco, an immigration lawyer who argued on behalf of the government in 2015, warned at the time that the decision could lead to future administrations forcibly separating child migrants from their parents, he told Axios. Fresco said that the idea seemed too far-fetched at the time, "but I knew people like that. And now those people are in power."
The bottom line: The recent practice of separating migrant families is due to the Trump administration's decision to institute a "zero-tolerance" policy at the border. And while the mechanisms that allowed the Trump administration to institute its policy came about under Democratic administrations, they are not "law" and could be changed at any time.
Go deeper: Reality check: The facts behind the "missing" immigrant children
Go deeper