Why Microsoft's GitHub acquisition matters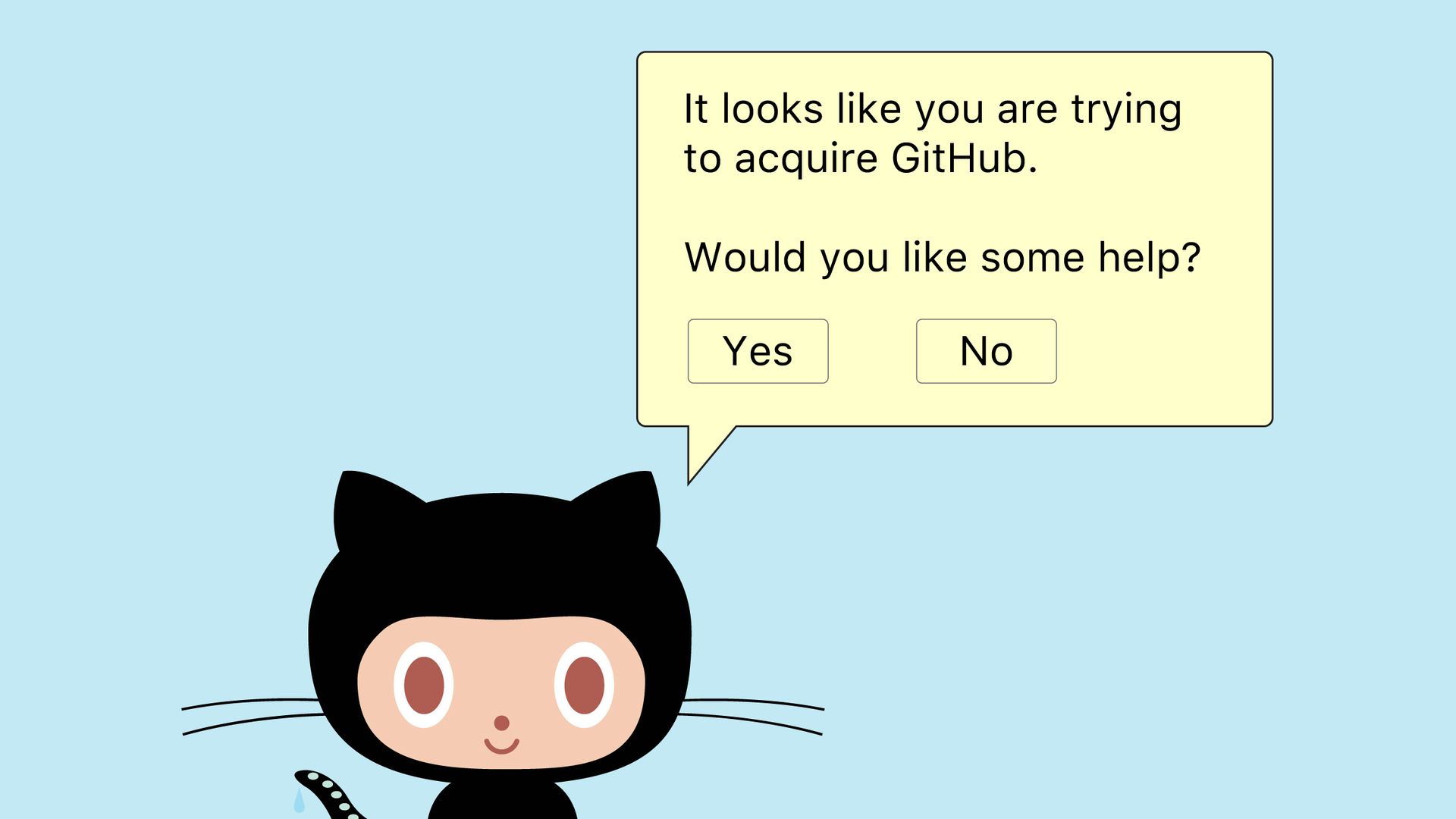 Microsoft announced this morning it is acquiring GitHub, the social network for coders as well as home to millions of different software projects, for $7.5 billion.
Why it matters: This further highlights the turnaround Microsoft has already made in its stance toward open source software.
Statement:
"The era of the intelligent cloud and intelligent edge is upon us. Computing is becoming embedded in the world, with every part of our daily life and work and every aspect of our society and economy being transformed by digital technology. Developers are the builders of this new era, writing the world's code. And GitHub is their home."
—
Satya Nadellla, CEO, Microsoft
Behind the scenes: While former Microsoft CEO Steve Ballmer once called Linux a cancer, the company has steadily warmed to open source, with Nadella embracing it with open arms.
GitHub plays into that strategy as it's used by developers of all stripes to store their code projects. The San Francisco-based company was founded in 2008 and is now home to 80 million software repositories.
The big picture: Playing host to the world's code doesn't necessarily make Microsoft a more central player, but it could tightly integrate GitHub into its developer tools. Microsoft decided last year to shut down its own CodePlex software repository, bowing to GitHub's popularity.
What about Windows? Though certainly a fan of its homegrown operating system, Microsoft's main goal these days is to be in tight with developers and get them writing code that can live in its Azure cloud.
Microsoft even dropped the Windows name from Azure, reflecting the fact you don't have to use Windows to work with Azure.
History lesson: Microsoft's shift to embrace Linux is somewhat reminiscent of the earlier move IBM made to do so. Both companies are now seen as the mature veterans of the enterprise market, more interested in meeting corporate computing needs than pushing homegrown architectures.
Tick-tock: Here's a quick timeline of Microsoft's changing attitude toward open source software.
More on the deal: The transaction is valued at $7.5 billion in stock, with that price remaining firm no matter where Microsoft shares are trading when the deal closes.
It's a big win for GitHub's venture capitalists, who invested just $450 million over two rounds (most recently at a $2 billion valuation). They include Sequoia Capital, Andreessen Horowitz, IVP, Markmel Co. and Thrive Capital.
There was talk about rival interest from companies like Google, but we're getting conflicting accounts on if a formal offer was made. What everyone agrees on is that GitHub received tons of inbound M&A inquiries over the years.
Microsoft exec Nat Friedman (founder of Xamarin) takes over as CEO, while current GitHub CEO Chris Wanstrath becomes a Microsoft technical fellow.
Go deeper