What we're watching: The DACA debate heats up on the hill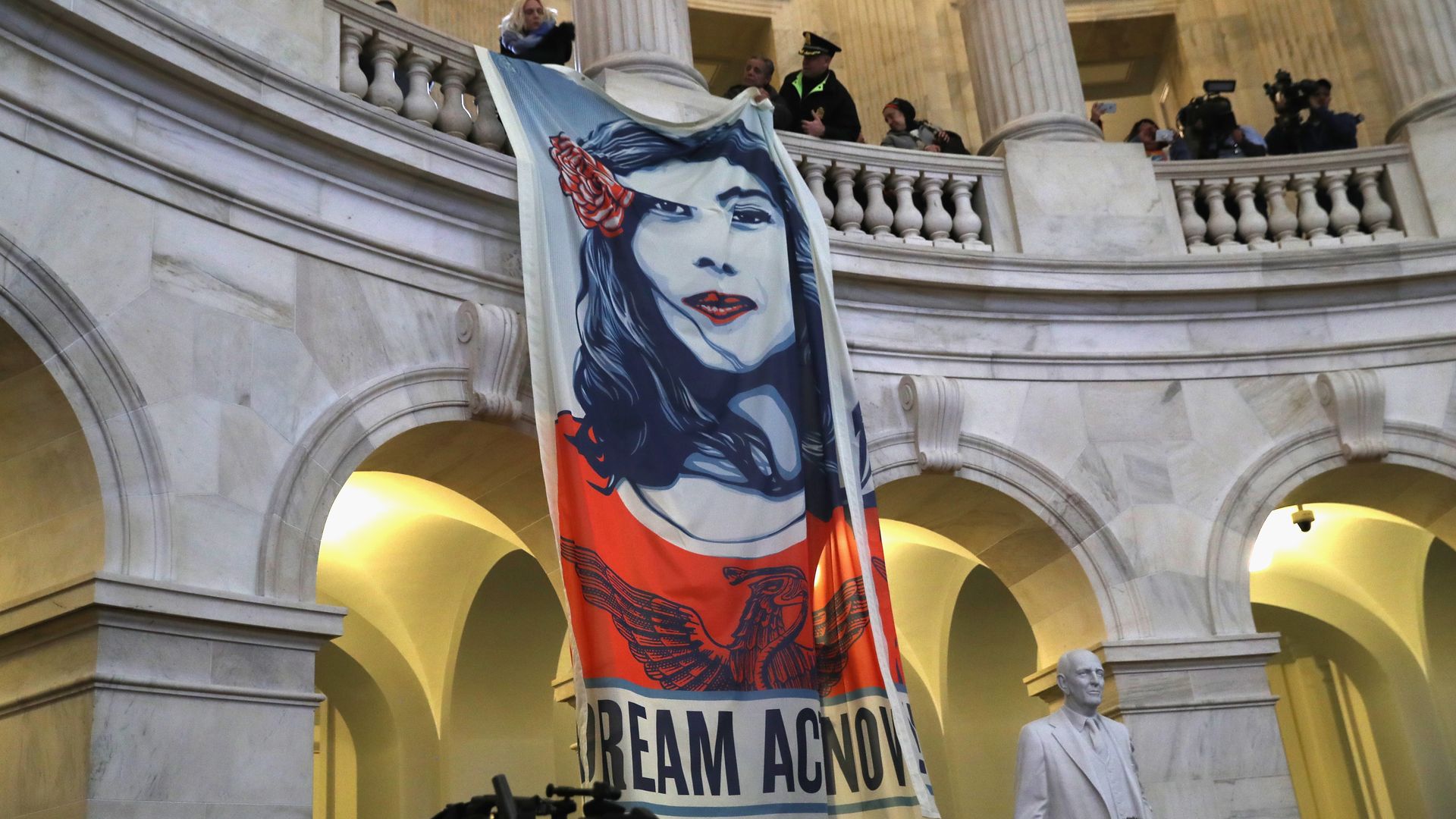 There are still around 800,000 DACA recipients in limbo, and Trump's signature promise of "the wall" remains unfulfilled. Next week, Congress will be back from recess to duke it out.
Where things stand: Court injunctions have allowed DACA recipients to continue renewing their legal status, and by the end of this month the Trump administration could be forced to begin accepting new applications as well. But these court decisions are not a permanent solution. After the Senate failed to find a legislative fix, the House is now taking a whack at it.
Here are three key things to watch in the House next week on immigration:
1. The negotiations
House Freedom Caucus members and moderate Republicans are working to find a new immigration compromise. Thus far, the agreement has focused on creating a pathway to citizenship for Dreamers, adding billions of dollars for border security, and phasing out per-country caps for green cards, according to a GOP aide.
The deadline: An acceptable deal will need to be pulled together before the big GOP conference this Friday.

A spokesperson for Rep. Carlos Curbello, who has been engaged in negotiations but has also been a key supporter of other efforts to force an immigration vote, told Axios that if a compromise isn't reached by the GOP conference, "the discharge petition empowers House Leadership to put forward a bill."

Some Democrats, including Rep. Raja Krishnamoorthi, have had discussions with some Freedom Caucus members about the negotiations, but haven't been directly involved.
2. The petition
The petition championed by moderate Republicans to force a vote on four different immigration bills is just five signatures short, with three Democrats among those holding out.
"I cannot support a border wall which is a 14th-Century solution to a 21st-Century problem."
—
Democratic Rep. Henry Cuellar, who is not signing the petition, told Axios in a statement
The buzz: Republican Rep. Jeff Denham, who has championed the petition effort, is confident it has enough support. He has said he plans to hold the final signatures back while negotiations are ongoing, according to Roll Call. Denham's spokesperson told Axios he "continues to be focused" on the petition.
Be smart: At least one central goal of the petition has already been accomplished — forcing the immigration debate back into the limelight ahead of the midterms.
The deadline: The only two dates that these votes could take place before the end of FY 2018 are June 25th and July 23rd, according to Denham's spokesperson. In order to force a vote on June 25th, the petition would need to have the requisite signatures by June 18th.
3. The Goodlatte bill
House Majority Whip Steve Scalise announced last week that the Goodlatte immigration bill — which closely follows the President's immigration priorities and would cut legal immigration — will get a vote toward the end of June. This announcement came shortly after Freedom Caucus members let a popular farm bill fail, demanding a vote on immigration first.
Why it matters: While it's not likely to pass, the Goodlatte bill has strong support among hardline Republicans on the Hill, and it gives them the chance to make a political point.
Go deeper