Ivanka and Jared's long game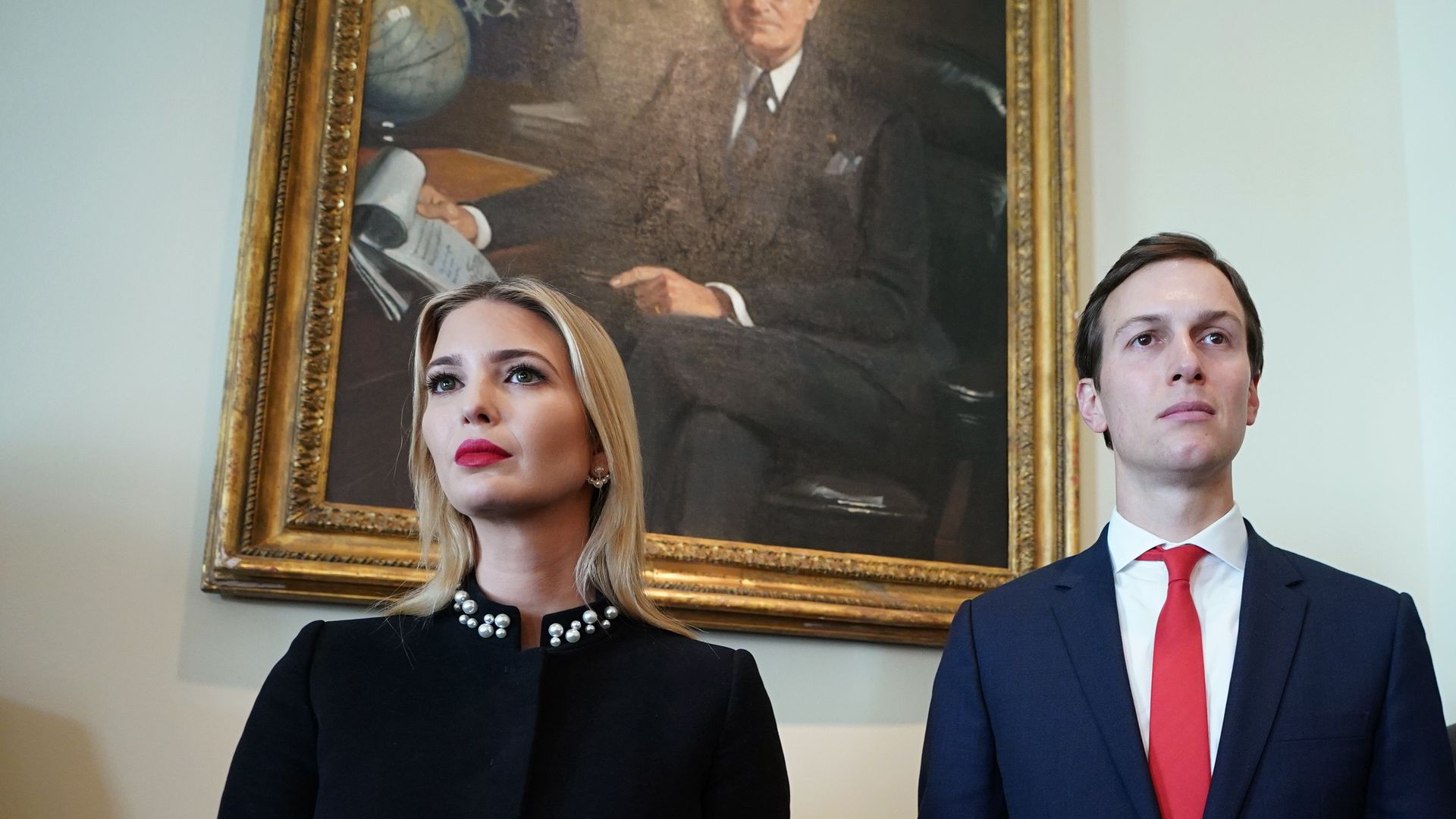 Ivanka Trump and Jared Kushner, who dominated coverage early on with their unparalleled Oval Office access and various business and political controversies, now are out of the spotlight for long stretches.
What's happening: Leaks of their views, feuds or demands have abated. A talkative enemy, Steve Bannon, is gone — as are allies Dina Powell and Gary Cohn. And they have largely lived by Chief of Staff John Kelly's check-in-with-me-first rules. Inside the White House, their abnormal roles are accepted as reality, though the eye rolling and concerns of conflicts of interests persist.
Mueller investigators continue to scrutinize meetings involving Kushner, and Ivanka Trump attracted unwanted publicity this week after China awarded her seven new trademarks.
But the first daughter and son-in-law are hardly disappearing. Both just secured security clearance upgrades, continue to hold substantive portfolios, and tell friends they have no plans to bolt D.C. any time soon. 
Depending your vantage point, they live in a parallel universe — or are preparing for one if Democrats win power this November.
While POTUS hammers away on illegal immigrants and the Mueller probe, Jared is working on Israeli-Palestinian peace (both appeared this month at the opening of the U.S. embassy in Jerusalem), and NAFTA negotiations with Canada and Mexico.
Both are toiling away on Clinton-style smaller ball policies, some of which can win support from Democrats, especially if they take control of the House.
Among their policy projects:
As part of Ivanka Trump's push on workforce development, President Trump yesterday held a White House Sports and Fitness Day, announced his President's Council on Sports, Fitness, and Nutrition, and released a report on "The Potential for Youth Sports to Improve Childhood Outcomes."
For her working families agenda, Ivanka pushed for the expansion of the child tax credit within tax reform, continues to build a coalition for paid family leave, and has made skills training a priority.
Kushner continues spearheading criminal justice reform, and met yesterday with Kim Kardashian to discuss prison reform. He also is focusing on building bipartisan relationships on Capitol Hill.
His Office of American Innovation runs modernization projects that include government technology and patient data. In Vegas in March, Kushner gave a speech about the advantages of electronic health records.
Be smart: The great unanswered mystery is whether they leave D.C. on their terms or Mueller's.
Go deeper