Facebook's rivals take it to school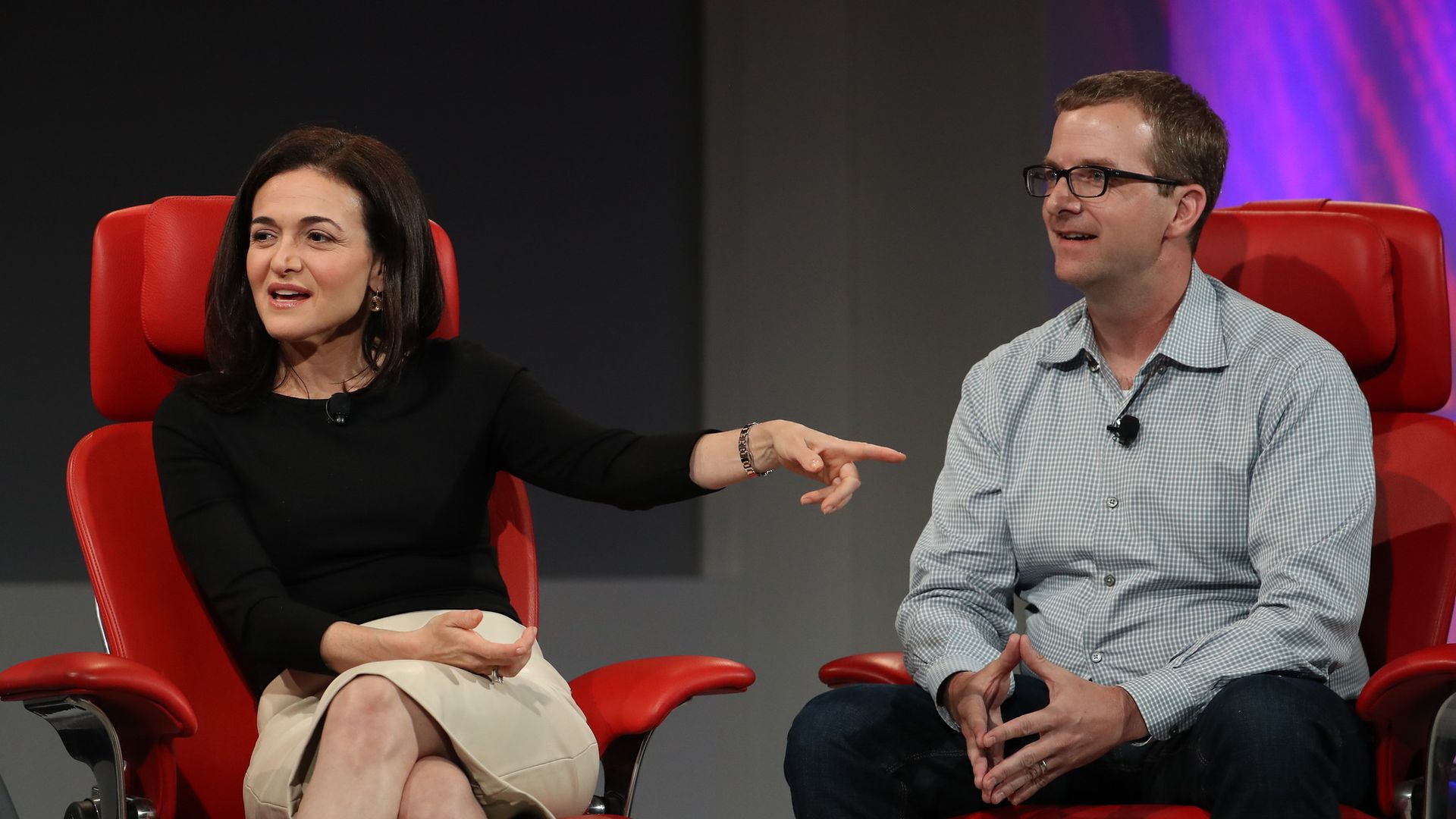 The Code Conference gave Facebook an opportunity to show that it is tackling its many problems head on — but the executives who preceded Facebook COO Sheryl Sandberg and CTO Mike Schroepfer on stage also had some valuable insights for the embattled tech giant.
Why it matters: A lot of people on and off Capitol Hill still believe that Cambridge Analytica-style data hijacking is exactly what Facebook is optimized for. Facebook has learned how to take an effectively humble tone — but it has yet to persuade a skeptical world it's got integrity.
The view from Redmond: Microsoft president Brad Smith talked about all the ways his company's long antitrust battle, beginning in the late '90s, hurt the company in subsequent decades.
Smith said the legal siege distracted the company's leaders, potentially causing the company to miss search and other big trends. Years later, the rules the government laid down for Microsoft hampered the company in future battles with iOS and Android.
Microsoft took a stubborn hard line against the threat of government oversight. It might have fared better, Smith said, to try to work with regulators rather than fight in court: "You have to solve problems when they are small enough to be solved."
One of the hard lessons for tech companies that believe in their missions, he said, is that the rest of the world sees you differently: "They don't think you re quite as good looking as you thought you were."
The bottom line, per Smith: " If you create technology that changes the world, the world is going to want to govern you."
The view from Snapchat:
Evan Spiegel, CEO of Snapchat, Facebook's rival social network, offered some insights of his own. While Facebook has been able to copy some of his company's products, Spiegel said that the company hasn't managed to incorporate its values (or, he quipped, modeled Snapchat's practice of not hanging on to user's data) .
"They've changed their products and I think they've changed their mission, but fundamentally they are having trouble changing the DNA of their company.... As time goes on, I think it will become more and more clear that values are hard to copy."
Facebook's take: For their part, Sandberg and Schroepfer largely repeated past apologies and statements. A couple things stood out, though.
When I asked her why Facebook, knowing about Cambridge Analytica, didn't flag the Trump team's efforts as problematic at the time, Sandberg said that the campaign didn't appear to have a suspicious amount of data on potential voters. "No, not really," Sandberg said.
Ad sales fuel Facebook's hunger for user data. Asked whether Facebook would ever offer users a paid service as an alternative to its advertising model, Sandberg said: "We've looked at subscriptions and we will continue to look at them. We are committed to providing a free service. We're looking. We've always looked. But the heart of the service is a free service."
The bottom line: When Facebook CEO Mark Zuckerberg testified before Congress, he took a much more conciliatory stance than his predecessor, Bill Gates, did 20 years ago. But Facebook continues to face tough questions over why it didn't act sooner and how it can protect users going forward.
Go deeper