Reality check: The facts behind the "missing" immigrant children
Images of young boys behind chainlink fences and a report that the government lost track of almost 1,500 minors have sparked outrage over the U.S.'s treatment of child immigrants, but some criticism has missed the mark.
Between the lines: There are three unrelated concerns. But only one — the separation of children from their parents — is a trend that began with the Trump administration's immigration agenda.
1. Separating of children from their parents
The Trump administration announced that they would begin prosecuting anyone who crosses the U.S. border illegally as part of Attorney General Jeff Sessions "zero-tolerance" policy. This will lead to more children being separated from the parents who will face prosecution. Sessions has said, "If you don't want your child separated, then don't bring them across the border illegally."
2. 1,500 lost children
There have been reports that Health and Human Services lost track of almost 1,500 children who crossed the border as unaccompanied minors. After being apprehended by Customs and Border Patrol, these 0-17 year olds who cross into the U.S. without their parents are sent to HHS, which places them, most often, with family already in the U.S.
Why it matters: 30 days after placing a child with a "sponsor," HHS calls the sponsor. There have been 1,475 cases in which the sponsor did not answer that phone call, HHS Deputy Secretary Eric Hargan told Hugh Hewitt on Tuesday, arguing that it does not mean those children are "lost."
Yes, but: In 2014, there were some cases of children accidentally being placed in human trafficking situations; a Senate report found 6 children who were forced to work long hours on an egg farm.
In a call with reporters on Tuesday morning, DHS Assistant Secretary for Public Affairs Jonathan Hoffmann and HHS Deputy Assistant Secretary Stephen Wagner said the two agencies are working to set up a system that would better ensure the safety of children placed with sponsors, which would include fingerprint tracking of sponsors.
3. Prison-like child immigrant detention centers
This image is from 2014, when the Obama administration faced a surge of unaccompanied minors and family units from Central America and created short term detention centers to house them. (Read more about how Trump inherited a surge in Central American asylum seekers.)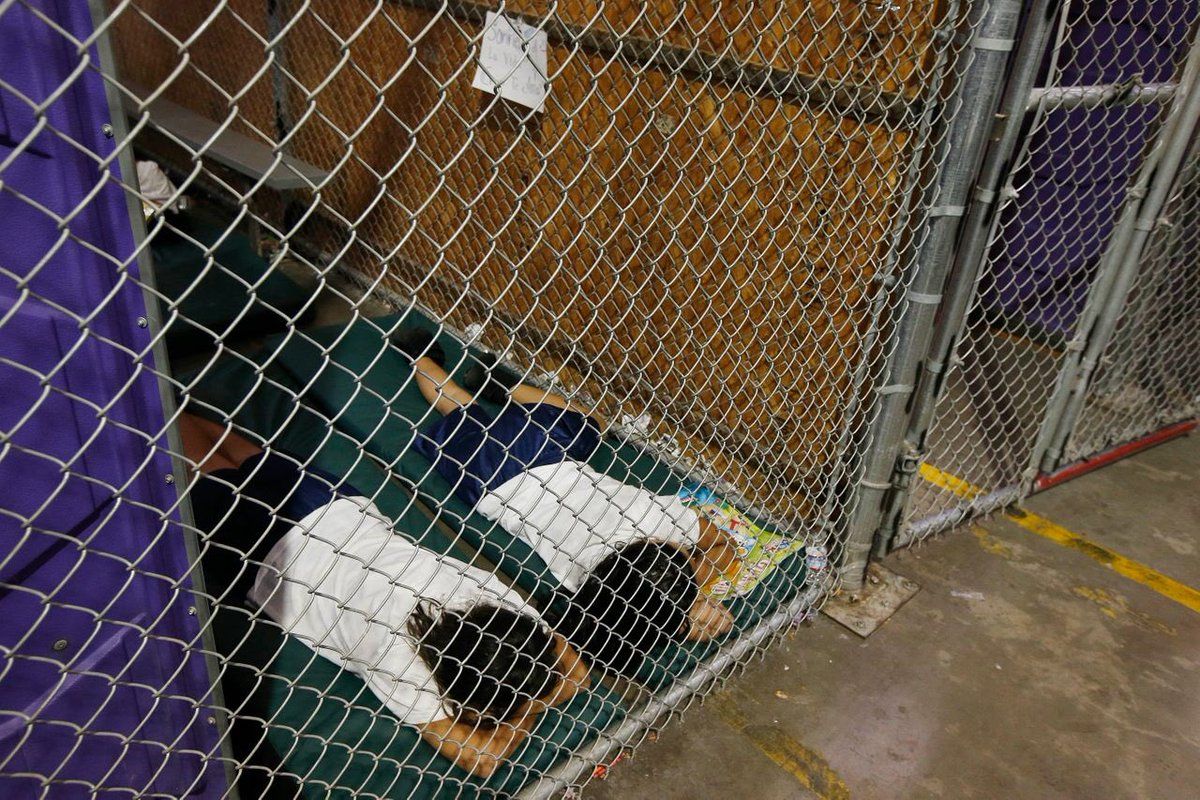 Yes, but: Children are still often temporarily detained when they cross the border unaccompanied and families are most often sent to three facilities: the South Texas Family Residential Center in Dilley, Texas, Karnes County Residential Center in Karnes City, Texas, and Berks Family Residential Center in Leesport, Pennsylvania, which have had reputations of poor, prison-like conditions, according to the American Immigration Council.
Go deeper