"Medicare for All" is a winner in Democratic primaries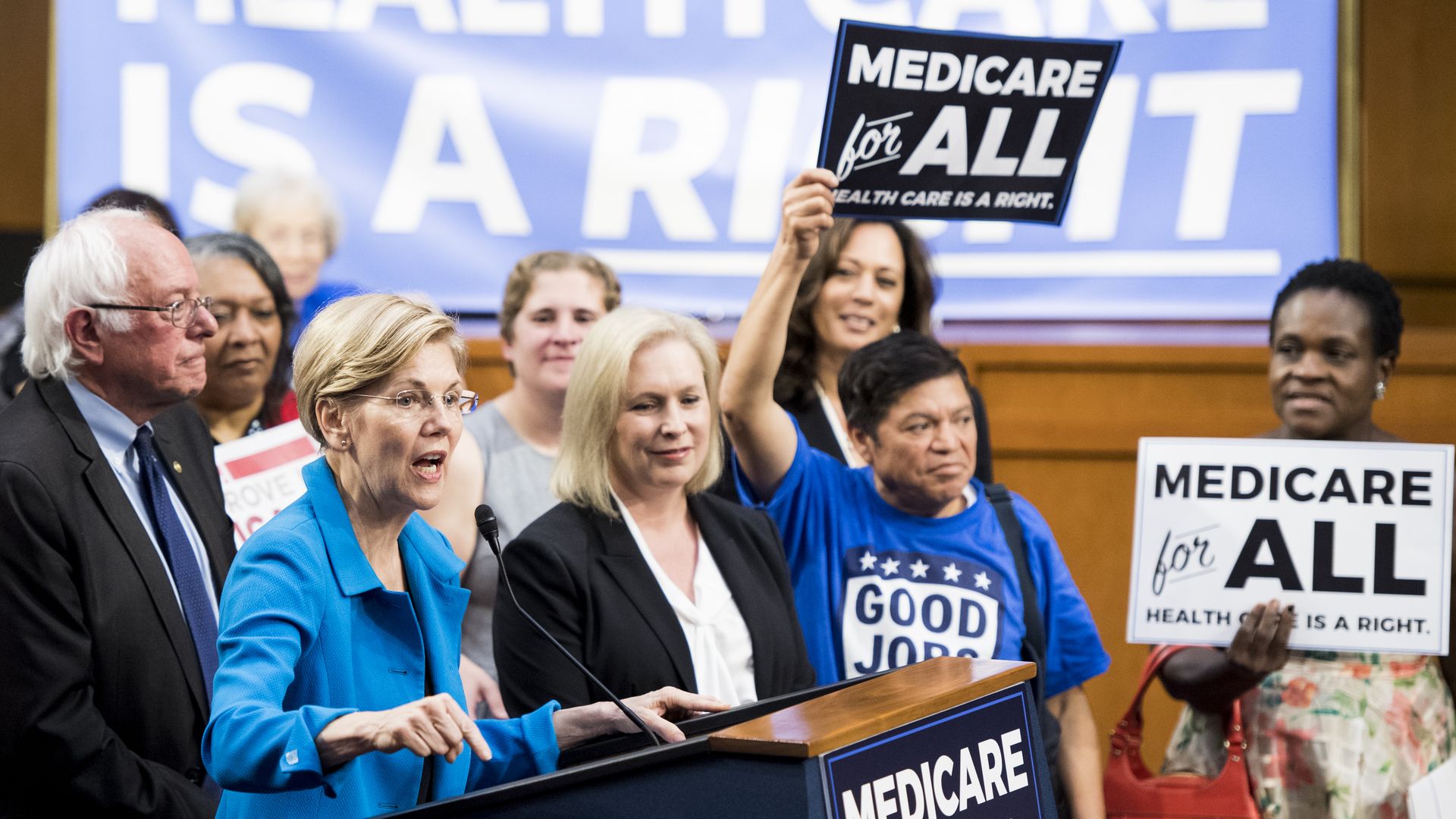 Candidates who support a single-payer health care system — or at least some expansion of government health coverage — are winning important Democratic primaries. And there are plenty more still competing in California and New York districts that are key to Democrats' push to win the House.
Why it matters: Republicans see this as an advantage, and a shift too far to the left for voters in swing districts. And the Democratic establishment had backed more moderate candidates in some of these primaries.
Where single payer is winning:
In Nebraska's 2nd district, Kara Eastman, who supports "Medicare for all," beat a former congressman backed by the Democratic Congressional Campaign Committee.
Two "Medicare for all" backers, Scott Wallace and Susan Wild, won House primaries in Pennsylvania.
Gina Ortiz Jones, competing to unseat GOP Rep. Will Hurd in Texas's 23rd district, "supports a single payer system," per her campaign website.
Sean Casten, competing for Rep. Peter Roskam's seat in Illinois's 6th district, has an extremely detailed step-by-step health care plan that would "provide a path to Medicare for all, but only provided that Americans – at their discretion – chose to buy into that option."
Amy McGrath prevailed in Kentucky's 6th district, against a DCCC-backed opponent. Although she says "currently proposed single-payer legislation would represent such a sweeping overhaul that it would put our healthcare system into massive upheaval," she supports allowing people older than 55 to buy into Medicare and creating a public insurance option.
The big picture: Single-payer supporters are still a minority within the Democratic Party, but they've pulled off some successes so far and gained more ground than they've ever had before.
Yes, but: While single-payer is increasingly a winning position in Democratic primaries, to win the House majority, Democrats will need to flip several suburban or swing districts that tend to elect moderates.
What's next: California and New Jersey hold their primaries a week from today. Between them, those states include more than a dozen competitive seats, making them a crucial part of Democrats' strategy.
What we're watching: In several California districts, including the 39th, 45th, 48th and 49th, a majority of the Democratic candidates support single payer, the OC Register reports. That means there's a good chance a single-payer ally will be in the general election.
Candidates who support some kind of single payer system, or at least expanding access to government coverage, are also running in Minnesota, New Jersey, Iowa, New York, Maine and Washington state. These primaries will occur over the next few months.
The bottom line: Most of Democrats' leading 2020 prospects have endorsed some form of single-payer. With single-payer allies on the ballot, some of these midterm races will turn into smaller referendums on whether it's a winning issue not just among Democrats, but also swing voters.
Go deeper: What Bernie's single-payer bill means (and what it doesn't).
Go deeper