Updated May 25, 2018 -

World
Trump needs leadership and allies to salvage the North Korea summit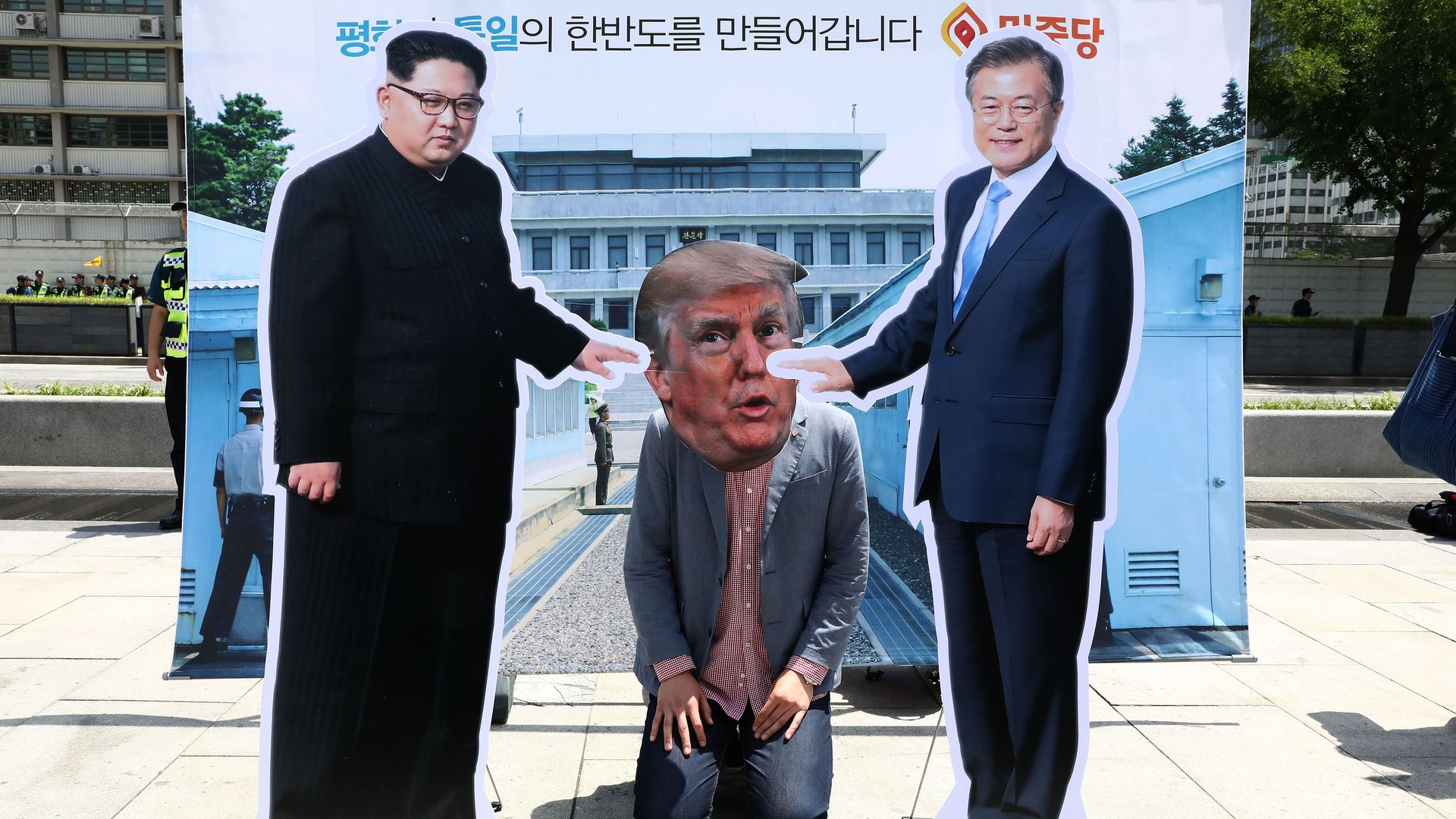 While high hopes and expectations for the planned Kim–Trump summit in Singapore seemed to vanish yesterday, Trump's letter to Kim left open the possibility to reschedule, and North Korea's reaction was surprisingly humble and flexible, affirming a willingness to meet.
Yes, but: Even if Trump's North Korea diplomacy ends here, the mere prospect of the June summit has already enhanced Kim's status on the international stage and conferred legitimacy on his authoritarian regime. Under diplomatic pretenses, North Korea drew China closer to its side after an extended period of tensions, and its relations with South Korea have also significantly improved. Going forward, it will be much more difficult for the U.S. maximum pressure campaign —not to mention U.S. military action — to garner support from these countries.
The abrupt cancellation reveals that Trump lacks a coherent, clever North Korea strategy. Diplomacy is not a business deal, and he cannot afford to be the sole decision-maker. The summit collapse news, which came less than 48 hours after the U.S.–South Korea meeting in Washington, left President Moon, who put every possible effort in brokering the peace process, disappointed and embarrassed.
The U.S.–South Korea alliance could be further damaged if the two sides do not come to a consensus on their North Korea approach. What previously seemed a U.S.–South Korean–Chinese coalition on sanctions against North Korea may turn into a North Korean–South Korean–Chinese coalition against U.S. policies toward the North.
What to watch: Despite the turbulence, neither country is likely to abandon the summit. Both sides have strong, clear political and economic interests in making it happen — Trump's desire to score a personal victory before the November election and Kim's desire to lift or ease current sanctions.
The bottom line: Trump needs to show political leadership, not gamesmanship, in coordinating with key stakeholders China and South Korea if he wants to make progress with North Korea.
Gi-Wook Shin is chair of Korean Studies at Stanford University, director of the Walter H. Shorenstein Asia-Pacific Research Center and senior fellow at the Freeman Spogli Institute for International Studies.
Go deeper