Cyclone Mekunu rolls ashore in Oman, threatening historic disaster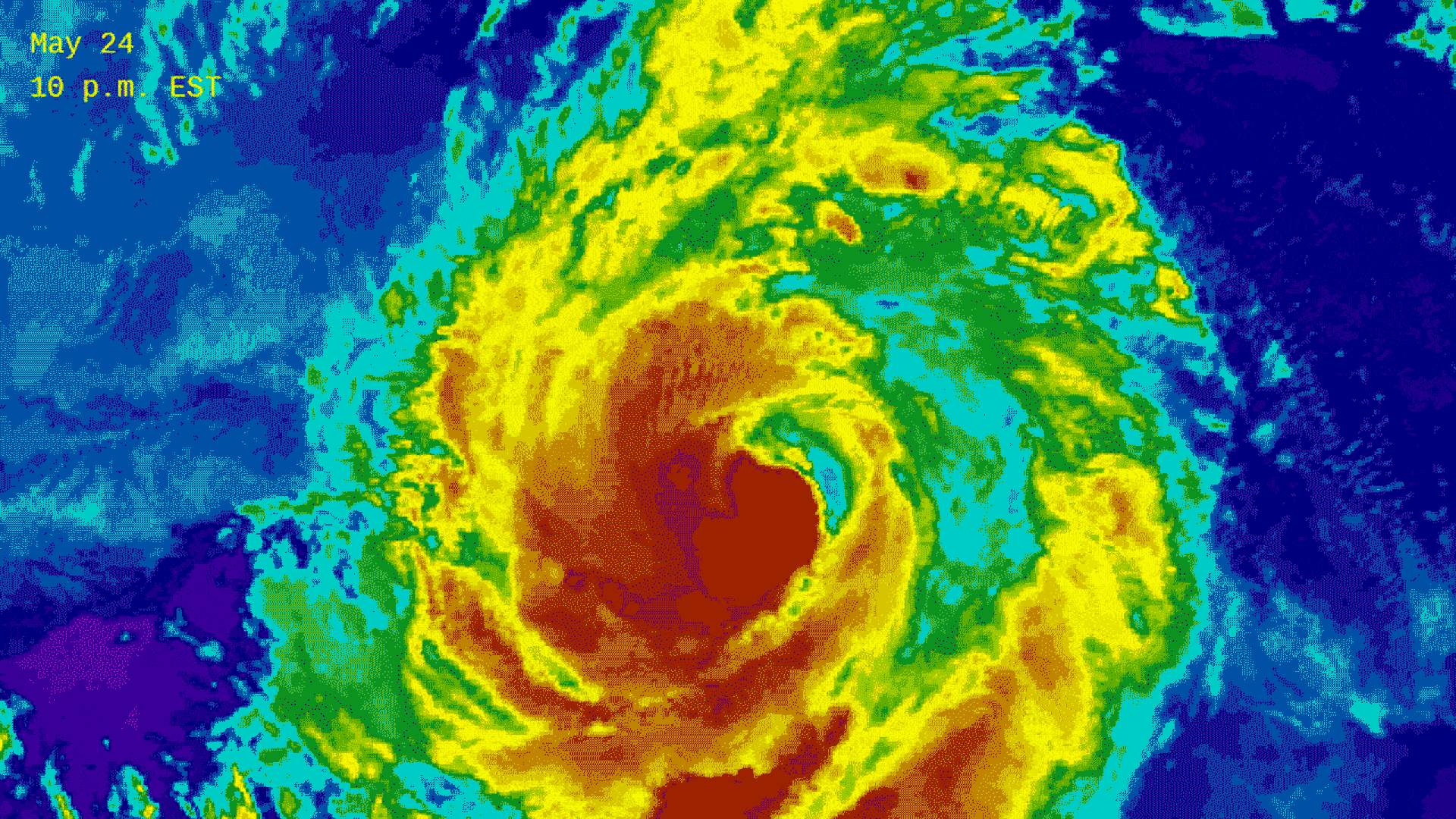 The full wrath of Tropical Cyclone Mekunu is moving across the coast of southwest Oman and northeastern Yemen on Friday.
The impact: No storm this strong has hit this area since reliable records began in the 1950s, and it's possible the damage from Mekunu will be billions of dollars. Due to a long-running civil war, Yemen does not have robust disaster response capabilities. Plus, the country is in the midst of one of the world's worst cholera outbreaks, which could be exacerbated by this year's rainy season. Oman, however, has more robust response capabilities, but still may be overwhelmed by this event.
The details: With maximum sustained winds of 115 miles per hour, the Indian Meteorological Department classifies it as an "Extremely severe cyclonic storm" — equivalent in strength to a Category 3 hurricane. The storm has been rapidly intensifying in the hours prior to landfall, defying forecasts that called for weakening due to dry desert air that lurks just to the north.
Why it matters: The storm is moving onto the coast over a populated area, with the city of Salalah, Oman — population 300,000 — directly in its path. Cyclone Mekunu is bringing damaging winds, high waves of up to 40 feet and storm surge flooding, as well as heavy rains to an area used to seeing a paltry 5 to 10 inches of rain per year. Life-threatening flash floods are highly likely to occur.
The damage so far: Cylone Mekunu has already left a trail of destruction on the Yemeni island of Socotra, where 17 people are missing, according to the Associated Press.
This is not normal: It is relatively common for weak tropical cyclones to hit Oman off the Arabian Sea. According to The Weather Channel, the last tropical cyclone that ranked as equivalent to a Category 1 hurricane hit southwestern Oman in 1959, but there is no record of a Category 2 landfall in this part of Oman. Suggesting the potential for widespread damage from Cyclone Mekunu, The Weather Channel cited a 2006 Royal Meteorological Society paper that found the 1959 storm destroyed buildings and destroyed the main road from Salalah to the port of Raysut.
This storm comes just one week after Tropical Cyclone Sagar hit Somalia and Djibouti, affecting hundreds of thousands who had been suffering from a drought and were suddenly faced with the effects of a deluge.
Track the storm: Joint Typhoon Warning Center; Times of Oman Cyclone Mekunu Liveblog.
Editor's Note: This story was updated at 11:45 a.m. ET to indicate it had intensified into the equivalent of a Category 3 hurricane.
Go deeper