Trump's legacy: Workers, front and center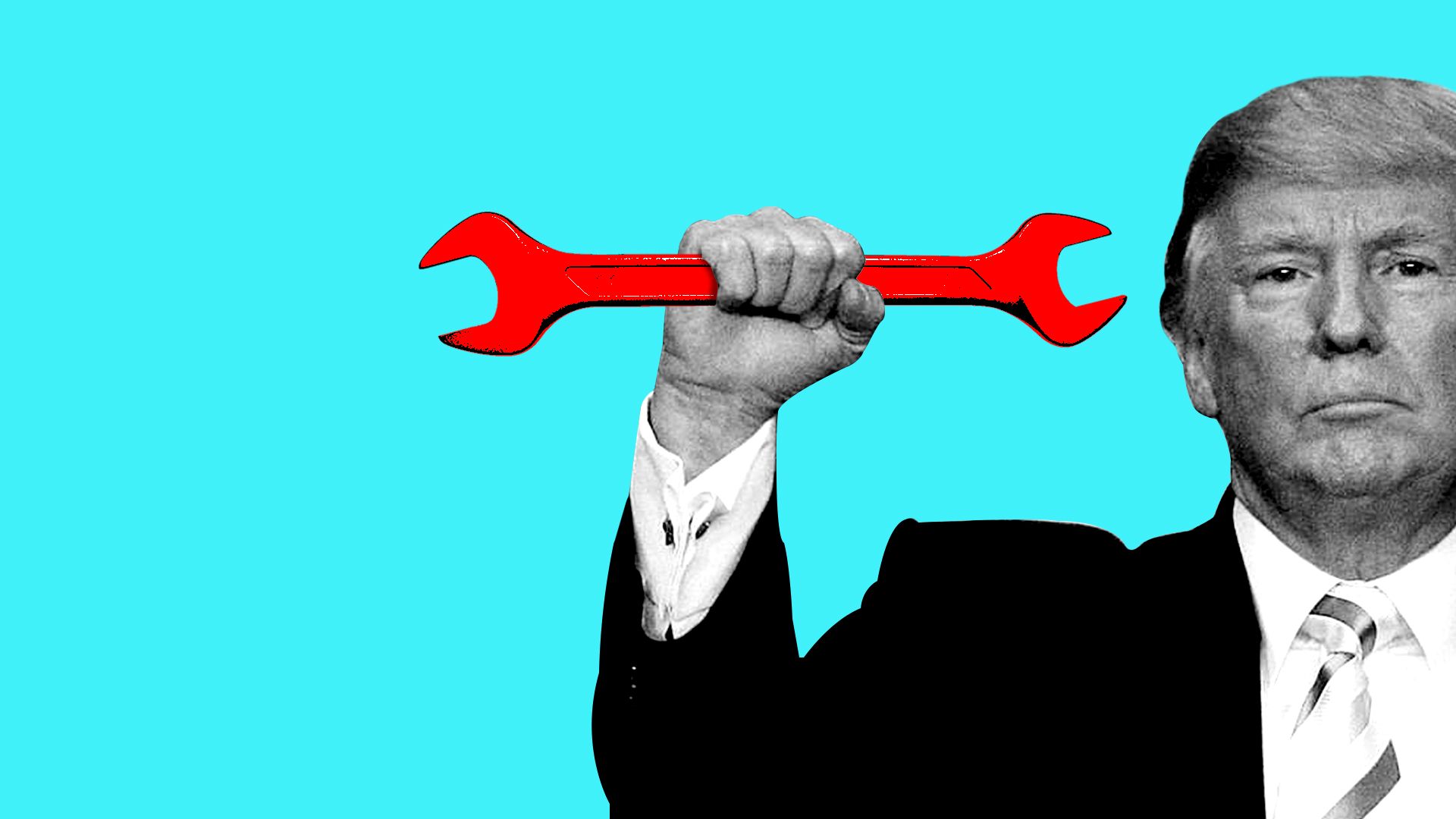 President Trump hardly invented labor politics. But experts and leaders of both major political parties say his domestic legacy may be his intuition that the worker's time as a potent and unifying national force has returned.
Why it matters: Even after Trump is gone, political observers tell Axios, successful candidates of both parties will have to be seen to be seriously addressing the plight of workers, including underemployment, stuck wages and retraining.
The big picture: Democrats say that, going back to FDR, they've championed pro-worker policies like strengthening unions. But Trump, as a Republican, has managed to steal their thunder, reaching out to large swaths of the working class while championing traditionally conservative measures like reduced taxes and rolled-back regulations.
The bottom line, via Darrell West of the Brookings Institution, is that Democrats must get used to sharing workers with Republicans:
"We could end up in a future of Trumpism on steroids, because were likely to see an increase in economic anxiety, and that's likely to spawn populist politicians on both sides of the aisle."
"As entry-level people lose jobs to robots and artificial intelligence, it's going to highlight the challenges facing workers and it's going to raise fundamental questions of how do we respond — how do the individuals left behind get income, health care and retirement support?"
Both parties are going to be "talking about and taking action that benefits the middle class. ... Figuring out how to help those people [is] the big political question of the day."
West goes on: When it comes to winning elections, "the individuals who are going to be left behind are going to be absolutely crucial, because they are located in key geographic areas. It's the midwestern Rust Belt that's going to bear the brunt of this, and those people are going to be the kingmakers in the next presidential election."
The rest of Trump's program is much more problematic: The post-Trump GOP is likely to jettison his approach to trade, immigration, Medicare and Social Security, officials of both parties tell Axios. As for Democrats, they are most likely to try to simply erase Trump from their minds.
What is going to happen: The parties will have vastly different approaches to workers.
Republicans will apply their traditional conservative mental framework, said Alex Conant, a former aide to Sen. Marco Rubio. That could include:
Letting people use federal loans for non-traditional learning
Transforming the earned-income tax credit "so that it becomes a low-income wage subsidy."
The House Ways and Means Committee today marked up a bill reforming the Temporary Assistance for Needy Families program with the goal of putting more people to work.
The Democrats have already gotten started, focusing on more government-focused policies:
At a conference last week, the liberal Center for American Progress proposed a massive public infrastructure project and a guaranteed jobs program for distressed areas. (Go deeper)
Democrats yesterday released the latest installment of their Better Deal plan, which would raise teacher pay and improve school infrastructure.
Go deeper