The coming jobs apocalypse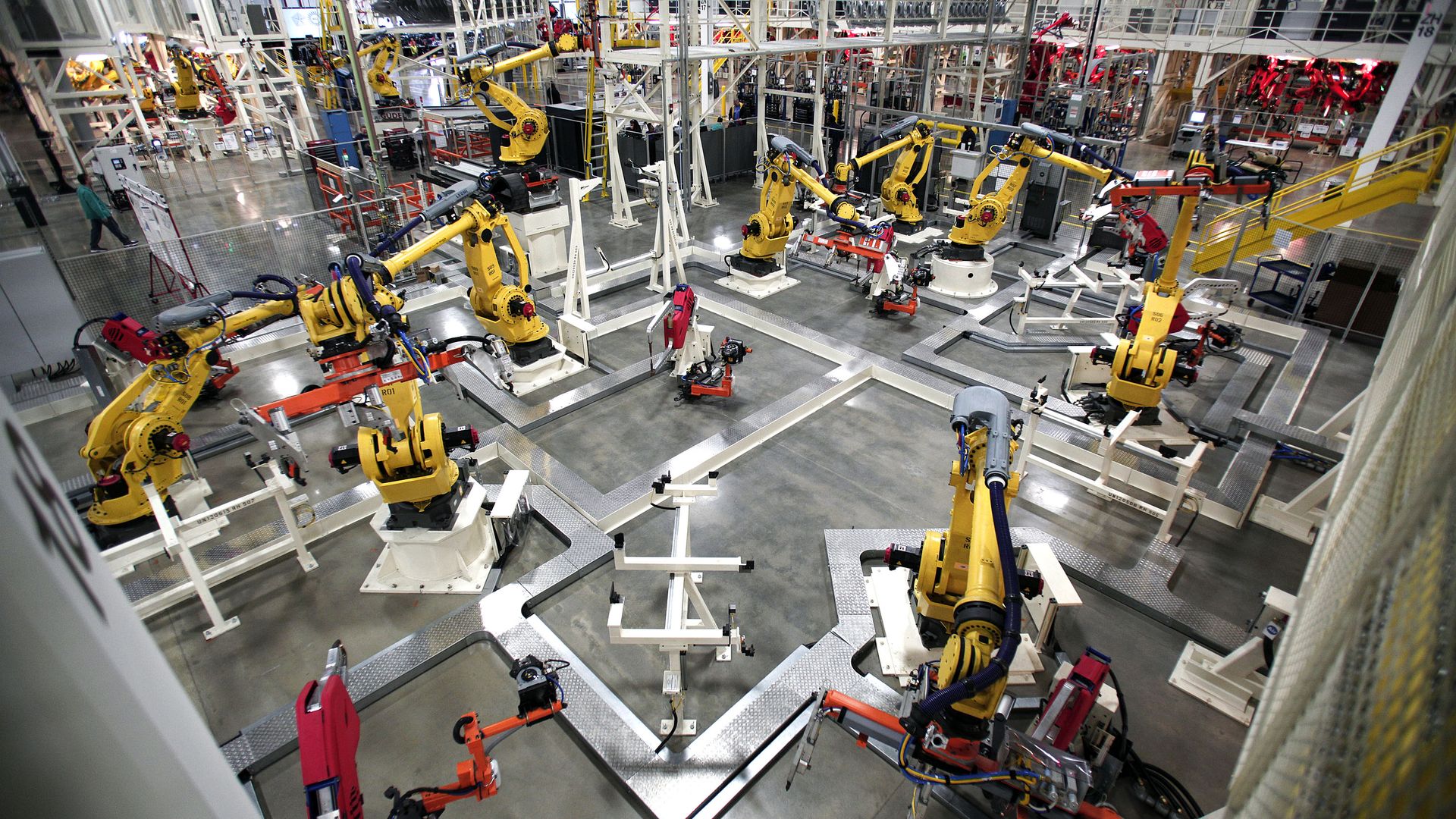 Congress and the Trump administration have yet to create a coherent policy response to a widely forecast social and economic tsunami resulting from automation, including the potential for decades of flat wages and joblessness. But cities and regions are starting to act on their own.
What's happening: In Indianapolis, about 338,000 people are at high risk of automation taking their jobs, according to a new report. In Phoenix, the number is 650,000. In both cases, that's 35% of the workforce. In northeastern Ohio, about 40,000 workers are at high risk.
In all three places, local officials are attempting to take charge by identifying jobs most at risk, skills most likely to be in great future demand, and how to organize education and industry around a new economy.
Their cautious first steps are a snapshot of how economies throughout the advanced countries will have to respond to an already-underway economic disruption that will be of unknown duration and magnitude.
"This is a national trend that is going to play out locally. This is something the country and really the world is facing right now," said Rachel Korberg of the Rockefeller Foundation, which funded the reports covering Phoenix and Indianapolis.
Background: The Phoenix and Indianapolis studies were carried out by ShiftLabs, a collaboration of Rockefeller and New America, a think tank. They are responding to forecasts of an utter shakeup of current jobs, forcing vast numbers of workers across fields to learn new skills, often unrelated to their occupation as currently configured.
By the numbers in Indianapolis and Phoenix:
As a group, restaurant workers — food service workers, waiters and cooks will lose the most jobs, followed by retail sales people and cashiers. Their average salary is about $32,000 a year (compared with about $67,000 for 300 low-risk occupations).
Among those at highest risk: Cashiers have a 97% risk of losing their job to automation; and office workers like secretaries and administrative assistants at 96%. Food servers in Indianapolis are at 94%.
Among the lowest risk: Registered nurses have less than a 50% chance of being automated out of their job.
Women are disproportionately affected in both cities:
They are 58% of the workers in high-risk fields in Phoenix and 55% in Indianapolis.
They dominate the food and retail industries, office work and cashiers.
In both cities, in line with prior studies, those with a high school degree or less are at greatest risk. They represent about 45% of those at high risk of automation and just 18% of those at low risk.
On the positive side: Phoenix workers are likelier to be in computing or mathematical jobs, meaning jobs at low risk of automation, and much less likely to be in manufacturing than the national average.
As for solutions, cities and regions are only starting to figure out what they can do.
In Phoenix, Arizona State University is starting a program in which — before incoming students decide a major — they are briefed as to what type of work is likely to be available when they graduate
Indianapolis is preparing to link low-income workers to training programs that would lead to long-term jobs.
Jacob Duritsky of TeamNEO, a Cleveland-based economic development group, tells Axios that a report issued this month begins the process of training northeastern Ohio's work force in projected high-demand future jobs. A starting point is building up local expertise in additive manufacturing, he said.
"Talent will be a defining factor of competitive regions moving forward," Duritsky said. "This report is our effort to address an increasingly urgent challenge impacting our region and the nation. We can't solve it unless we can measure it, and this is our first step to solve that challenge.  
Go deeper: The jobs and business mecca of Savannah, reported by NYT's Patricia Cohen and Natalie Kitroeff.
Go deeper