3 factors behind Trump's cave on his China trade war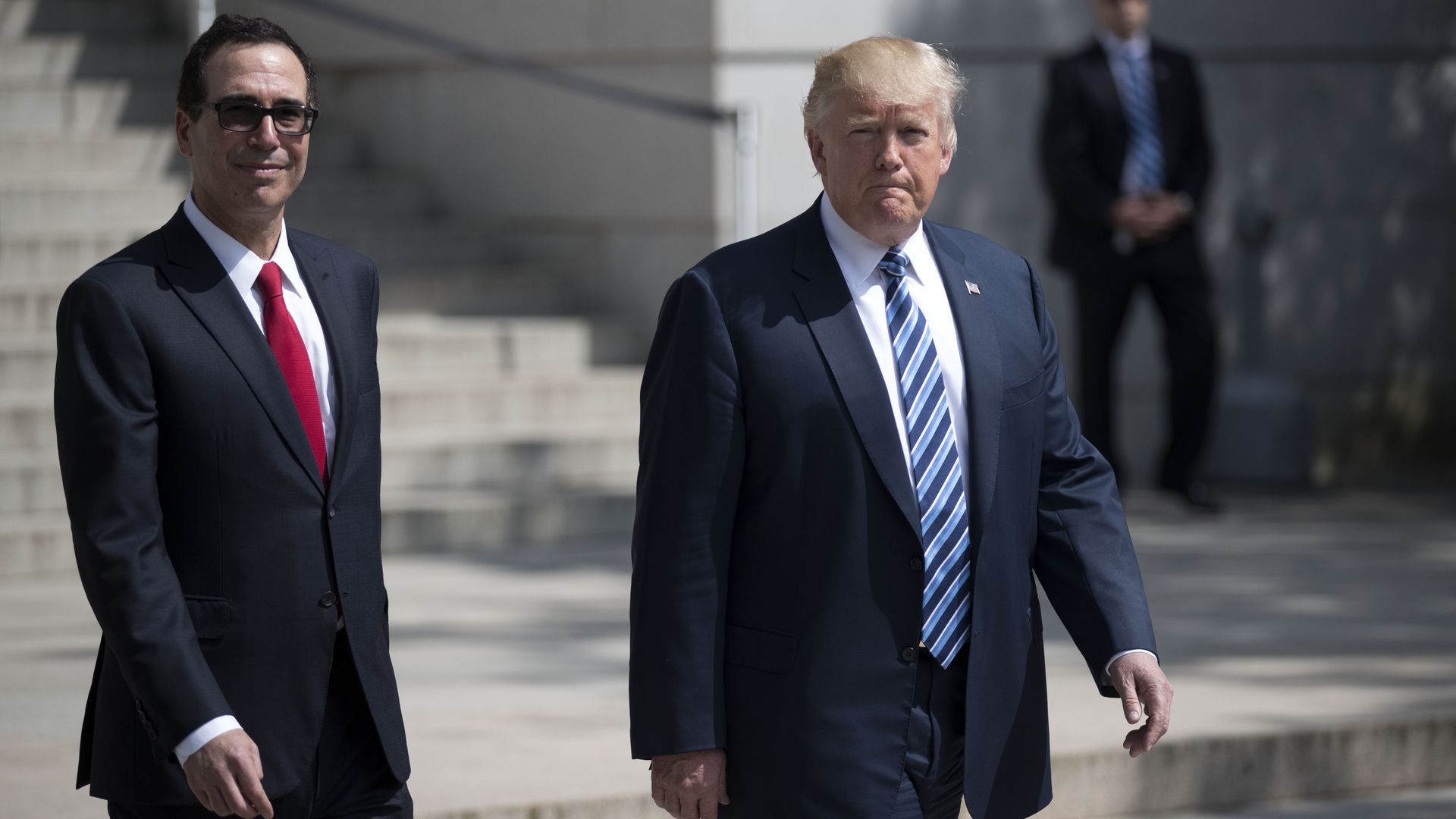 Who knows how the chest-bumping over China ends. But for now, President Trump's anti-China advisers are right: The president is buckling on his threats to punish China with fundamental, lasting changes to trade tariffs and rules. 
The big picture: The reasons are threefold: North Korea, Steve Mnuchin and a lack of focus internally. 
1. North Korea 
It's TBD whether Trump got played by China on the trade war that's now "on h0ld." But North Korea politics clearly played a big role: Trump desperately wants the upcoming summit in Singapore to work. Going hard against China now could derail an already fraught journey to the summit.
So the White House is stuck in limbo, with a divided administration team and the Chinese offering easy, flashy wins that will likely have little long-term impact on the trade deficit.
It's very possible the U.S. team cut a deal that sounds good in a press release, but does little to change Chinese behavior.
2. Mnuchin 
Trump chose Treasury Secretary Steven Mnuchin — a moderate and free trader — to be point man on the China negotiations.
Remember it was Mnuchin who led the delegation and was in the one-on-ones with Chinese economic adviser Liu He in Beijing.
Mnuchin is more willing to compromise with China than U.S. Trade Representative Robert Lighthizer or trade adviser Peter Navarro, who are the most hardcore China hawks in senior administration positions in recent memory.
3. Fleeting attention
The president's attention is spread too thin — Iran, North Korea, Mueller and more — to wage a sustained battle with China.
Aides describe a White House deluged with big decisions and scant deciders — and a president perpetually obsessed and distracted by Mueller.
Be smart ... The Chinese have played this beautifully:
They know Trump wants Singapore to work, and that they hold the cards on North Korea.
And they know that Trump is obsessed with one number — the trade deficit.
He wants concrete things to boast about (jobs and buying American products).
No matter their promises, they can't deliver a meaningful change in the trade deficit. But they can promise to buy billions of politically-useful U.S. products.
Breaking ... "China will cut the import duty on passenger cars to 15 percent, boosting auto makers such as BMW AG and Ford Motor Co.," per Bloomberg:
"While the levy reduction could be claimed ... as a concession to Trump and will be a boon to U.S. carmakers such as Tesla Inc., the move will also end up benefiting European and Asian manufacturers from Daimler AG to Toyota."
Go deeper