The big picture: The Clintons are back in the news — again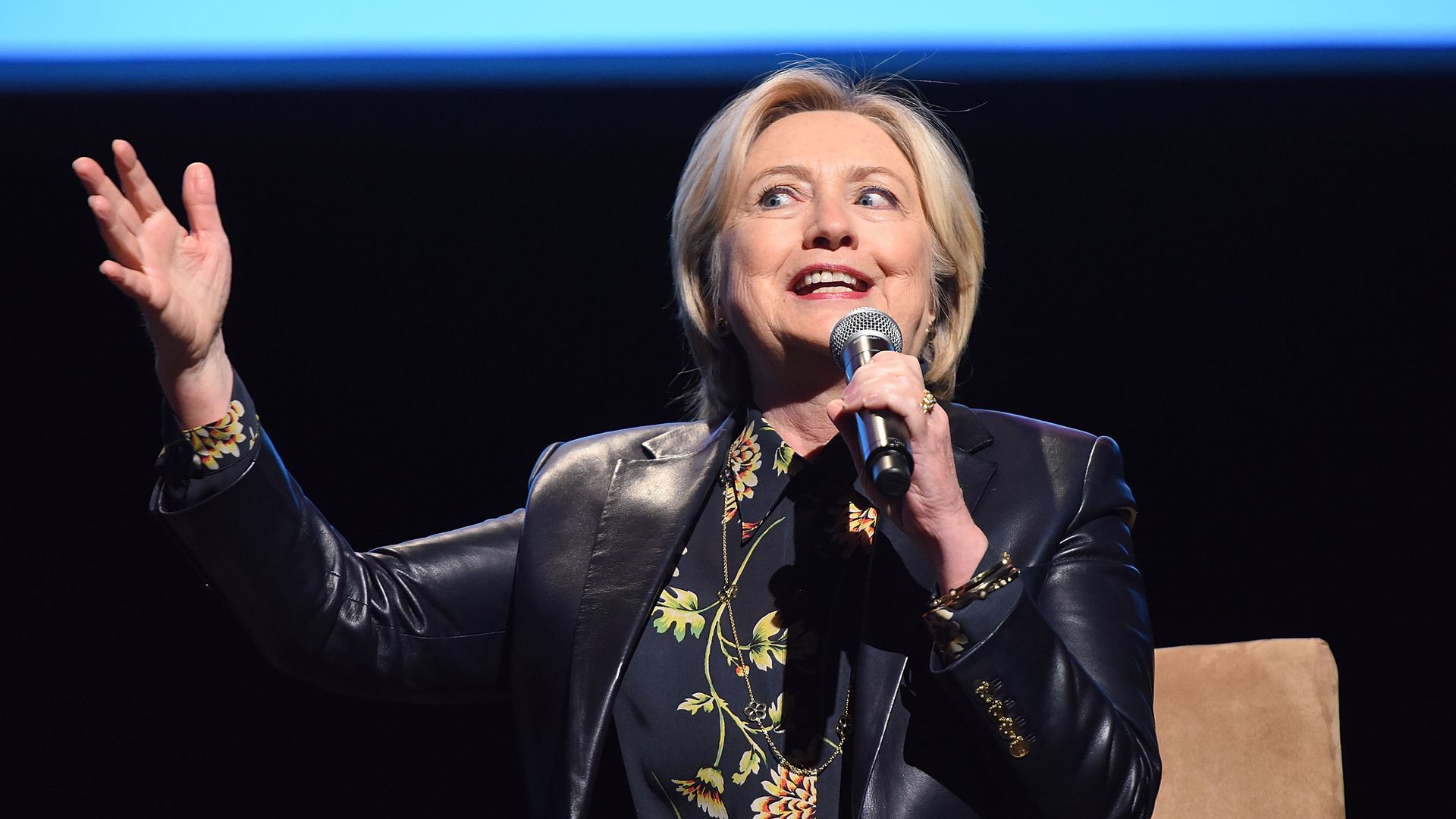 Hillary Clinton has had an on-again, off-again hiatus from the spotlight since her election loss in 2016 — and, over the past week, both she and her husband have found themselves in the full force of the media spotlight.
The big picture: Hillary's overtly political commencement speech at Yale over the weekend, coupled with a shocking flip on the Russia investigation from one of their closest aides has the Clintons back to dominating the headlines.
Hillary Clinton delivered the keynote address to Yale's Class of 2018 on Sunday. Her address was chock full of political moments:
Clinton brought a Russian hat, keeping with the Yale Class Day tradition of wearing unconventional hats to the ceremony. "If you can't beat em, join em," she said. In the front row of students seated before her, there was a pink "pussy hat" and a bright red Make America Great Again hat.
"No, I'm not over it. I still think about the 2016 election, I still regret the mistakes I made," she said. "It's not easy to wade back into the fight every day ... I'm optimistic about just how tough America has proven to be."
She and Bill Clinton were the subjects of a New York Times article by Alex Burns and Matt Flegenheimer on why the pair have not been more visible ahead of this fall's midterm elections.
The backdrop: "Mrs. Clinton faces distrust on the left, where she is seen as an avatar of the Democratic establishment, and raw enmity on the right. Mr. Clinton has been largely sidelined amid new scrutiny of his past misconduct with women."
Yes, but: "Mrs. Clinton is expected to break her virtual hiatus from the campaign trail this week, when she will endorse Gov. Andrew M. Cuomo of New York in a contested Democratic primary,"
"Mrs. Clinton has also recorded an automated phone call

endorsing Stacey Abrams

, the former Democratic leader in the Georgia House, who is competing for the party's nomination for governor on Tuesday."
Perhaps most shockingly of all, an aide with a deep, years-long relationship with the Clintons flipped on them with a bombshell op-ed in The Hill.
Mark Penn, who served as an adviser on Bill's 1996 re-election campaign and was the chief strategist of Hillary's 2008 run, slammed the Mueller investigation and the "deep state."
"At this point, there is little doubt that the highest echelons of the FBI and the Justice Department broke their own rules to end the Hillary Clinton 'matter,' but we can expect the inspector general to document what was done or, more pointedly, not done."
"It is hard to see how a yearlong investigation of this won't come down hard on former FBI Director James Comey and perhaps even former Attorney General Loretta Lynch, who definitely wasn't playing mahjong in a secret 'no aides allowed' meeting with former President Clinton on a Phoenix airport tarmac."
Go deeper: A new Clinton wave is coming this spring, which highlights a high-priced Clinton Foundation fundraiser set for Thursday — sure to keep the family in the news cycle.
Sign up for Axios newsletters to get our smart brevity delivered to your inbox every morning.
Go deeper