Republicans are quiet about Trump's drug plan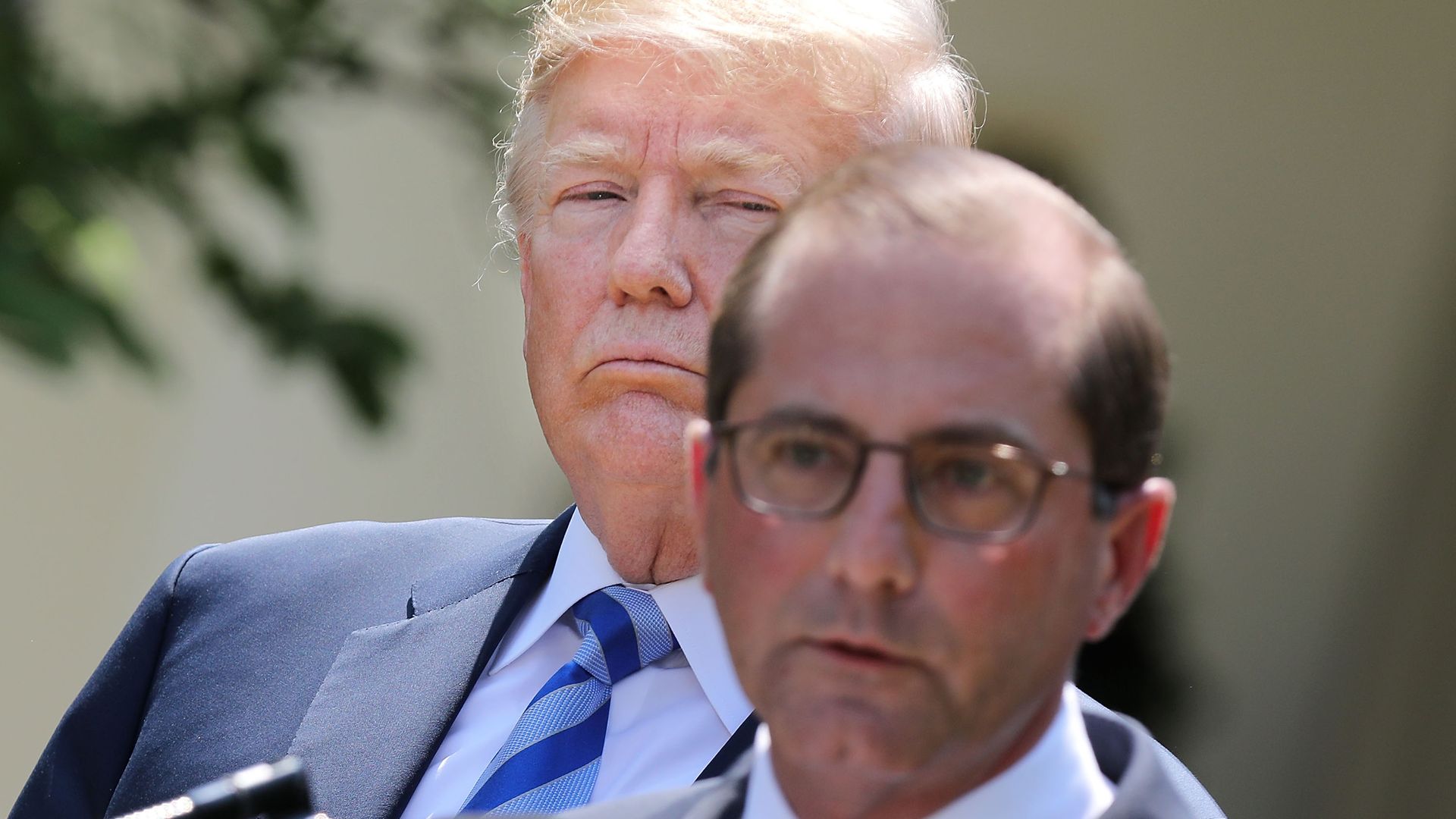 Republicans on Capitol Hill have done little to publicly support the Trump administration's plan for drug prices — which some strategists see as a mistake, given the public fury over the issue.
Why it matters: There's still plenty of time for Hill Republicans to talk up the White House plan. But if they don't, it could be a missed opportunity to make it clear to voters ahead of midterms that they're serious about tackling prescription drug prices – especially given that the plan is relatively industry-friendly.
Between the lines: Several Republicans, including important committee chairmen, issued statements saying they were pleased the administration is working on drug prices. But they've been quiet about it since then, and many members said last week that they were still reviewing the plan.
Instead, House Republicans spent the week trying to pass a partisan farm bill, which failed on the floor because of GOP infighting over immigration. The Senate had its hands full with a controversial confirmation vote.
What they're saying: "The politics of this is simple: Congressional Republicans have a chance to stand with Trump and deliver for consumers. Standing with big pharma against Trump seems like political suicide if you're a Republican in Congress," said Alex Conant, a former aide to Sen. Marco Rubio who now runs a strategy firm (which has clients that favor policies that pharma opposes).
"Republicans should be applauding the President's leadership on drug prices and rushing to vote on any legislation that reduces drug prices. If Congress doesn't follow the President's lead and do something to address drug prices, it's going to be a problem in November," Conant continued.
Another GOP strategist agreed: "President Trump's radar is tuned into an issue that resonates with almost every voter in a big way and other Republican candidates should echo."
On the other hand: There's still plenty of time for Congress to jump on board, and leadership suggests there's interest in doing so.
"Any time you take an issue like that on, there are lots of opponents from special interest groups out there, but I think it's the right thing to do and I would hope that we could sync up with them on what they're doing," said Sen. John Thune, a member of GOP leadership.
"The proposal was just released, and I think members are getting their heads around it," said Rep. Tom Cole, who is close to House leadership. While he expects hearings on the plan and greater congressional support, legislation is less likely because "it's a very complex area and it's getting late."
Yes, but: Some Republicans are aware that even if they support the plan, Democrats will attack them for not going far enough. And the party is generally wary of making an enemy of the pharmaceutical industry, fearing they would weaken innovation — and potentiallythe industry's campaign contributions.
"Trump has opened the door a little bit but for most Republicans, you're going to have to pick one friend at the expense of others," one GOP lobbyist said. Pharmacy benefit managers are a private-sector way of keeping prices down "and they like Phrma so the two big players are both friendly to the GOP. Lowering drug prices requires them to hit one or both sides."
Go deeper