Experimental vaccine used to fight Congo's Ebola outbreak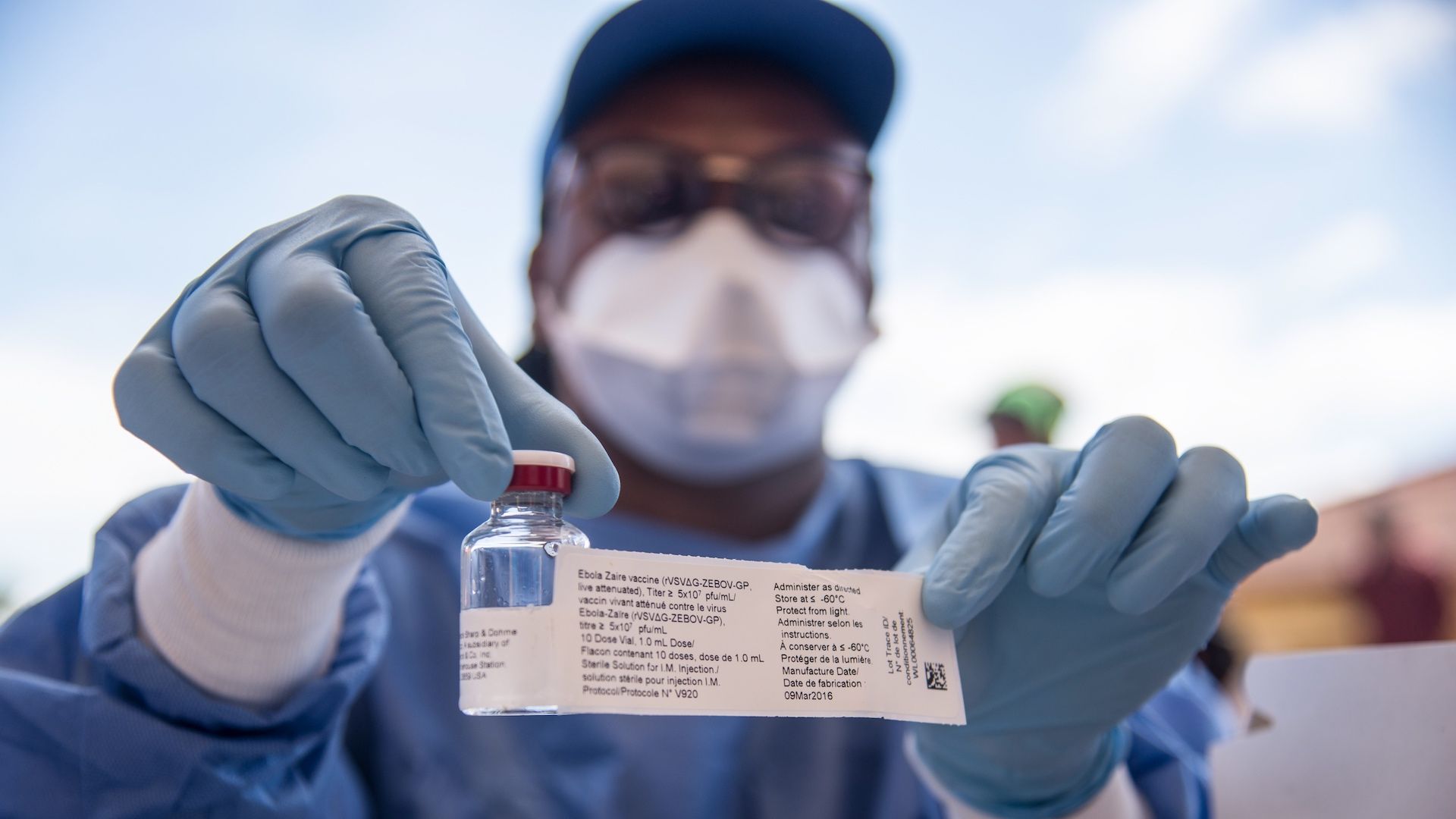 To extinguish the Ebola outbreak in the Democratic Republic of the Congo — where it has sickened at least 46 people, killed 26 and has spread to the provincial capital of Mbandaka — the World Health Organization says it's turning to an experimental vaccine.
The big picture: If it proves successful in halting this outbreak, the vaccine deployment could bring doctors and regulators closer to having an approved Ebola vaccine within the next few years.
Vaccination will be key to controlling this outbreak
— Tedros Adhanom Ghebreyesus, WHO director-general, via
statement
What's happening now: After four confirmed cases were found in Mbandaka, which has about 1 million residents, WHO is bracing for a "worst case scenario" in which the virus spreads quickly in an urban setting, similar to what occurred in three nations in West Africa between 2014 and 2016, when 11,325 died.
The experimental vaccine is being deployed under recommendations from WHO's immunization experts under "an expanded access/compassionate use protocol."
The details:
About 8,000 doses of the vaccine, known as rVSV-ZEBOV, have been flown to Kinshasa, where health workers from the WHO, Ministry of Health, Medecins Sans Frontieres, UNICEF and other organizations are coordinating a ring vaccination program.
A ring vaccination involves inoculating people who have come into direct contact with individuals confirmed to have Ebola, as well as the contacts of those contacts. Each ring might include about 150 people.
In addition, WHO will give the vaccine to health care workers who will treat Ebola patients, along with workers who will be involved with providing burial services, laboratory surveillance, and other services, the WHO said in a statement on Monday.
Another 8,000 doses of the vaccine, which is produced by Merck, are expected to be delivered to DRC in the coming days, WHO said.
The experimental vaccine: The vaccine is considered experimental because the largest testing occurred in Guinea at the end of that 2015 outbreak and was not conducted in a way that would satisfy regulatory agencies like the Food and Drug Administration.
However, the rVSV-ZEBOV vaccine appears to have been effective in Guinea as zero Ebola cases were observed after 5,837 people were vaccinated, WHO said.
And, WHO said, following a newly identify chain of Ebola virus transmission in Guinee Forestiere, 1,510 individuals were vaccinated in March 2016 with no secondary cases of Ebola in people who received the vaccine.
NIAID response:
"I fully expect that this will be very complimentary to controlling the outbreak in the DRC," said Anthony Fauci, director of the U.S. National Institute of Allergy and Infectious Diseases, who was involved in the U.S. response to the 2014–2016 outbreaks.
Fauci said the trial in Guinea was relatively limited because the outbreak was burning itself out at the time.
"We were right in the middle of the trial and all of a sudden there were no more cases," Fauci told Axios. He said the vaccine's use in the new outbreak will provide valuable data that could be used to approve the vaccine for wider use.
Yes, but: A ring vaccination program to stop this outbreak will not be easy. It requires painstaking detective work, tracking down those who have come into contact with infected individuals.
In addition, there are the logistical challenges of operating in both urban and remote areas.
The vaccine must be kept at between minus-60 to minus-80 degrees Celsius during transport. The WHO is establishing specialized vaccine carriers and freezers to store the vaccines.
Go deeper