Even after flare-ups, hope lingers for Israeli-Palestinian resolution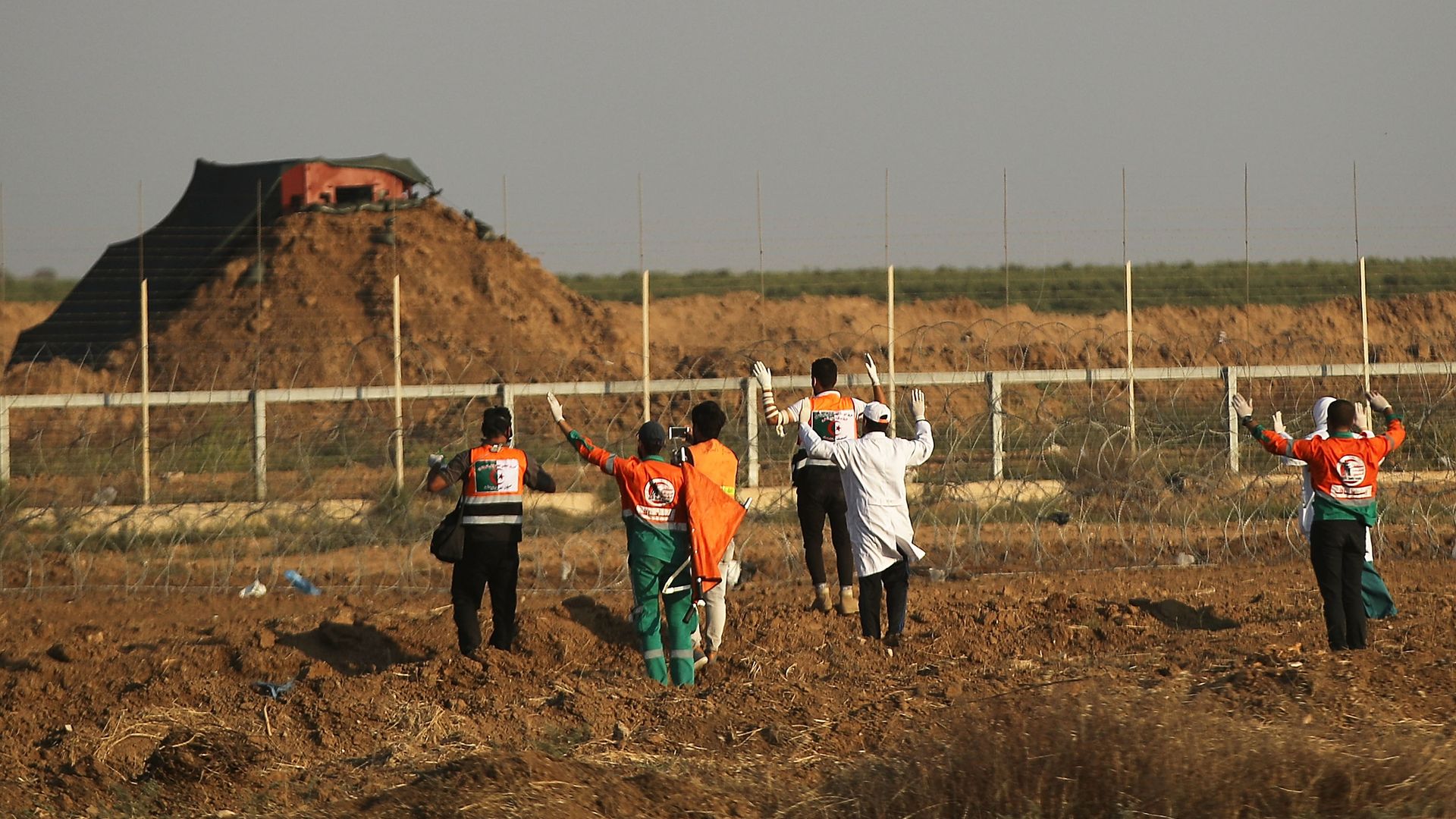 Anyone viewing this week's split-screen images of happy Israelis and Americans celebrating the U.S. embassy opening in Jerusalem alongside the confrontation and killing at the Israeli-Gaza border fence could be forgiven for writing off the prospects for peace.
Where it stands: Whether the two-state solution is merely dead or fully dead and buried, a number of factors have combined to stall its progress and make further deterioration much more likely. Yet in a Friday morning conversation I moderated at the Wilson Center with PLO chief negotiator Saeb Erekat and former Israeli negotiator Gilad Sher, a mutual conviction that the Israeli-Palestinian conflict can be resolved still emerged.
The players:
Netanyahu and Abbas: A deal will require committed leaders who are masters of their politics, not prisoners of their ideologies and constituencies. Abbas is too weak, unpopular and attached to inflexible negotiating positions, while Netanyahu has no intention of becoming the prime minister who divides Jerusalem and returns Israel to anything close to its June 1967 borders. Given the Hamas-Fatah split, the PLO cannot even claim that it controls all the guns of Palestine, let alone that it speaks for two million Gazans. Indeed, Hamas' orchestration of the March of Return and demonstrations in Gaza has further revealed that it's on the front lines and Abbas is on the sidelines.
Trump administration: Opening an embassy in Jerusalem — tacit validation that Israel controls the city's east and west alike — has undermined the administration's ability to be an effective, let alone honest, broker. If its pro-Israeli approach to Jerusalem and other issues isn't balanced out in the administration's larger plan, it will fail, further diminishing U.S. credibility.
Arab states: Exhausted and fatigued by the Palestinian issue, key Arab states — most notably Saudi Arabia and the UAE — are more concerned by the threats from Iran and Sunnis jihadis and less inclined to fight for the Palestinian issue, much less press the U.S. for action. In fact, these states are moving closer to the Israelis, which has shifted pressure from the Palestinian issue.
The bottom line: For now, the Israeli-Palestinian arena will continue to see both confrontation and accommodation. Israelis, Palestinians and any would-be mediators are likely to remain caught between a two-state solution still too important to abandon and one that's now just too hard to negotiate and implement.
Aaron David Miller is vice president for new initiatives and director of the Middle East Program at the Wilson Center and a former Middle East analyst and negotiator at the State Department.
Go deeper