The telecom industry's identity crisis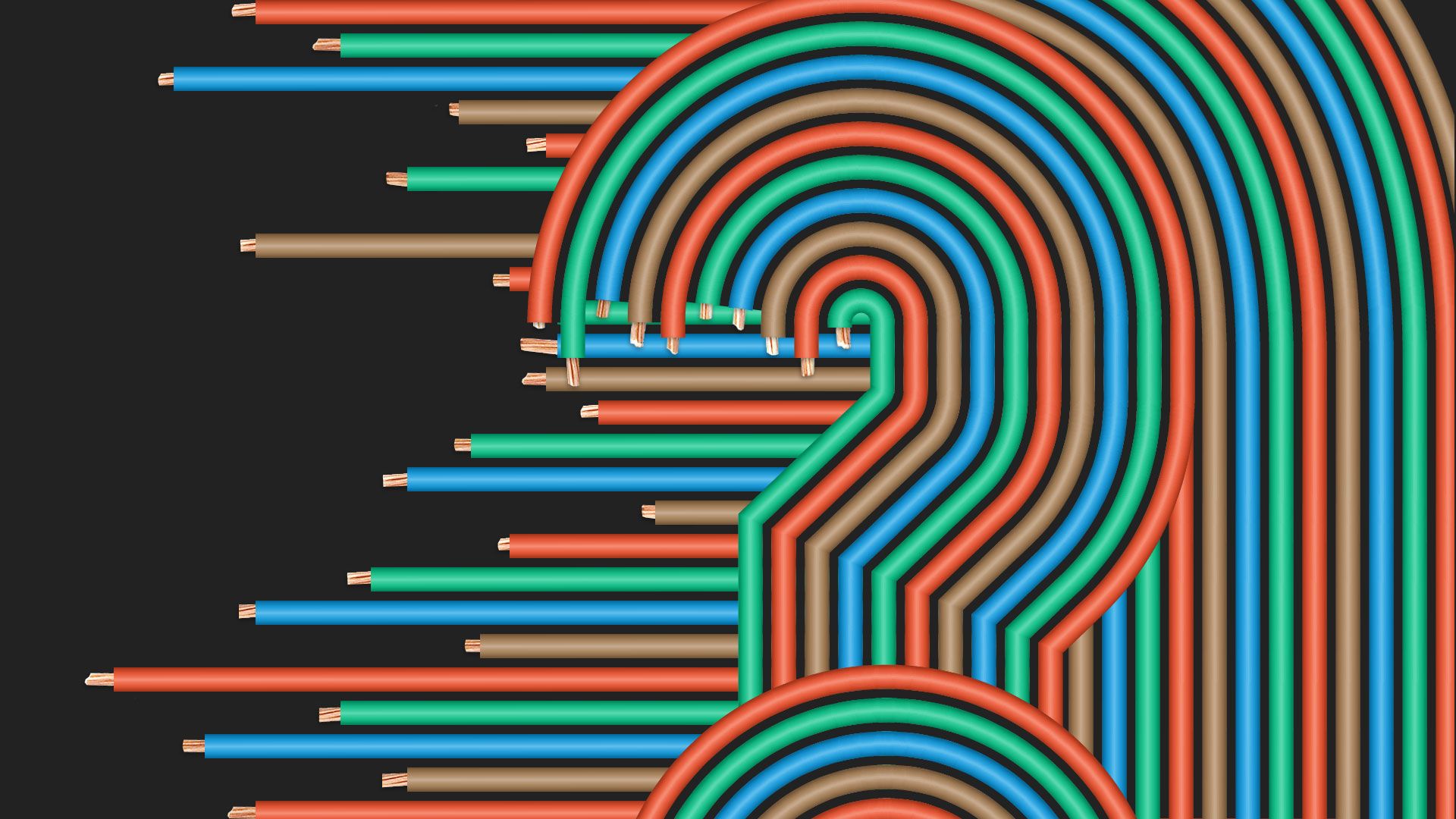 The internet age that started out as a boon for broadband and wireless providers has become an identity crisis as they face increasing competition from Silicon Valley, an uncertain merger landscape and global pressures in the race to 5G networks.
Why it matters: It's no longer enough to power the pipes and cell towers that send internet traffic coursing around the world. The services that ride on top of that traffic, like Google, Facebook and Amazon, now dominate the internet ecosystem. Meanwhile, companies like Comcast, Verizon and AT&T that built the networks in the first place are trying to stake their claims in the next round.
Why now: This dynamic isn't new; telecom companies have been grappling with rising cord-cutters, a saturated broadband market, declining monthly bills and shifting consumer habits for several years. But analysts say it's become a make-or-break situation for the established telecom providers to chart a course for survival — with many planning to do so through mergers and acquisitions.
The headwinds facing big telecom providers include:
Cord-cutters: Millennials are opting for over-the-top streaming services over traditional pay-TV services from the likes of Comcast and Charter. UBS has predicted a 4% decline in pay-TV subscribers in 2018, per Business Insider.
Declining monthly bills: As consumers use more and more data, revenue per bit consumed continues to decline. So they have to find investment opportunities elsewhere.
Saturated market: Predictable growth is drying up with overall U.S. smartphone penetration expected to reach close to 90% this year, and broadband penetration is high in major markets.
Fiber is expensive: Broadband networks need a direct link to fiber network, and those are costly to build. Mobile data traffic is expected to increase fourfold by 2020, Deloitte predicts, requiring an investment of up to $150 billion over the next 5-7 years in the U.S. alone to support rural coverage and wireless densification required for 5G.
Race for content: Some studios and Silicon Valley giants like Google's YouTube, Facebook, Amazon, and Netflix are producing their own streaming content and delivering it directly to the consumer — and in some cases giving it away for free.
Advertising dollars: Some telecoms, like AT&T and Verizon, are trying to catch up with Google and Facebook to get a piece of the digital advertising market, but so far haven't made a sizable dent.
What's next: Adding to the market pressures is the lingering uncertainty for vertical deals. Cable, phone and broadband carriers have generally benefited from the Trump administration's roll-back of of regulations; for example, net neutrality and privacy rules. But consolidation plans were thrown into question when Trump's DOJ blocked AT&T's bid for Time Warner.
The real moment of truth will come when a federal judge either rules in AT&T's favor, or sides with the Justice Department's concerns over one company having too much control over content creation and media distribution. Judge Richard Leon will issue a ruling June 12.
"Mergers is where all these pressures come together," said Paul Gallant, tech, media and telecom analyst at Cowen Washington Research Group. If AT&T's merger is approved, as he predicts it will be, it will become much more of a media company and others will pursue deals to achieve their business strategies.
"I think the bigger implications are actually for everybody else — for Comcast, for Fox, for Verizon, for Disney," said Craig Moffett, founding partner of MoffettNathanson, on C-Span. "This case will be transformative no matter which way Judge Leon decides."
Where things stand: The biggest telecom companies are trying to execute on several businesses at once.
Comcast lost cable customers for the fourth quarter in a row. While it's adding healthy numbers of high speed internet subscribers, that revenue is still catching up, Recode reports.

On the content side, Comcast is also bidding $31 billion for for European pay-TV giant Sky.

Charter Communications lost 122,000 residential pay-TV customers last quarter, which was much more than analysts expected, and added fewer residential internet customers than the same quarter in 2017.

On wireless, Charter is combining its Wi-Fi network with Verizon's wireless network to offer mobile services. It also has an agreement with Comcast to create a platform to support mobile, per RCRWireless. It's also pushing into 5G.

AT&T reported declines in video revenue, as its streaming service DirecTV now failed to compensate for the loss of satellite customers.

It just spent a lot of resources fighting the DOJ, and many analysts speculate the ruling will be in AT&T's favor. It's also focused on 5G networks from a mobility standpoint.

Verizon said it lost 22,000 FiOS video subscribers last quarter. While it has no plans to launch its own streaming service, it is reportedly interested in partnering with an existing provider soon.

It's de-emphasizing its pay-TV service as it focuses on digital media. Verizon-owned Oath, made up of Yahoo and AOL properties, is supposed to compete with Google and Facebook for advertising dollars. It's also making big bets on 5G wireless services.

Sprint & T-Mobile have finally made official their attempt to merge to be a bigger wireless competitor to AT&T and Verizon. The big question is whether regulators will allow it.
Go deeper