Larry Kudlow puts faith in Trump-Xi "bromance"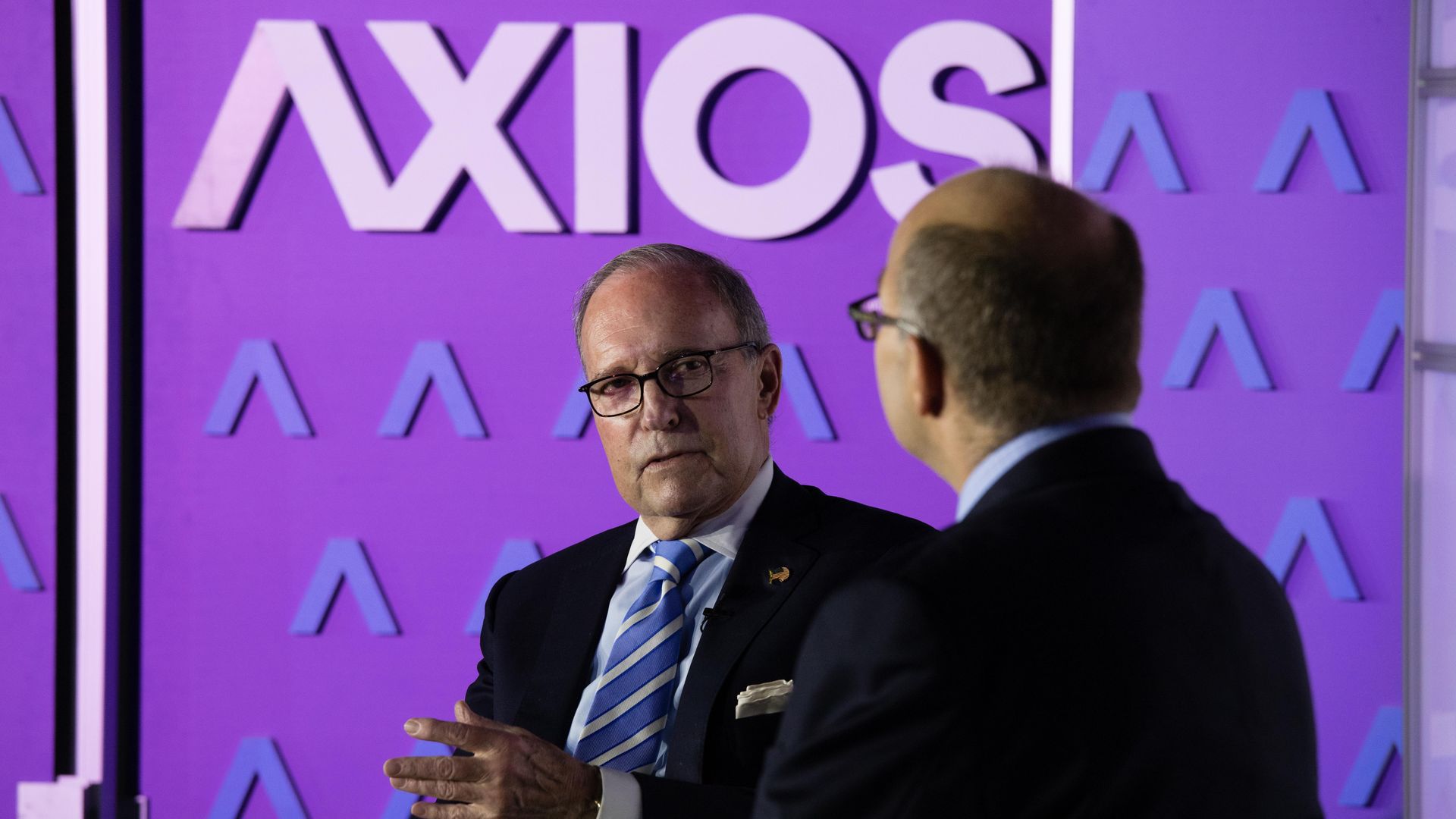 Larry Kudlow says the president doesn't want a trade war with China, adding that Trump is a free trader.
The big picture: "There's a little bit of a bromance" between Chinese President Xi Jinping and Trump, Kudlow told Axios' Mike Allen on Tuesday. "Bromances are always good."
Why it matters: "Everyone around the world agrees with the president that China's unfair and often illegal trade practices have to be changed... I call it a trade coalition of the willing."
Yes, but: Trump alienated key U.S. allies who want to fight China, pulling the U.S. out of the Trans-Pacific trade partnership and criticizing EU allies, like Germany, on trade.
"[Trump] doesn't want a trade war. I don't want a trade war."
— Kudlow to Axios' Mike Allen
Another big thing: Kudlow handicapped the odds for NAFTA optimism as 51-49. "That's not great for Kudlow optimism," he admitted.
Kudlow on China:
"I think the time is right for China to make changes they should have been making for the past 15-20 years."
"The president has said to me many times... he is a free trader. But... he knows you can't have free trade if you... have all these unfair trade practices."
On the U.S.-China trade deficit: Kudlow clearly doesn't think there's any chance of reducing the trade deficit with China unless we force major structural changes in their economy and industrial practices, Axios' Jonathan Swan emails.

Between the lines: The idea — which appeals to Trump — of getting the Chinese to buy billions in U.S. products is not one that will reduce the bilateral trade deficit over time. He also made clear where he disagrees with Trump. For Trump the trade deficit with any given country is the key metric — and the one he brings up in every conversation with foreign leaders. Kudlow says it's not his favorite metric.

On ZTE: "It's a very poorly run company. It has many internal flaws. This is principally an enforcement issue. They have been proven guilty not once not twice but three times."
Kudlow acknowledged that Trump blends economic negotiations with national security and that everything is up for negotiation. (This way of thinking has concerned many national security experts and China hawks, including Republican Sen. Marco Rubio.)
Kudlow on the GOP tax cuts:
"I think people will be happier, more optimistic."
"This particular tax reform plan will impact business investment specifically."
"I also wanna know my friends at the CBO have re-estimated huge amounts... 476 billion higher corporate tax receipts."
One fun thing: "They won't let me use my Twitter anymore... I can tweet on the government account. It's just not as fun."
Go deeper