Scoop: Inside Trump's 2020 startup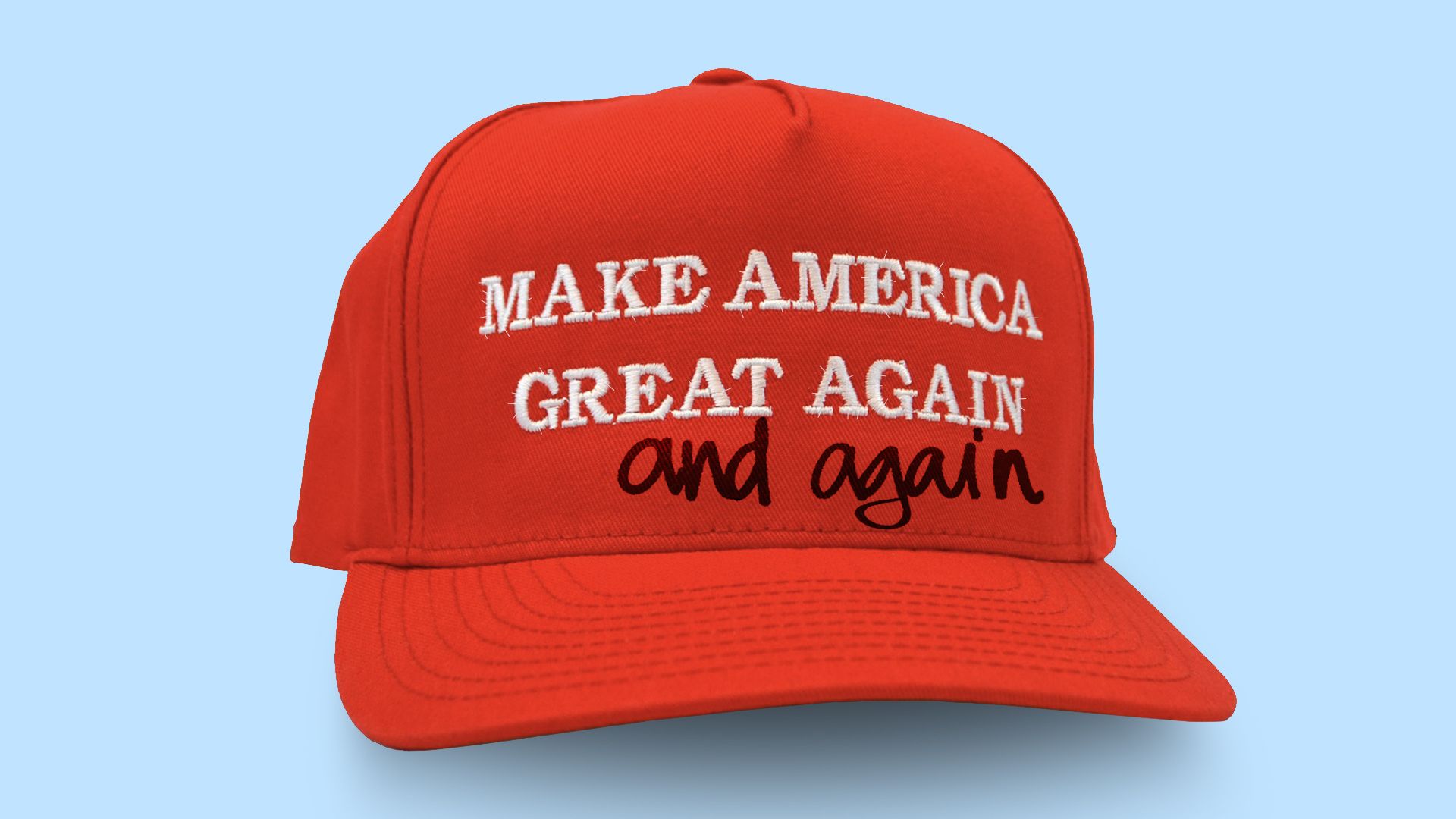 As President Trump's campaign aides quietly launch his reelection campaign, they're eyeing two states as possible pickups for 2020: Minnesota, where Trump came close in 2016 without even trying; and Colorado, where his hands-off approach to marijuana enforcement is a possible selling point.
What's happening: The addition of those states is part of a plan that's coming together in a basement suite at the Republican National Committee, where the Trump campaign has moved from Trump Tower. The campaign, now fewer than 10 people, eventually will number hundreds.
The reelection campaign will mostly work under the radar until after midterms, providing Trump assets (volunteers, fundraising, rallies) to other campaigns.
But we got a first look at campaign manager Brad Parscale's plans to build what amounts to a massive marketing machine, selling the world's most prominent product.
Why it matters: In 2016, Trump Tower campaign staffers were proud of their pirate-ship ambush of the Republican establishment, then of the U.S.S. Clinton. But this time they won't have the advantage of surprise.
So the Trump team has to build a longer range, more systematic plan, without suffocating Trump's improvisational essence.
Parscale, who considers past presidential campaigns archaic, is emphasizing digital innovation, technological streamlining and corporate efficiency.
Parscale told us: "We're crushing it in prospecting."
What's new: It's a sign of the times — and a reflection of what worked for Trump — that the digital director of the 2016 campaign will be the boss of the whole 2020 campaign.
It's a fresh way of flouting campaign orthodoxy, and gives Trump the comfort of elevating one of his originals.
Why he matters: Parscale, 42, is a completely unconventional choice for campaign manager and one that has raised eyebrows inside the White House and among Republican campaign veterans.
Some inside the White House have told us they believe he "got lucky" by hitching his wagon to a candidate who won despite his campaign, not because of it.
Parscale had no history in politics before the 2016 campaign, and doesn't plan to work in politics beyond the 2020 campaign.
His connection is to the Trump family — and especially to Jared Kushner and Eric Trump.
Parscale launched the digital side of the Trump campaign from the San Antonio office of his firm Giles-Parscale, which grew to over 100 people as the campaign peaked, with revenues of $79 million for the cycle (much of which went to Facebook).
Some alumni of the last campaign say Parscale's role exceeded his title as digital director: In late August 2016, after the departure of Paul Manafort, Parscale moved to Trump Tower, with a hand in various parts of the operation, including finances and events.
Parscale sold his interest in Giles-Parscale in August, and moved to the Washington area about eight weeks ago. (He now works through a new firm, Parscale Strategy.)
The HQ: Trump 2020 will be squarely in the Swamp.
Like the George W. Bush reelection campaign of 2004, the campaign plans to be based in a close-in Virginia suburb — for proximity to the White House, and easy access to Dulles and DCA.
Go deeper