Scoop: Trump's "big data" plan for 2020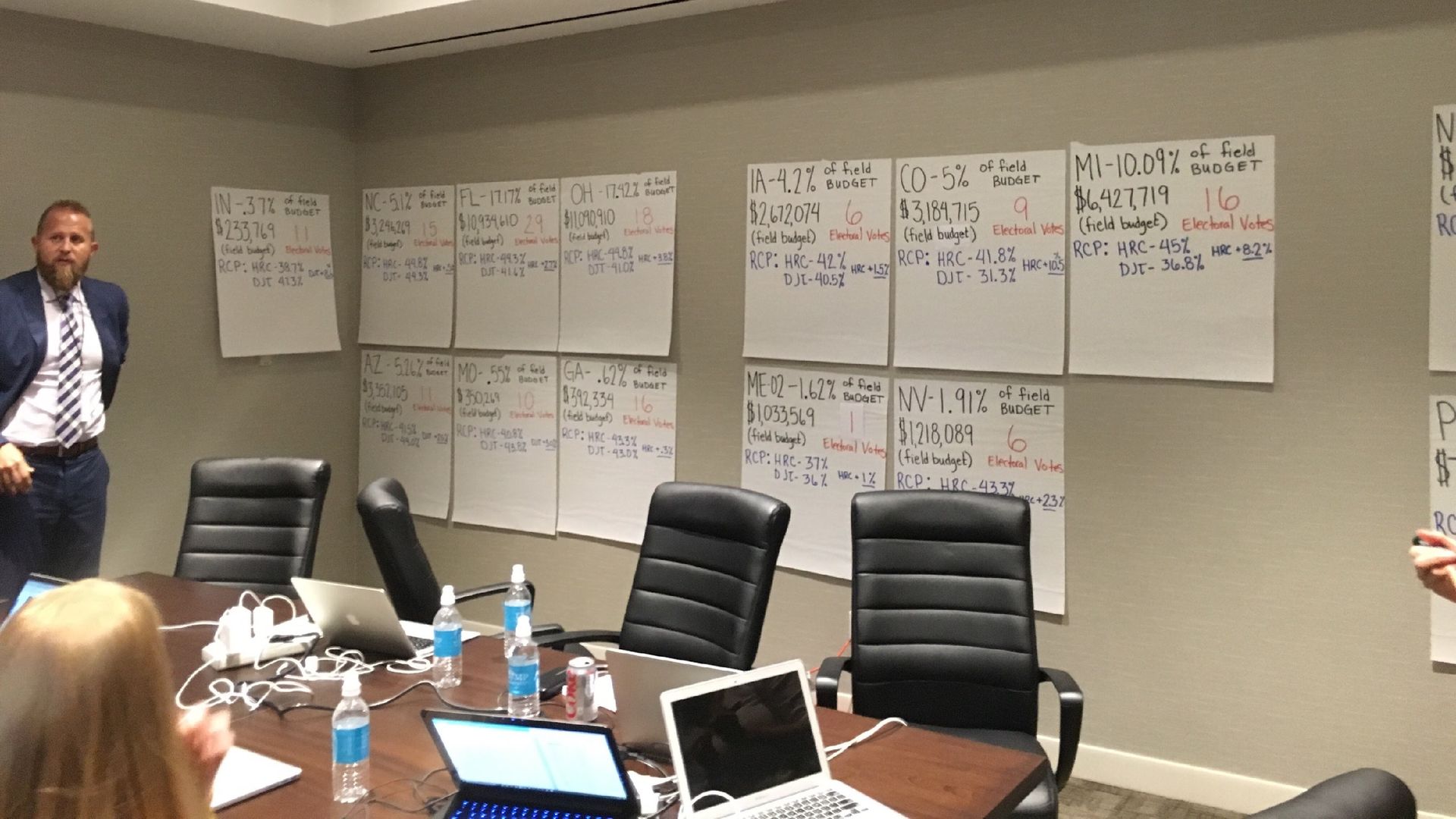 Trump reelection campaign manager Brad Parscale starts with 18 million email addresses and phone numbers ("hard contacts") of likely Trump voters, and has a goal of doubling that that to 30 million to 40 million by Election Day 2020 — roughly half of the votes Trump needs. (He got 63 million in 2016.)
The big picture: Parscale plans to spend $1 million per month for the rest of '18 on digital prospecting, with hopes to increase that next year. The campaign says it has had great success recruiting Trump supporters with ads on AOL (an older, Trump-friendly demographic), Bing, Facebook, Google and conservative news sites.
The tech: Using the language of digital prospecting, Parscale talks about moving from a softer contact like a Facebook profile, to an email address, to an action like donating, volunteering or declaring support.
Why it matters: Parscale, the campaign's digital director in 2016, wants to bring that sensibility to the entire 2020 operation, talking about applying just-in-time and other logistics management tools. The campaign will perform traditional functions like knocking on doors and staging rallies, but he wants to make it more efficient by adding a digital layer.
What's new: Parscale showed us screenshots of project-management software he's developing to improve campaign efficiency: making it possible, for instance, to get internal approvals online rather than going office to office, and to spot staff bottlenecks.
Parscale wants to be able to use big data in real time — for instance, knowing what part of a city is optimal for a visit by a candidate or surrogate, and what issues are biggest there.
He'd like to be able to send push notifications to staff about what to tweet, so they don't have to dig through emails to find instructions.
Inside the machine: As an example of a Parscale technique, people who attend a Trump rally have to give a phone number (with a maximum of two tickets per number), deterring fraud and harvesting valuable SMS text contacts.
The message: Based on polling, the campaign's early messaging will emphasize economy, security and — wait for it — change.
That's a pretty tough sell from Air Force One. Parscale says one way of pulling it off is emphasizing "Democratic obstruction."
Parscale meets with Trump frequently in the White House residence and on the road, and they talk often on the phone.
The campaign manager has been showing Trump polling that shows the president's disapproval numbers have gone down.
Parscale's theory: Moving voters to neutrality is the first step toward eventual acceptance — as with a product or a personal relationship.
Go deeper