Symbolic move in Israel makes peace deal harder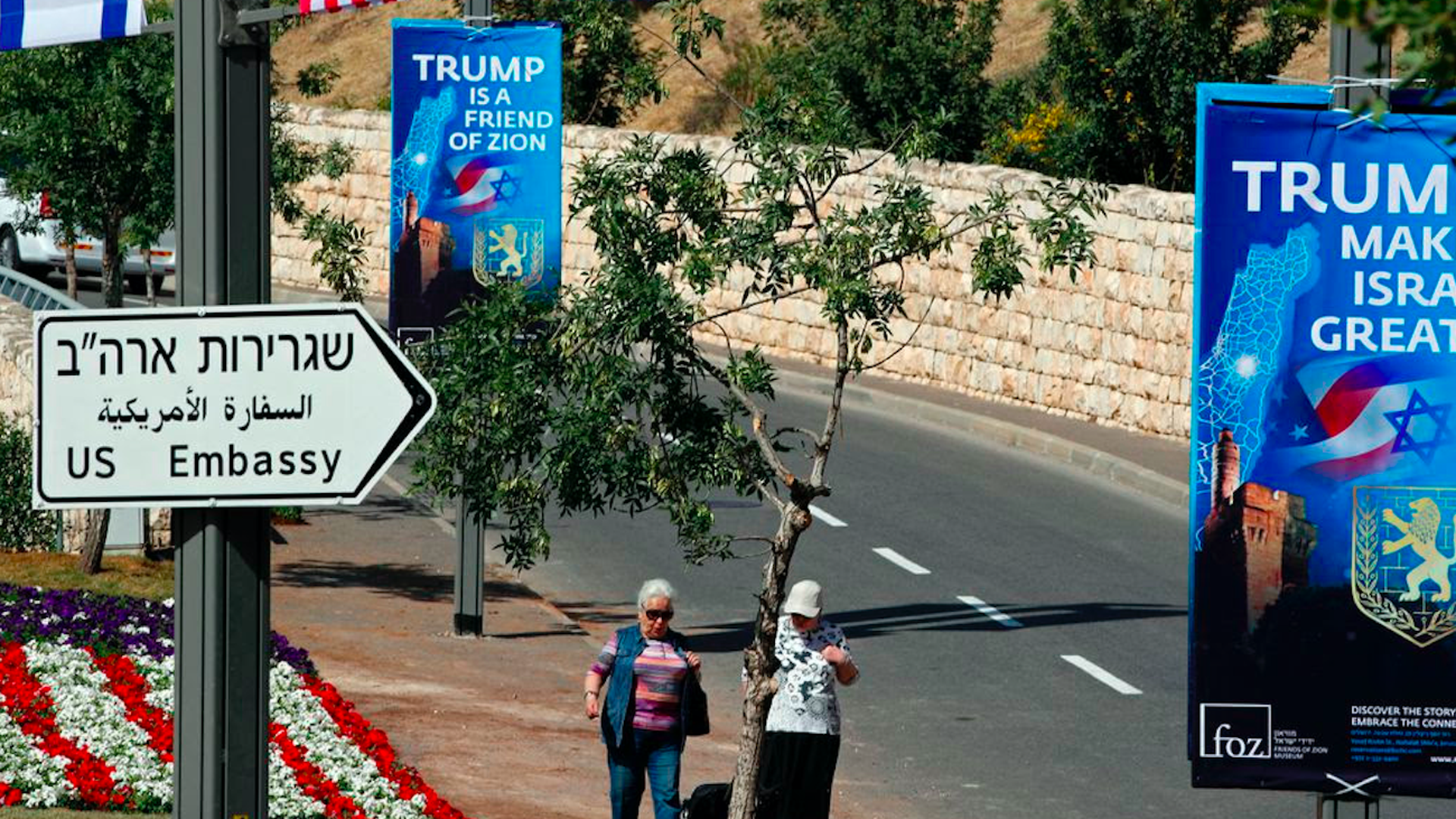 The United States will delight Israel and infuriate Palestinians today at 9 a.m. ET with the dedication of an interim embassy in Jerusalem, officially marking the move from Tel Aviv.
Why it matters: President Trump's decision to move the embassy to Jerusalem is a huge milestone in U.S.-Israeli relations. Even if Trump does nothing else until the end of his term regarding Israel, he has already gotten himself into the history books.
The U.S. celebrations around the opening of the embassy — both yesterday and today — are far from bipartisan. The congressional delegation to the event — four senators and 10 members of the House — is all Republican.
The only people who are not in government who got front row seats at the reception at the Israeli foreign ministry yesterday were Republican megadonors Sheldon and Miriam Adelson.
Jared Kushner and Ivanka Trump have been lavished with attention from Israeli politicians — mainly Prime Minister Benjamin Netanyahu, who spoke about them in length during two of his speeches yesterday.
What actually happens: The moving is mostly symbolic. The only U.S. officials who are actually moving at this time from Tel Aviv to Jerusalem are Ambassador David Friedman and four members of his staff.
But this is the beginning of a process, and the embassy plans to grow in the next year.
It will take several years to build the permanent embassy in Jerusalem. Until then, most U.S. diplomats will continue working from Tel Aviv.
The embassy opening is also overshadowed by mass demonstrations in the Gaza strip and the West bank.
As of 7am eastern time there were 35,000 Palestinians demonstrating in Gaza and 16 killed, according to news reports. Some of the demonstrations are against the opening of the embassy, but most are tied to Nakba day, which the Palestinians commemorate today and tomorrow.
What's next ... Trump has made two campaign promises that deal directly with Israel: move the U.S. embassy to Jerusalem, and get the ultimate peace deal between Israel and the Palestinians.
Fulfilling his first promise will make it much more difficult to implement the second. Since Trump's Jerusalem announcement in December, the Palestinians decided to cut all ties with the White House.
Be smart: The Trump "peace team" is still thinking about launching Trump's peace plan. But if the crisis with the Palestinians — the worst since 2002 — continues, it will be close to impossible to implement it.
P.S. Jay Sekulow — one of Trump's lawyers, and chief counsel for the American Center for Law and Justice — emails from Jerusalem:
"[T]he United States recognition of the reality that Jerusalem is the eternal capital of the State of Israel will go down as historically very significant."
"We are seeing the implementation of a foreign policy that is really the Trump Doctrine. Seizing the moment has been a critically important part of these historic days."
Go deeper