Sanctions threat further frays NATO alliance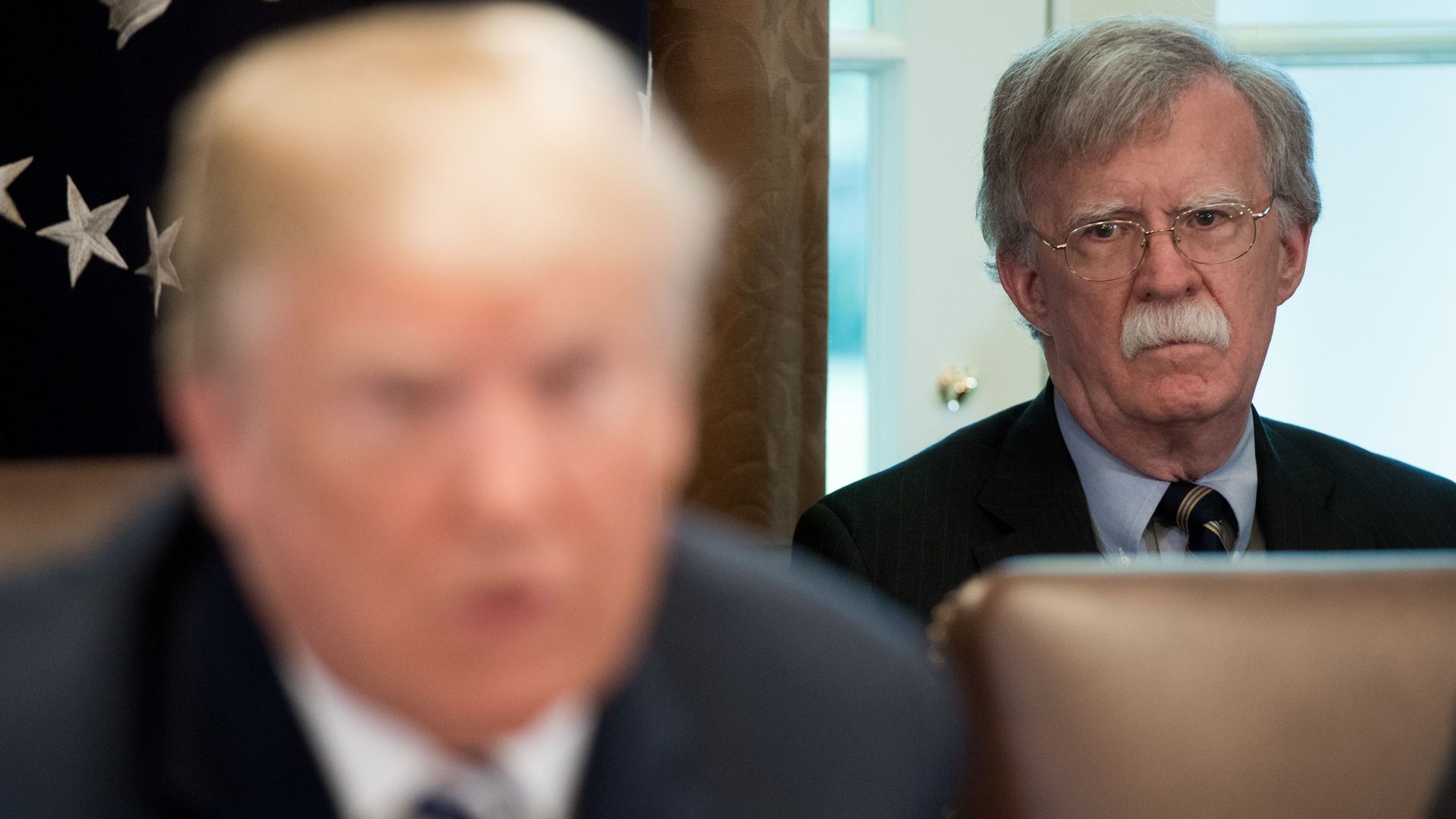 John Bolton, President Trump's national security advisor, threatened Europe with economic sanctions over the Iran deal, reinforcing a growing fear of a new world of no permanent alliances.
Quick take: Bolton's threat, made on CNN, further undermines the seven-decade alliance between the U.S. and Europe, a central factor in a sharp rise in global living standards and peace among the major powers.
Why it matters: If Europe decides it cannot rely on the U.S. and American rivals understand the same thing, Trump could risk jeopardizing an international system that had — until now — been led by the U.S.
The centrality of the Atlantic Alliance cannot be overstated. Look at the rest of the world, and you grasp how unusual it is. Since the Soviet collapse, Russia has formed no similarly fixed alliances, but instead has transactional relationships with countries like Iran, Syria and Hungary. Similarly, China's closest relationships may be with North Korea and Pakistan.
Yet history, writes the FT's Edward Luce, may recall this as the time "the U.S. abandoned its belief in allies."
I asked several foreign policy hands whether we are watching the end of alliances as we've known them, at least for now. Here are their replies:
Ian Bremmer, president of the Eurasia Group
"America's alliances are deteriorating because we are leaving a world of values-based relationships; the United States is becoming much more transactional in international orientation. Our allies are, in turn, hedging much more accordingly.
But NATO isn't going away. Institutions are pretty sticky. The problem is they're getting eclipsed by new areas of engagement and new threats: In the same way that NAFTA isn't as relevant because most U.S.-Mexico trade is services and data, NATO isn't as relevant because most national security isn't about tanks coming across the border. And there's very little effort to bolster existing institutions or create new ones. 
China is developing increasingly strong fixed alignments, if not quite alliances, based on economic (and, increasingly, technological) dependence."
Mathew Burrows, director at the Atlantic Council and former counselor, U.S. National Intelligence Council:
"Trump would like to deal bilaterally with everyone and dispense with multilateral frameworks. But the Europeans at least increasingly see their missions as trying to preserve them, hoping that after Trump, the U.S. will revert back to supporting multilateral institutions. For trans-Atlantic institutions like NATO, the Department of Defense doesn't want to see it wither and can put a brake on Trump — at least so long as [Secretary James] Mattis is around. As we saw with the recent Syrian strikes, Trump had to go along with Mattis. He also got convinced that it was better to do the airstrikes with two allies. 
The big test for trans-Atlantic relations will be if the U.S. sanctions EU firms doing business in Iran. There are French-German differences over what the EU should do. If the EU takes the U.S. to the WTO over the sanctions or steel tariffs and wins big, then I think you will see a huge trans-Atlantic crisis. You could see Trump defy the WTO.  I think that could open the door much wider to economic nationalism and protectionism on the part of others.         
In general, global institutions are waning, but I would not count them completely out. It's hard to really kill them. The Europeans for one want them. Even Russia and China have found them useful at times. And the U.S. has a love/hate relationship depending on who is in power and what the issue."
Cliff Kupchan, chairman of the Eurasia Group:
"Alliances are in the hospital but not not dead. This is the Trump period, we have to remember. This president is way out of the American mainstream. Under any future president, U.S. alliances will get a shot in the arm. And the EU faces a dilemma — where else are they going to go? Are Germany and France really going to leave the U.S. umbrella? No.
Now, if Trump is re-elected, it's a different ballgame. Can the "allies" stand six more years of being ignored? Open question. Then there's a real chance it's game over with alliances."
Go deeper