Updated May 12, 2018 -

World
Without Iran deal, U.S. sanctions tool will lose force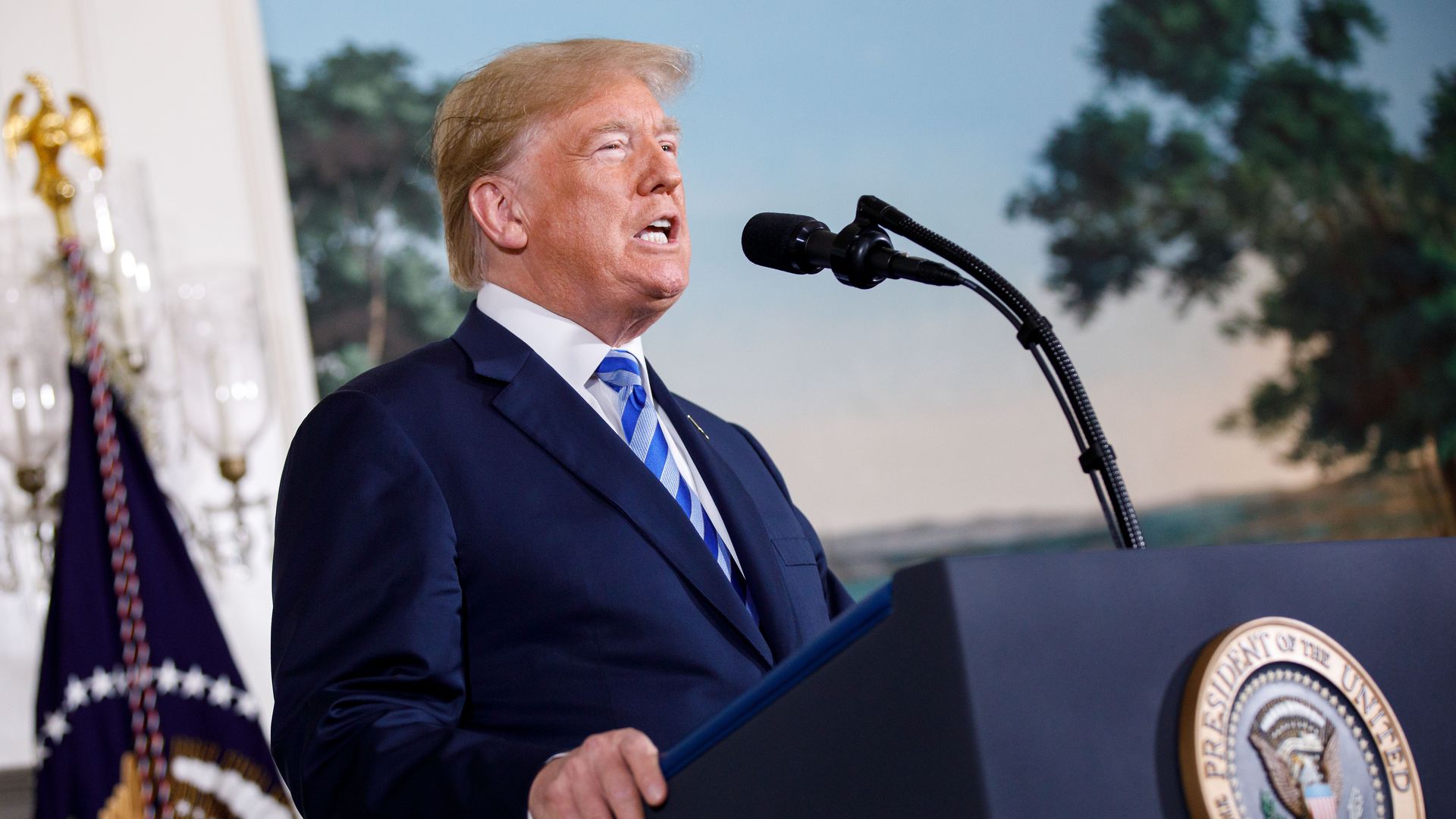 In quitting the Joint Comprehensive Plan of Action (JCPOA), President Donald Trump may have thought he could now subject Iran to "extreme pressure" from resumed U.S. secondary sanctions. But the outraged response of countries ordered to wind down their commerce with Iran within the next six months suggests that the U.S. sanctions weapon could become a boomerang.
The big picture: May 8, 2018, may soon become as infamous as March 20, 2003, when the U.S. invaded Iraq against the advice of many of its allies (especially France) and Mideast experts. In leaving the deal despite Iran's compliance, Trump has antagonized the rest of the world and undermined sanctions as a tool of diplomacy.
The background: Longstanding U.S. efforts to depress foreign investment in and trade with Iran have had a mixed record and only really became successful from 2006 to 2014. The effort took off when Iran, under an aggressive and often obnoxious president, Mahmoud Ahmadinejad, accelerated the country's nuclear program while also denying the Holocaust and assisting attacks on U.S. forces in Iraq.
Sanctions reached a high point in 2012, when Israel was threatening to bomb Iran and the Obama administration married sanctions with a robust diplomatic strategy. That effort bore fruit in 2015 with the conclusion of the JCPOA and the U.S. agreement to lift nuclear-related sanctions in return for Iran's compliance with verifiable curbs on its nuclear activities.
The bottom line: Many companies will bow to fear of massive fines and quit or avoid the Iranian market. But others, particularly in China and Russia, will find ways to continue to do business with Iran as long as it remains faithful to the JCPOA. The sanctions that President Trump seeks to wield with Thor-like vigor will shrivel and U.S. diplomacy will lose a once-potent tool.
Barbara Slavin directs the Future of Iran Initiative at the Atlantic Council.
Go deeper