Timeline: Michael Cohen's week of woes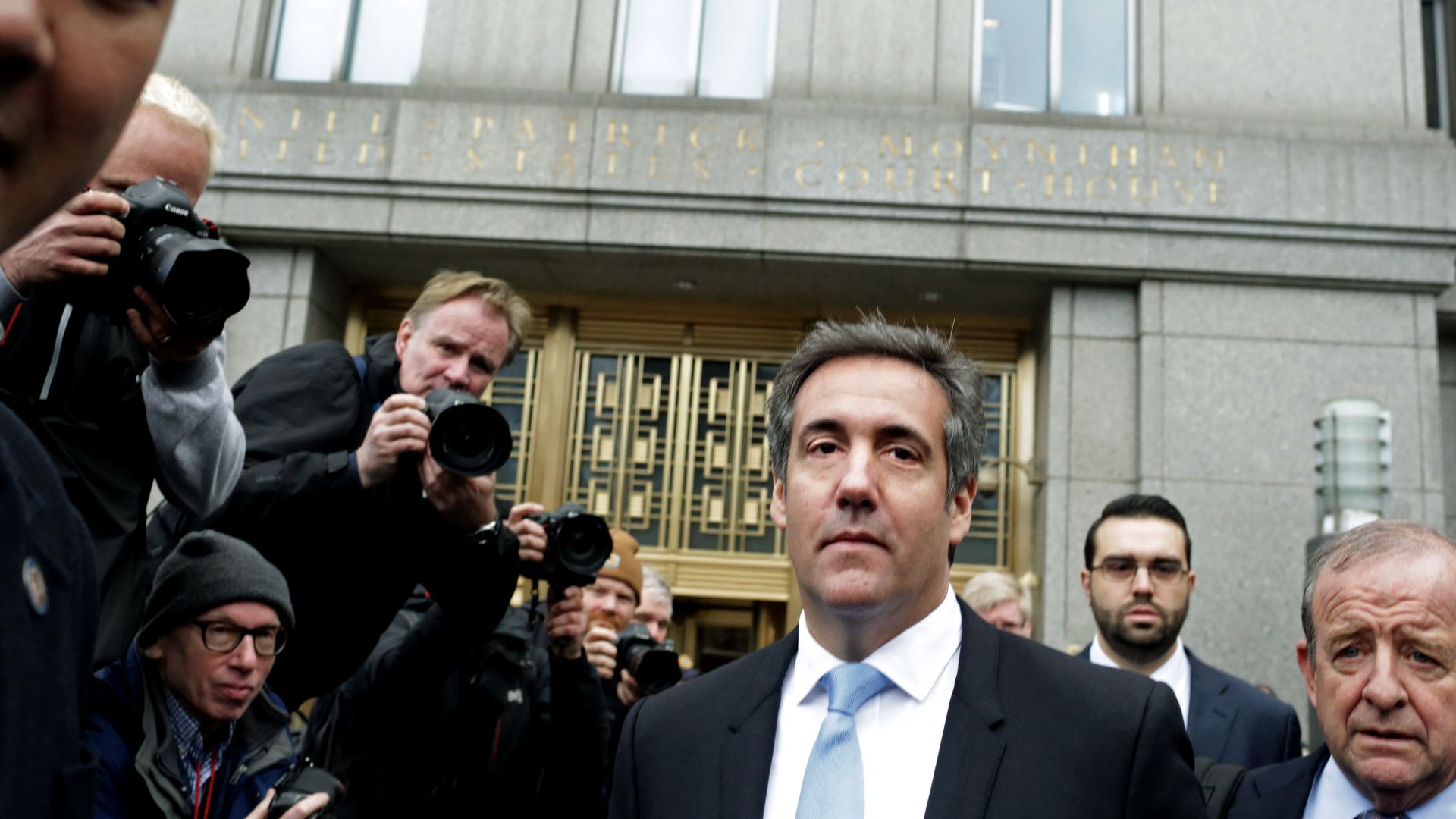 Michael Cohen can't get out of the spotlight. After scrutiny of how he handled the Stormy Daniels payment, he's back in the news for payments he received from companies to advise on the Trump administration policies.
Why it matters: The man who once served as President Trump's ultimate fixer is creating a long list of problems.
Worth noting: The companies that paid Cohen say he didn't provide the insight they paid for. Axios' Dan Primack notes, "The main thing the companies bought themselves was a major P.R. headache, with nothing to show for it."
Tuesday, May 8:
Stormy Daniels' lawyer, Michael Avenatti, announces on Twitter that Michael Cohen received money from New York private equity firm Columbus Nova. He later posts a longer report detailing payments to Cohen from other firms including AT&T and Novartis.
Late Tuesday, AT&T confirms that it paid Cohen's firm — Essential Consultants, the same shell company that orchestrated the Stormy Daniels settlement — for "insights into understanding the new administration." The payments totaled to $600,000.
Wednesday, May 9:
Novartis admits to paying Cohen $1.2 million for advice about the Trump administration's health policy agenda. However, executives figured out after just one meeting that Cohen "would be unable to provide the services that Novartis had anticipated," the company says in a statement.

The pharmaceutical giant's payment to Cohen was excessive by D.C. standards. STAT reports that there "weren't any contracts under which an individual company paid a single lobbying firm [as much as] $1.2 million in 2017."

Special Counsel Bob Mueller's investigative team contacted AT&T in late 2017 about the Cohen payment, a company spokesperson says. AT&T says it cooperated fully with the investigation.
Columbus Nova, a private equity firm whose primary investor is Russian oligarch Viktor Vekselberg — one of the Russians sanctioned by the Treasury Department — acknowledges that it paid Cohen $500,000.
Thursday, May 10:
The Washington Post reports that AT&T's payment to Cohen was to advise on their proposed $85 billion merger with Time Warner, which the Justice Department filed a suit to block in November.
Friday, May 11:
AT&T CEO Randall Stephenson tells employees in a memo that hiring Cohen was a mistake. "To be clear, everything we did was done according to the law and entirely legitimate. But the fact is our past association with Cohen was a serious misjudgment," he writes.
Cohen reached out to Ford Motor Company as well, reports the Wall Street Journal. He offered consulting services, touting access to Trump, and Ford swiftly rejected the offer. Mueller has approached Ford for records of the company's conversations with Cohen, per the Journal.
Trump's lawyer Rudy Giuliani tells HuffPost that Trump wasn't aware of Cohen's consulting gigs, adding that the president himself had a role in the decision to sue to block the AT&T–Time Warner merger.
Go deeper: The Michael Cohen avalanche ... Michael Avenatti trumps Trump
Go deeper