Trump's 3 a.m. tarmac triumph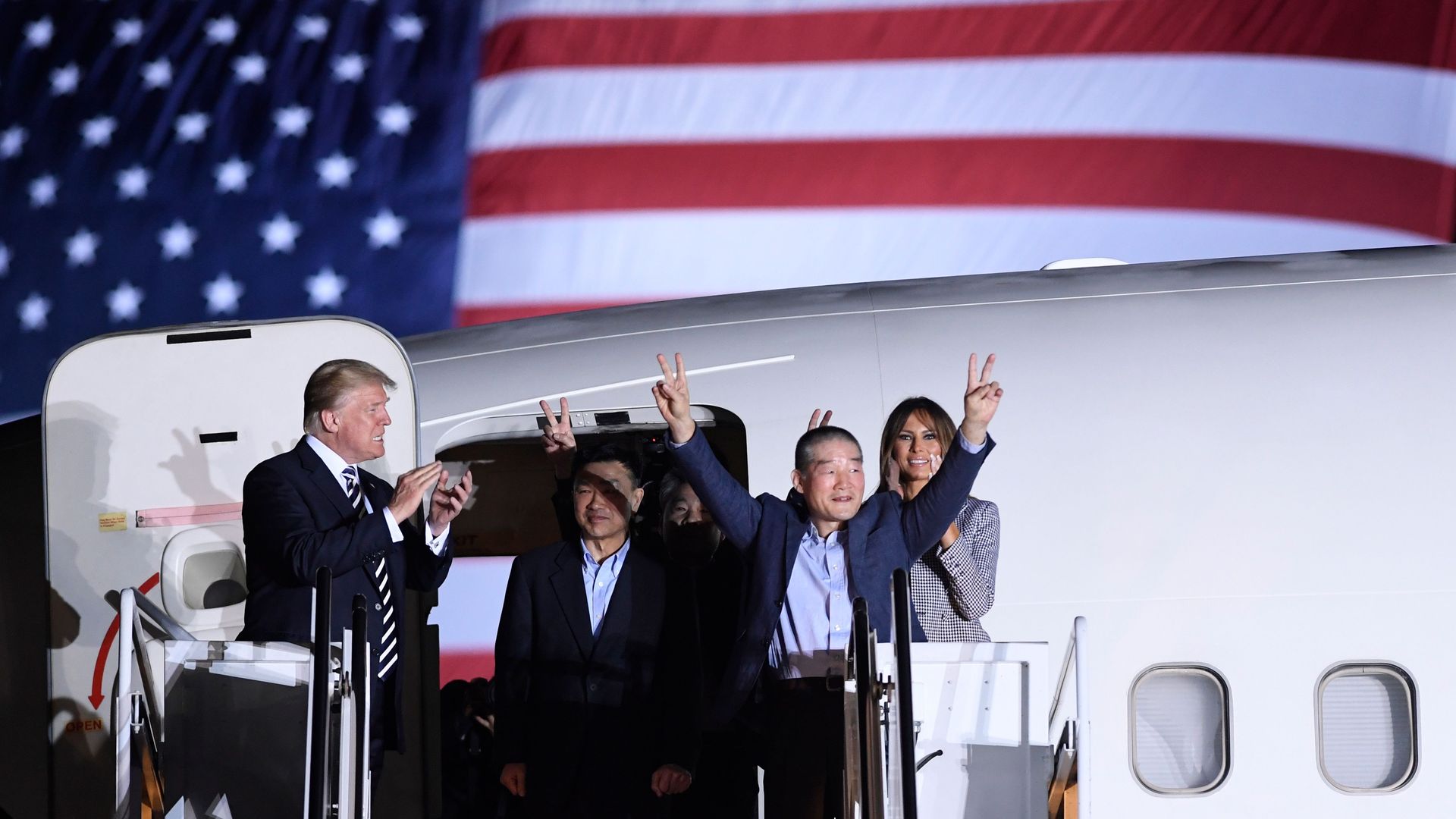 In the wee hours on live global television, President Trump greeted three American prisoners freed from North Korea as they landed at Andrews Air Force Base, Md., and engaged a returnee and his translator in brief banter.
Between the lines: Trump, who loves to think of his presidency as episodes in a reality show, reveled in the diplomatic achievement as he left the tarmac: "I think you probably broke the all-time in history television rating for 3 o'clock in the morning."
"My proudest achievement will be — this is a part of it — but it will be when we denuclearize that entire peninsula."
"This is what people have been waiting for for a long time. Nobody thought we could be on this track in terms of the speed. So, I'm very honored to have helped the three folks."
The scene: CNN's Jeff Zeleny, reporting live from Andrews said there were 200 to 250 reporters and photographers, and surprisingly little sound: No music, and no family members or friends immediately greeted the returnees.
AP: "The White House pulled out all the stops for the event, hoisting a giant American flag between two fire trucks on the tarmac."
From a pool report by Yahoo News' Hunter Walker:
"President Trump walked onto the steps outside the plane at 3:00 am accompanied by his wife and the three returnees. They shook hands. One of the men pumped his hands in the air as Trump clapped."
"About two minutes later, Trump brought the men up to the assembled reporters and they all spoke to the press for over seven minutes."
"Trump repeatedly expressed optimism for talks with North Korea and said, 'We'll see what happens. ... We want to thank Kim Jong-un.'"
When asked if he might one day visit North Korea, Trump said, "It could happen." 
"Through a translator, one of the returnees spoke about his treatment in North Korea. He said he was treated in different ways including sometimes doing forced labor but also receiving medical treatment."
"Trump walked the men back to the bus at about 3:10 am and it departed soon after. Marine One took off at about 3:17 am."
P.S. N.Y. Times Quote of the Day ... Evans J.R. Revere, a former State Department diplomat who specializes in East Asia, on the prisoners' release:
"I would not give Pyongyang too much credit for undoing something it shouldn't have been doing in the first place."
Go deeper