The Israel-Iran cold war is getting hotter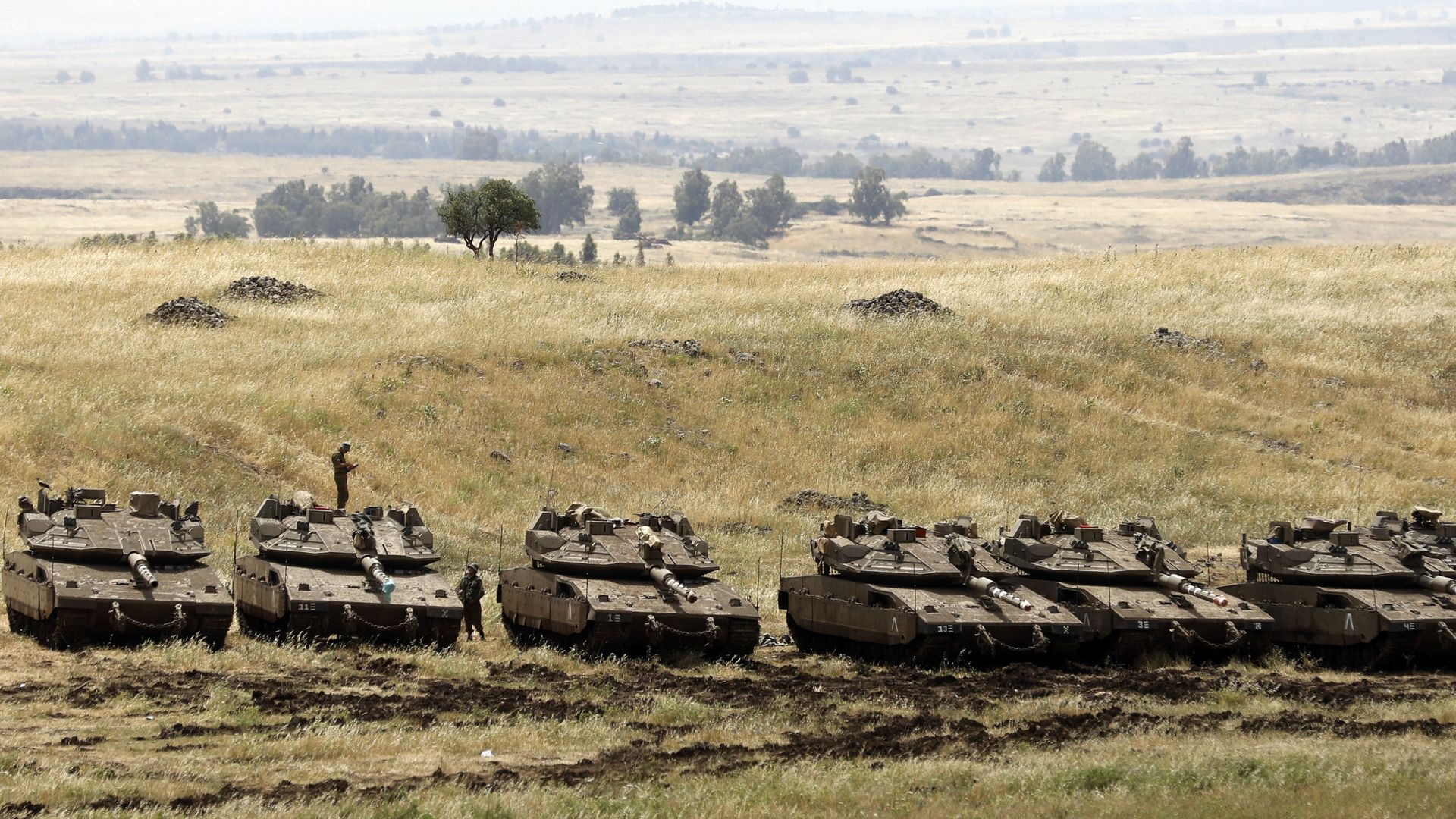 After years of cold war through proxies and intelligence operations, Israel and Iran have entered a hot war in Syria.
Where things stand: The missile launches from Syria Wednesday night were the first ever direct Iranian attack against Israel. The Israeli retaliation that came right after was the largest air strike by the Israeli Air Force in the region since 1974.
The big picture:
The Israeli-Iranian escalation is one of many crises that were created out of the Syrian civil war.
Iran and its proxies, who were instrumental in helping the Assad regime change the direction of the war, want to cash in on their investment. The Iranians want to build a robust military presence in Syria, and open a front with Israel 1,000 miles from home.
Israel, on the other hand, is adamant that it won't let that happen. As an Israeli official told me, "Unlike in Lebanon, this time we are going to nip it in the bud."
The Israeli goal is not to end Iranian presence or influence in Syria, but to prevent Iran from being able to attack Israel from Syrian territory. Or, as an Israeli official told me, "We don't have a problem with Iranian doctors and diplomats in Syria, but with military units, Hezbollah and Shiite militias."
What Israel is doing:
On the one hand, Israel has started engaging in escalating airstrikes against Iranian targets in Syria. Israeli officials say the goal is to make Iran realize the cost in blood and treasure of its military buildup in Syria is not worth it.
On the other hand, Israel went on a diplomatic campaign to put international pressure on Iran to move its forces out of Syria and to make sure that any future peace deal to end the Syrian war will address removing Iranian forces.
The other key actors
Iran: Iran was seeking revenge for seven members of one their elite units who were killed in an Israeli air strike in Syria a few weeks ago. Israeli disruption efforts and poor operational capacity led to the attack being ineffective.
Russia: The Russians were unhappy in April, in private and in public, over an Israeli airstrike against an Iranian unit, but kept pretty silent after Wednesday's attack. The Russian reaction was even more telling due to the fact that Israeli Prime Minister Netanyahu spent 10 hours on Wednesday with President Putin in Moscow.
The U.S.: From day one the Trump administration showed zero appetite to take action against Iranian entrenchment in Syria. The U.S. goal in Syria was and still is defeating ISIS, and President Trump's statements about pulling U.S. troops from Syria made the Israelis very concerned.
On the other hand, Israel sees Trump's decision to withdraw from the Iran deal as a significant step that will put heavy political and economic pressure on Iran and help in stopping its military entrenchment in Syria.

Europe: Trump's threat to pull out from the Iran deal created a sense of urgency among European powers to take action against Iranian actions in Syria. Even after Trump's decision on the nuclear deal, the Europeans are still showing this motivation. The leaders of France, Germany and the U.K. all condemned the Iranian attack and stressed that Iran's regional behavior must be addressed.
The Gulf states: Israel, Saudi Arabia, the UAE and Bahrain were the first four countries to welcome Trump's decision to withdraw from the Iran deal. This new anti-Iran alliance between Israel and its Sunni Arab neighbors is a development of historic proportions. Wednesday night's clashes gave further evidence, after the Foreign minister of Bahrain went on Twitter to publicly condemn Iran and support Israel's right to defend itself.  
Go deeper