Michael Avenatti trumps Trump: "More bombshells coming"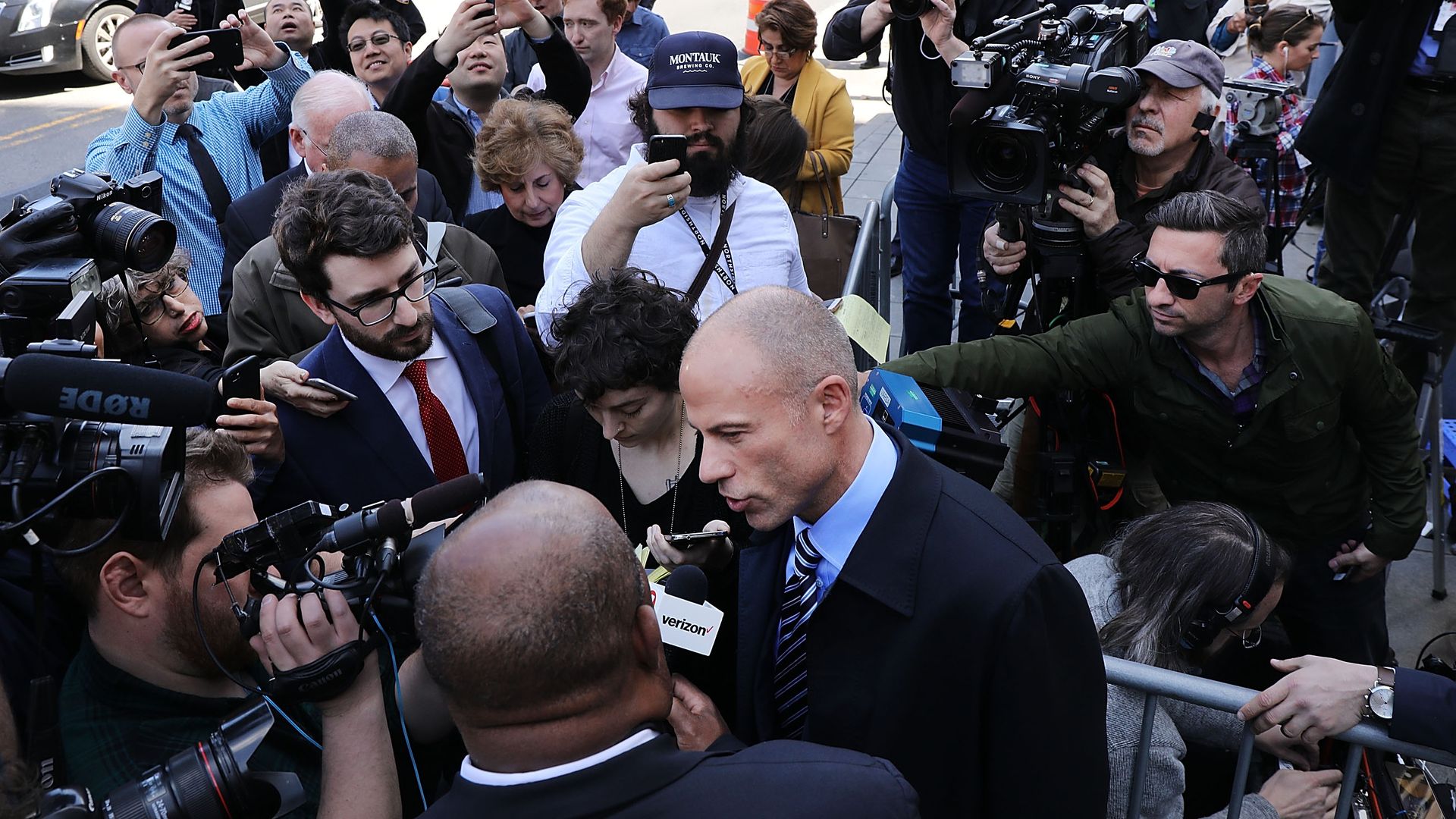 He's making news on Twitter, building his social-media followers, teasing his announcements with reality-show theater, and is ubiquitous on cable TV.
The big picture: Using Trumpian tactics, Michael Avenatti, Stormy Daniels' lawyer, managed to push Iran and a big day of midterm primaries into prime time's background, with stunning charges in a "Project Sunlight" report he posted for reporters to feast on.
The Atlantic pointed out that Avenatti is "attempting to connect the dots between the Russia probe and the Michael Cohen investigation ... merging the two biggest scandals of Donald Trump's presidency in a single tweet — and setting off a frenzy."
The revelations:
N.Y. Times: "AT&T and an Oligarch ... A shell company that [Trump lawyer] Michael D. Cohen used to pay hush money to a pornographic film actress received payments totaling more than $1 million from an American company linked to a Russian oligarch and several corporations with business before the Trump administration. ... References to the transactions first appeared in a document posted to Twitter ... by Michael Avenatti."
WashPost: "[C]onfirmation came after Michael Avenatti ... circulated on Twitter a document purporting to show a detailed accounting of wire transfers."
Wall Street Journal: "AT&T Inc. said it made payments to Mr. Cohen's company in 2017 for 'insights' into the administration at a time when the telecommunications giant needed government approval for an $85 billion takeover of Time Warner ... The payments were revealed in a memo released through Twitter by Michael Avenatti."
The art of the tease ... During a marathon appearance as election returns scrolled below him, Avenatti told CNN's Anderson Cooper:
"We certainly have next steps planned out."
'"I hope the president goes on 'Fox & Friends' tomorrow, and then I hope that Rudy Giuliani makes the rounds on Fox."
"There are more bombshells coming. There's more evidence. There's more information."
"[B]ecause we're so out front on this, people send us information. People want to help our cause."
If you missed that, you could catch Avenatti on MSNBC's "The Last Word with Lawrence O'Donnell."
Afterward, Avenatti tweeted to his 345,000 followers: "We are not changing. Especially because the strategy is working perfectly. Period."
Go deeper