Google's AI is the talk of its big I/O conference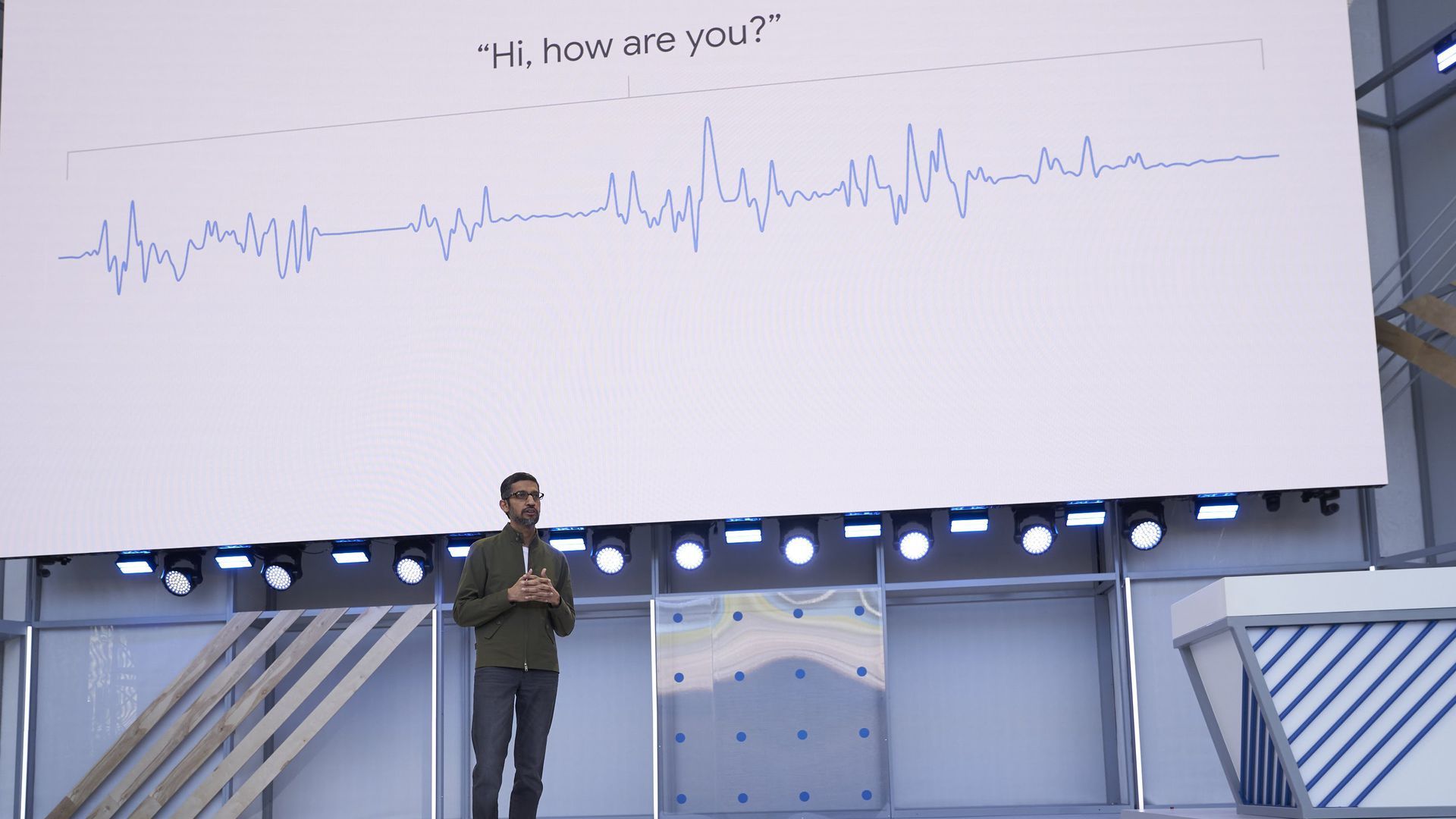 Google's robotic assistant, which can convincingly converse with a person to make a reservation and uses all-too-human sounding "umms" and other responses, was met with a mix of awe and concern after Google's opening I/O keynote.
Why it matters: Though incredibly impressive, there are a lot of questions about just how far Google has gotten in its effort to get its robot assistant to reliably converse with a human. That Google can do it successfully even part of the time is an impressive feat. It's not quite passing the Turing Test, but it's a big step in that direction.
The other big issue is what ethics should apply: Namely, should a robot AI have to disclose itself? Google is in a bit of a bind here, since if the assistant discloses it's a robot, people will no longer talk to it like a human. Nonetheless, I think that most people today would be annoyed to learn they were unknowingly talking to a computer — or as Chris Messina put it, being turned into an API endpoint.
2. Technology that encourages you to use it less. A big theme at I/O was digital well-being, including features in the Android P operating system that will both tell you how you are spending time on your mobile device as well as suggest ways you might pare back usage — especially as it gets close to bedtime.
It's the first big move from the big device makers to offer such fine-grain control, though there are third-party apps for Android that set time limits, either for yourself or for kids.
Apple has some limited abilities to set time limits within iOS today, and is expected to expand its parental control options with the next version of iOS.
Amazon also has a range of parental controls for those using its devices and services.
But Google's moves go beyond parental controls and also address the fact many adults are addicted to their tech.
3. Maps that see what you see. This wasn't the biggest announcement of the day, but it is the kind of thing that we could look back on one day and wonder how we lived without it.
Think about how we use maps when walking today: We stare down at our phones to get directions, then look back up and try to overlay that with the reality we see. Google is clearly taking Maps to a place where it can do that work for us.
What else: Google also introduced a revamped Google News, AI-infused updates to Google Photos and new voices for Google Assistant (including John Legend). For a summary of all the big news, check out this story from the Axios stream. (If you don't already check out Axios.com/technology during the day, it's a good way to stay up-to-date before the next issue of Login arrives.)
What's next: I/O continues today, though the big announcements are probably over. As of this week, Google, Microsoft and Facebook have all had their big annual gatherings with developers, but Apple takes its turn next month, when it's expected to detail the next versions of macOS and iOS.
Go deeper