Updated May 26, 2018 -

World
China's grand infrastructure plan has spooked its rivals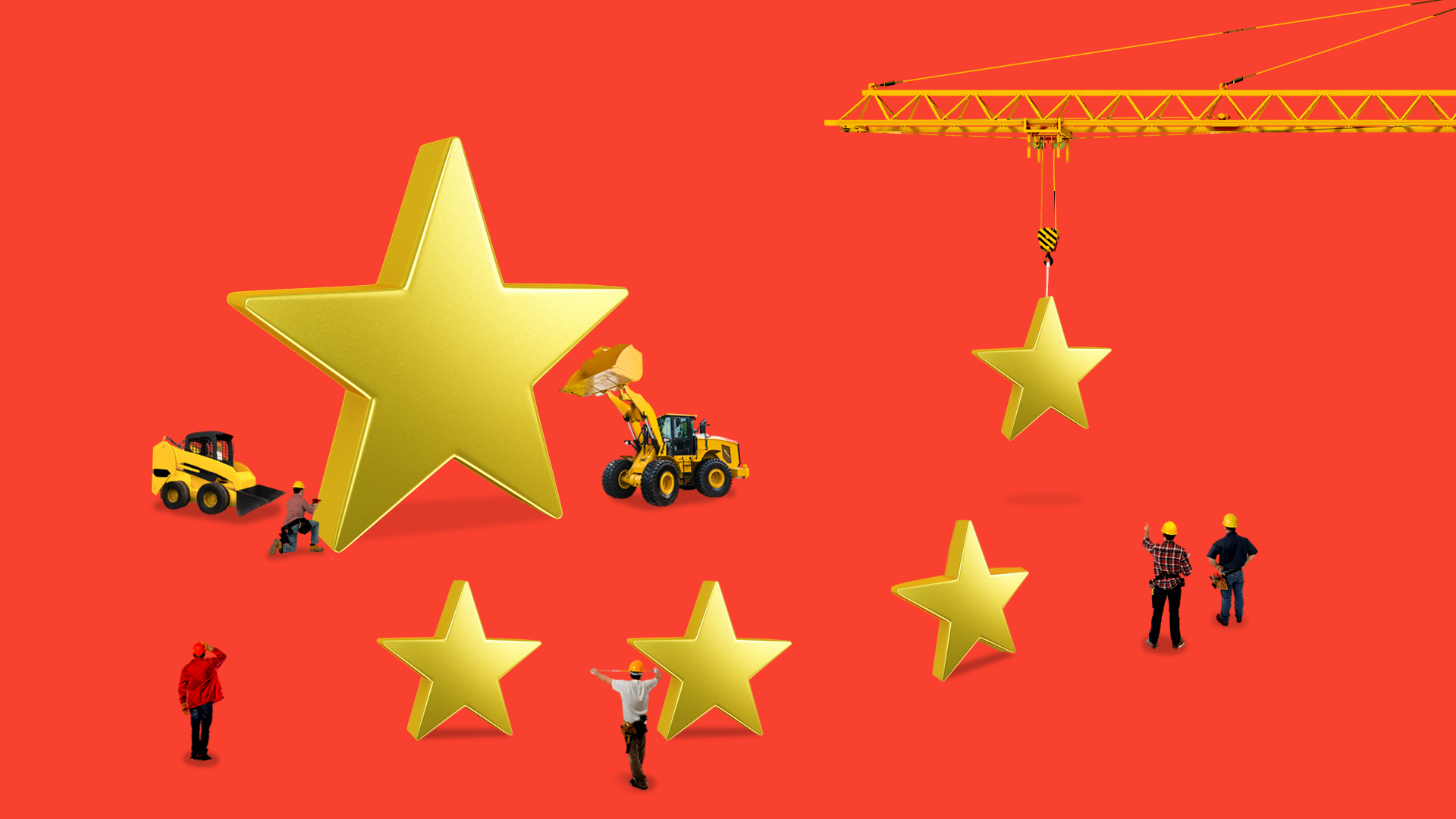 In challenging China's aim to dominate the future economy and set the global rules for how commerce is done, the U.S. and Europe are going up against history.
Quick take: For centuries, rising great powers have sought to thrive and exert influence by establishing a new global framework for trade. Now, Beijing wants to control the greatest businesses, and is building the biggest infrastructure project since at least the Marshall Plan — the Belt and Road Initiative (BRI).
Why it matters: When it is done, the system of ports, railroads and pipelines traversing some 65 countries will be the new face of Chinese foreign policy. But, led by Europe, Japan and India, many of the world's leading economies are balking, viewing it as a Trojan Horse for Chinese geopolitical, military and economic designs. In the case of the U.S., it is complaining about the details of Made in China 2025, Beijing's companion plan to dominate the economy of the future.
BRI's critics are right: Like the Greeks, Mongols, British and now Americans, the Chinese are establishing a basis to exert influence through commerce.
And that is to be expected: "They want to put their own stamp on the 21st century," James Millward, a history professor at Georgetown University, tells Axios.
Yet ... its scale still boggles (map below): "It's so big it's almost impossible for one person to have mastery of the whole thing. Sometimes I wonder if China grasps the whole thing," says Jonathan Hillman of the Center for Strategic and International Studies, who runs a project called Reconnecting Asia.
Europe is taking the lead in challenging BRI, Axios' Erica Pandey wrote earlier. As seems always the case with geopolitics, it is among players who want a piece of the action: the EU appears less vexed about BRI as a brute force power play and more that its companies compete on an equal footing for projects along the route:
In a scoop last month, the German financial newspaper Handelsblatt was leaked a report in which 27 of the 28 EU ambassadors to China (all except Hungary's) criticized BRI. The ambassadors said BRI "runs counter to the EU agenda for liberalizing trade and pushes the balance of power in favor of subsidized Chinese companies."
Handelsblatt cited a remark in January by Joe Kaeser, CEO of German industrial giant Siemens: "China's [Belt and Road Initiative] will be the new World Trade Organization — whether we like it or not."
In terms of public relations, China is presenting BRI as a friendly model of development. Millward points out a soft video produced by China Daily depicting BRI in the form of a children's bedtime story — a sort of Pax Sinica.
Though BRI isn't a fairy tale, Millward tells Axios that it's also not a redux of prior centuries. "We aren't going to end with a new British empire or a new American empire," he said. "It's going to be something different."
Go deeper: CSIS's atlas of 12,000 years of commercial history.
Go deeper