Azar vs. Price: The no-drama HHS chief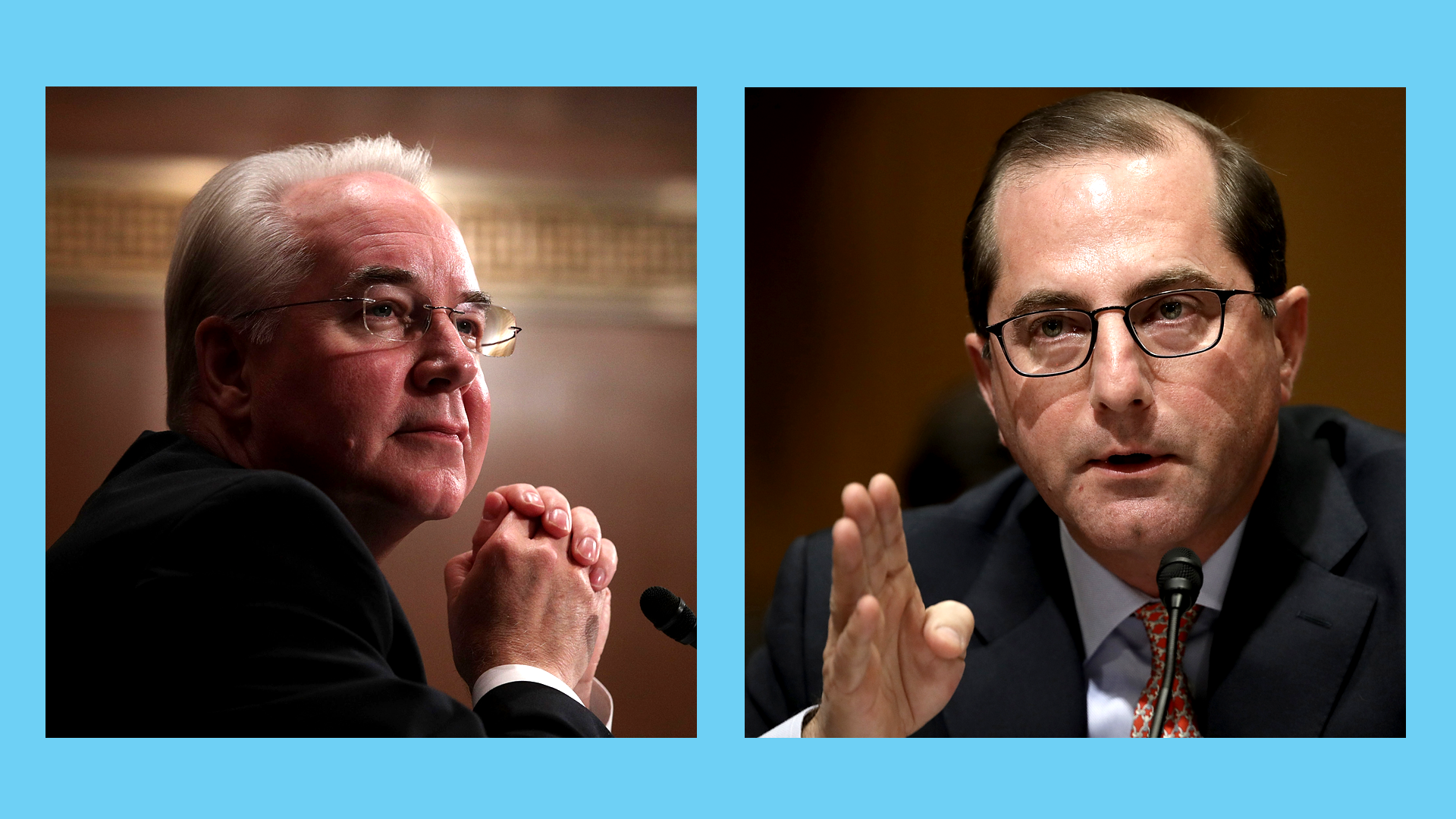 Health and Human Services secretary Alex Azar is a lot different than his predecessor, Tom Price. He's invested in policy goals that Price did not necessarily share, and his no-drama ethos and experience with the HHS bureaucracy will likely help him achieve them.
The big picture: Azar and Price do have one big thing in common: using the regulatory powers at their disposal to chip away at the Affordable Care Act, and presiding over efforts to roll back Medicaid. But underneath those shared goals are big differences in their leadership style and their other priorities.
"Price was the guy refilling the punch bowl -- the guardian of a fee-for-service system exposed as an unsuccessful and unscrupulous Secretary. Azar is the reformer who knows the role government must play in helping transition to a better-value health care system."
— A well-wired industry lobbyist
Policy: Price, a doctor and former member of Congress, came in to help push ACA repeal across the finish line on Capitol Hill. Azar, on the other hand, talks frequently about four administrative priorities: lowering drug prices, making health care more affordable, shifting to value-based payment and addressing the opioid epidemic.
"Alex's agenda, those are things the department can act on and do things about," said a Republican health care consultant close to Azar. "Repeal and replace wasn't. Other than that, it wasn't clear to me what (Price) was there to do."
Azar also seems more enthusiastic than Price about changing the way doctors and other health care providers get paid, shifting to a system that pays based on quality rather than the number of services performed.
"Secretary Azar has certainly embraced payment and delivery reform more than his predecessor, who was pretty openly antagonistic towards it," said Larry Levitt of the Kaiser Family Foundation.
Style: A person who worked with both secretaries described Azar as very "hands-on" and wonky, getting into the details of his policy priorities, but said Price was less involved in policy detail.
Experience: Azar worked at HHS in the Bush administration, whereas Price's experience and relationships came mostly from Congress.
"It's probably easier to compare (Azar) to Sylvia Burwell" than Price, said Kavita Patel of the Brookings Institution. "They're incredibly savvy operationally, they understand massive bureaucracies…Congress is not a classic bureaucracy, it's just kind of a nightmare."
Scandal: Price began his new job surrounded by allegations of unethical stock trading and then lost it because of his travel on private jets. Azar has so far been completely drama-free.
"Alex is the no distractions secretary," Patel said. "He does not want to be distracted by whatever's tweeted…he's all about, 'I've got these four pillars.'"
Bipartisanship: Azar isn't as big a lightning rod as his predecessor, although the politics of the ACA are still a strong partisan fault line.
"Secretary Azar is cut more from the same cloth as FDA Commissioner [Scott] Gottlieb. He doesn't believe he has all the answers and reaches out frequently, including to people who think differently than he does," said Andy Slavitt, a top health care official in the Obama administration. Slavitt says Azar has been given the authority to work on drug costs.
But "it would be right to ask how much any of these improvements really matter if you are interested in protecting the rights of women and girls to get health care, are concerned about junk policies eroding pre-existing condition protections, or barriers being put up to prevent people from accessing Medicaid if they lose their jobs," Slavitt added.
Go deeper