Live: Google talks up AI, Android at I/O 2018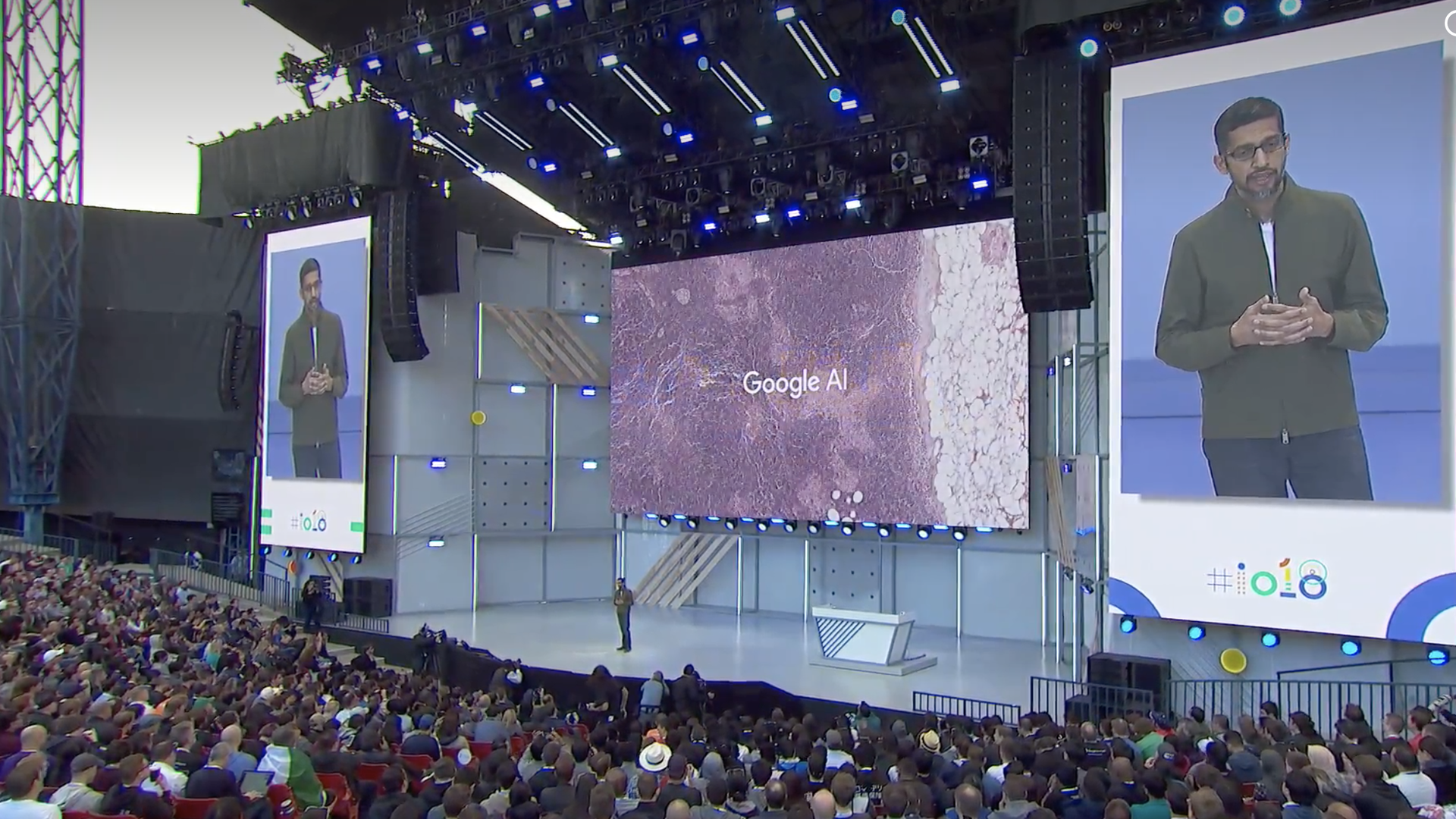 CEO Sundar Pichai kicked off Google's annual developer conference announcing new capabilities for Google Photos and Assistant, while also acknowledging a need to make sure tech isn't misused. "We can't just be wide-eyed," he said.
The bottom line: Google has two main goals at this year's I/O conference: convince developers it has the most powerful tools and sway regulators and critics that it is using that power appropriately.
"There are very real and important questions being raised about these advances," he said. "We know the path ahead needs to be navigated carefully and deliberately. We feel aeep responsibility to get it right."
Google is expected to discuss advances in AI and Android, among other areas. We'll have live updates as the key announcements are made.
So far, Google has announced:
Google Assistant:

More realistic voices using technology from Google's DeepMind subsidiary - plus John Legend's voice will answer some queries later this year.
Assistant will also become more conversational, more capable when used on a device with a display and be in 80 countries and support 30 languages by the end of the year.
Assistant coming to Google Maps later this year to share location with others and make other voice queries.
And, like Amazon, Google is also adding support to have kids say "please" rather than just bark orders at a smart assistant.
In one of the more powerful demos, Google had its assistant make a call to a hair salon, sounding like a human assistant, and schedule an appointment including lots of back-and-forth. (Thought bubble: Not sure how humans will react to having a robot call, especially when the system breaks down. It worked fine in the demo, but no doubt can't handle every imaginable response.) Pichai acknowledged this will take some time and will require some expectation setting.. "Done correctly it will save time for people. We're going to work hard to get this right."

Google Photos: New AI-infused abilities such as the ability to colorize old black-and-whites as well as automatically crop and straighten a photo of a document and turn it into a PDF.
Digital Wellbeing: In Android, you will be able to see how you are spending your tim including what apps you opened, how many times you unlocked your phone, and the number of notifications you received. If you choose to do so, it will actually remind you to take a break. Separately, Google is expanding its Family Link effort with a new "Be Internet Awesome" campaign.
Google News: Google says it has redesigned the service to

Use AI to bring forward better journalism
Offer more options to understand the story with "full coverage." For big stories, that includes top headlines, opinion/analysis pieces, local coverage, fact-checking and AI-generated frequently asked questions.
Provide ways to access and support preferred news sources, including new ways to access subscription content using a Google ID. "News is core to our mission," Pichai said. "It's more important than ever to support quality journalism."
It will be in Android, iOS and the Web in 127 countries, starting today and available in all those places by next week.

Android:

Android P is releasing in beta today and coming in final form this fall, starting with Pixel.
It focuses on AI, simplicity and digital wellbeing. Smartphones need to be smarter, said Google's Dave Burke. "We believe they should learn from you and adapt to you,' he said. That applies to both the apps people like as well as improving battery life by knowing, say, how bright individual users like their phones.
On the digital wellbeing front, Google is adding new options to see how your phone is being used and to set limits. Users can set per-app time limits, after which the app's icon will turn grey. A "shush" feature silences notifications and beeps when a phone is turned upside down. A "wind down" feature lets you set a goal bedtime and the phone turns greyscale when its time to hit the sack.
Go deeper: (The Verge has the low-down on the Android news here.)

Maps:

Using the camera, maps will be able to overlay directions and points of interest directly on to an image of what is in front of you.
Google will tell you how good a match a particular place might be for you using machine learning combining what Google knows about restaurants and other locations with the kinds of places you tend to choose.

Google Lens: Lens, which works as kind of a camera-based search engine is coming to the Android camera app. New features make it easier to select text from a photo or match the style of clothes and furniture. (Wired has more on the Lens changes here.)
ML Kit - Developers can use some of Google's AI tools to include in their apps things like image labeling, text recognition, face detection, barcode scanning, landmark detection and more. Will work on both Android and IOS.
Waymo: John Krafcik, CEO of Alphabet's self-driving car unit, showed up at I/O to give the audience an overview of what his team has been up to this (in case they haven't been following the news cycle too closely).
Go deeper