Trump's trade war is pushing China and Japan closer together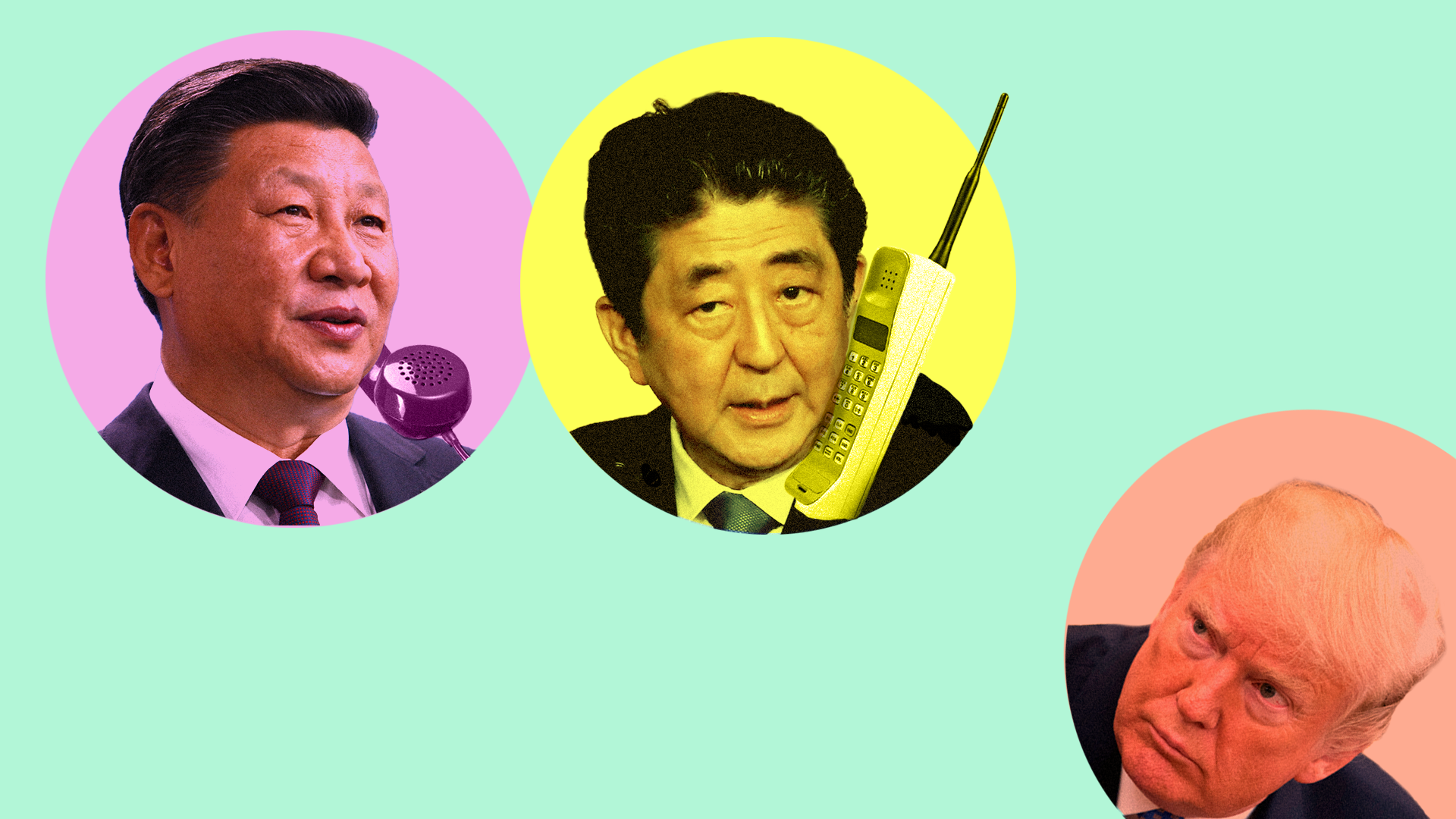 Japan has long taken a hawkish stance against China's growing influence, but the Asian rivals have recently been working to thaw their relationship after years of tension— in large part because both fear Trump's trade war.
The big picture: The Japanese "still fundamentally see China as the greatest threat to Japan, and they're still deeply reliant on the security relationship with the U.S. [in the East China Sea], but they're hedging," Dan Sneider, an expert on East Asia at Stanford University, tells Axios. "They're accepting the reality that China's going to be a major power, and they also have to hedge against the uncertainty of American foreign policy."
The moves
China is considering rolling back an import ban on agriculture, forestry and fisheries products that was put in place due to health concerns stemming from the 2011 Fukushima nuclear disaster, reports the Nikkei Asian Review.
"Tokyo ... is set to display a cooperative stance toward [President Xi Jinping's] Belt and Road infrastructure initiative," per the Review.

That'd be a big shift — Japan has not been shy in voicing its concerns about Xi's plan to the international community.

Japan has also warmed to China's Asian Infrastructure Investment Bank, after pointedly refusing to join two years ago.
And the two countries have set up a military hotline to prevent escalation of activity in the East China Sea.
The two countries are back to engaging in high-level dialogue.
Last month, as Japanese Prime Minister Shinzo Abe was meeting with President Trump in Mar-a-Lago, Chinese foreign minister Wang Yi was in Tokyo leading the first "high-level economic summit" between the two countries in 8 years.

Wang said, "The two sides should safeguard economic globalization and free trade system," per Chinese state media.

Top diplomats from China, Japan and South Korea are also set to hold a trilateral meeting for the first time since 2015 on Wednesday.
Xi and Abe had their first ever phone call on Friday to discuss developments on the Korean peninsula. They have spoken in person in the past.
The backdrop: The warming of Sino-Japanese relations is not sudden, but it's certainly accelerating amid trade fears and diplomacy with North Korea, Sneider says.
The Trump factor
President Trump's alienation of Japan on trade has Tokyo questioning whether it can rely on the U.S. to help it counter China's influence.
Japan was disappointed to see President Trump pull the U.S. out of the Trans-Pacific Partnership, and the Japanese took the lead on keeping the deal alive because Tokyo sees the TPP as its key tool to fight China, namely Belt and Road.
Trump also did not exempt Japan from U.S. steel and aluminum tariffs, which came as a shock to Tokyo — and pushed the Japanese toward resetting relations with Beijing.
What China is thinking
China overtook Japan as Asia's biggest economy in 2010 and, since then, Beijing has set the terms of engagement between the two countries, "declining Tokyo's requests to resume the [high-level economic] dialogue for years," per the Review.
But this time, China was the one to approach Japan about revisiting their economic alliance.
Japanese investment remains a major factor in the Chinese economy. And if the U.S. closes its market to China, Japan will become an even more crucial economic ally.
Go deeper: Japan maneuvers the Trump presidency ... China courts European allies in trade war ... Japan could be collateral damage in a trade fight
Go deeper