Updated May 4, 2018 -

World
The high-stakes gamble of reducing troops on the Korean Peninsula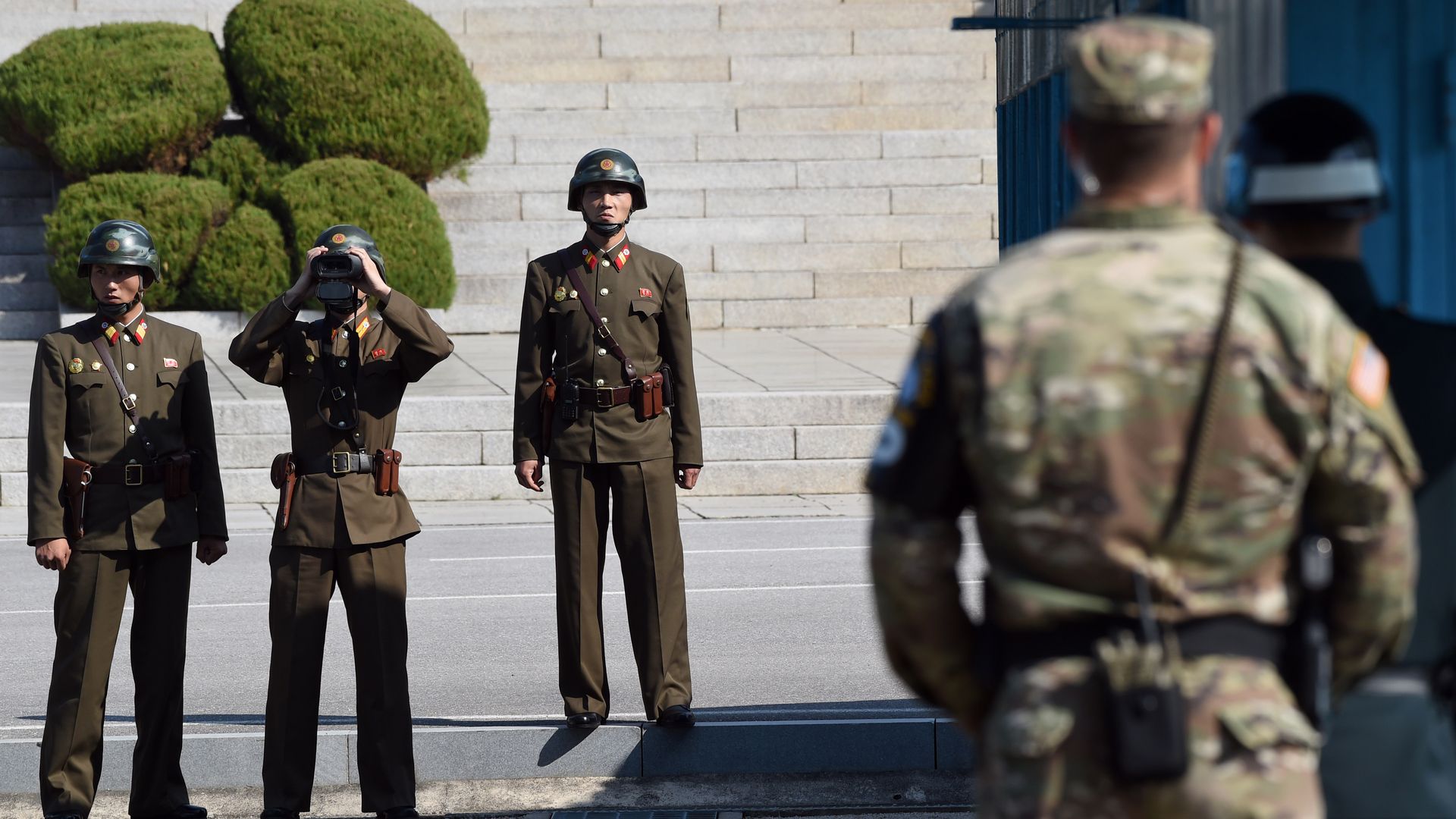 Weeks before his planned summit with Kim Jong-un, President Trump reportedly pushed the Pentagon to consider reducing troop numbers in South Korea, reflecting his long-held conviction that the U.S. shouldn't subsidize other countries' defense needs.
Why it matters: While Trump clarified that a drawdown was for future, not immediate, consideration, these reports could influence Kim's pre-summit calculations: If Trump seems eager at the outset to achieve peace and declare success by promising withdrawal, Kim might feel less pressure to sacrifice his primary leverage — his nuclear weapons and long-range missiles. 
Trump's push follows his call for a withdrawal from Syria, in keeping with his apparent belief that strategic progress should yield peace dividends (namely troop returns and reduced overseas expenditures). But he appears particularly skeptical of the value of U.S. forces on the Korean Peninsula, given both the South's developed economy and the North's continued pursuit of nuclear and long-range weapons despite the permanent presence of some 30,000 U.S. troops.
Aside from summit considerations, any troop drawdown would also incur a long-term strategic cost, hardening impressions that the U.S. is ceding its traditional leadership role. If confidence in U.S. power recedes, many Asian countries will confront a choice between deferring more to Beijing or developing military capabilities — including nuclear weapons — to protect against Chinese coercion. If Japan begins to doubt America's security umbrella and goes nuclear, others will likely follow.
The big picture: For the past 70 years, America's presence in Asia has provided a check against countries tempted to use force to move borders, seize resources or redress historical grievances. U.S. abdication of its leadership role in a region riven by deep-rooted animosities could elevate the risk of catastrophic conflict.   
Ryan Hass is a David M. Rubenstein Fellow in the Foreign Policy program at Brookings.
Go deeper