Trump weighs cutting Planned Parenthood's Title X funds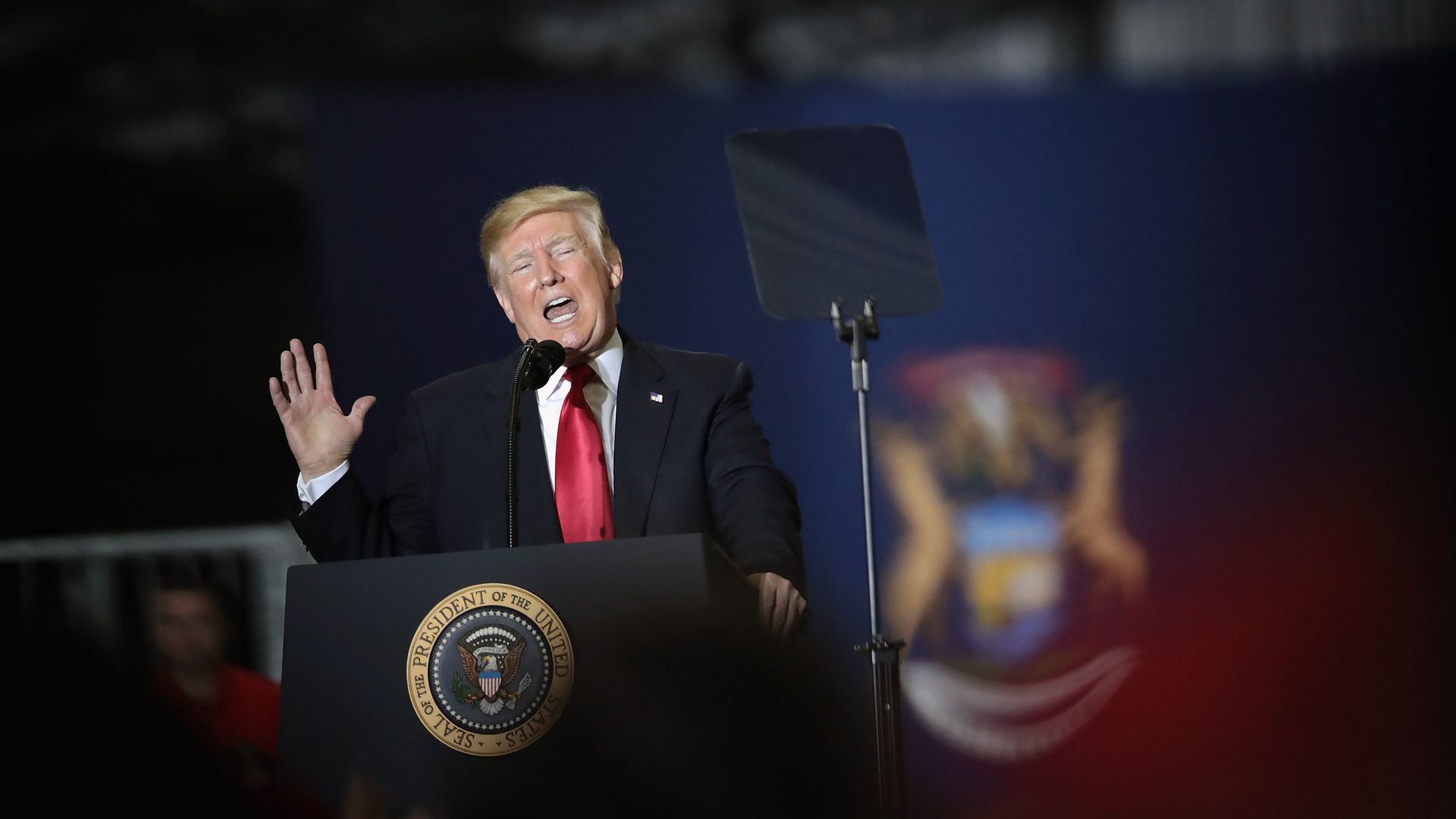 The Trump administration is debating whether to cut off abortion providers such as Planned Parenthood from Title X family-planning funding, a move that would potentially force the organization to choose between losing the funding or ending abortion referrals.
What's new: Two sources have told us that Kellyanne Conway went to see President Trump on Friday to try to ensure he follows through on his campaign promises to end federal funding for Planned Parenthood — with the money redirected to Women's Qualified Health Centers — so long as the organization continues performing abortions.
One of the sources told me Conway walked Trump through maps showing how many healthcare alternatives are available to women besides Planned Parenthood. Her briefing materials also included the "prayer and protest" rallies that ran over the weekend at more than 140 Planned Parenthood locations throughout the country, where activists called on Trump to stop taxpayer funding of abortion businesses.
Conway also highlighted that Planned Parenthood spends millions on Democrats in political races, including tens of millions on Trump's 2016 opponent Hillary Clinton.
Conway showed Trump the map below — one of the starkest examples of the trend she was highlighting:
What we're hearing: While some conservative leaders are blaming Ivanka Trump for the indecision inside the White House, a source familiar with her thinking said she has not been advocating against the policy to the president. The source said it was Trump who said in a meeting he wanted to know what Ivanka thought of the policy.
A conservative leader involved in the policy fight told Axios it would be "​political suicide" for Trump to abandon the policy. "I just don't understand why they would betray a core campaign promise during a midterm election year where there are a lot of key House and Senate races where this is a winning issue in light of the polling," the source added.
Meanwhile, White House Political Director Bill Stepien compiled a list for Trump — showing that of the top 50+ competitive House races, every single sitting Republican is pro-life. 
Details of Title X funding: 
The proposed changes to Title X, which provides grants for family planning programs and is separate from Medicaid, were first covered last week by Susannah Luthi in Modern Healthcare.
Sources close to the administration say the regulation would resemble the Reagan-era rule that prohibited health care providers receiving Title X funding from providing abortions, or information and/or referrals for abortions. Providers also had to physically and financially separate a clinic's privately-funded abortion services from its Title X services.
According to the National Family Planning & Reproductive Health Association, It was only in effect for a month, as it was tied up in court and then rescinded by President Clinton.
Title X has a budget of $286 million and provides funding for around 4,000 clinics that serve about four million women. Planned Parenthood says it makes up about 500 of the clinics, and serves about 1.5 million of the patients. 
The bulk of PP's federal funding (~75%) comes from Medicaid, and would not be affected by a proposed Title X change. 
Planned Parenthood responds:
"This proposal is outrageous. This is a domestic gag rule --- and would be a radical departure from the way health care has operated in the United States up until now. It would prohibit any health care provider from sharing information about, referring patients for, or even mentioning the word abortion if they serve patients through Title X. This would have devastating consequences, and essentially dismantle the nation's program for affordable birth control and reproductive health care, which 4 million people rely on. This policy is dangerous -- it would keep women from having information, and from getting the best health care possible."
— Dawn Laguens, Planned Parenthood's Executive Vice President
The big picture: It's worth noting that Trump has already delivered a series of wins for pro-life voters, including reintroducing the Mexico City policy, appointing numerous new pro-life judges, and allowing states to bar Medicaid funds from going to Planned Parenthood. But conservatives failed to secure Planned Parenthood cuts in the budget process, so they're turning to smaller efforts like this to chip away at its funding.
Go deeper