Trump meets Nigerian president, in chance to smooth U.S.–Africa ties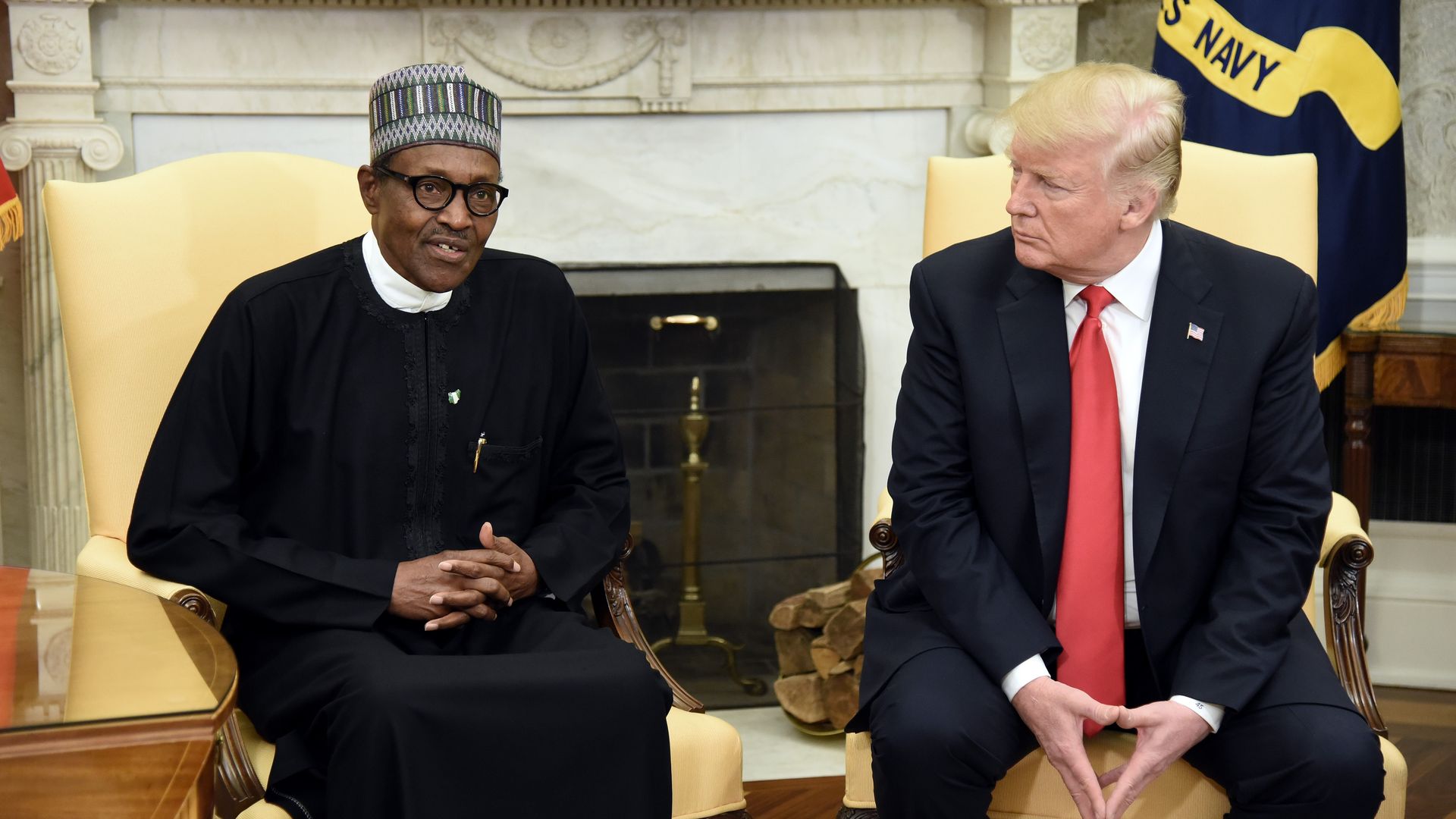 Nigerian President Muhammadu Buhari met with President Trump on Monday to discuss the U.S.' economic, strategic and diplomatic partnership with Nigeria.
Why it matters: Trump's relationship with African countries has been mired in public and diplomatic scandal, and his meeting with the president of Africa's most populous country presents an opportunity to make amends.
Trump's relationship with African countries in general was damaged by his alleged characterization of them as "shithole countries." Adding insult to injury, former Secretary of State Rex Tillerson's visit to Africa was marred after he was fired in Nigeria. There is still no assistant secretary of state for Africa, and numerous high-level, Africa-related positions across the administration have yet to be filled.
Trump and Buhari focused on strengthening the bilateral strategic partnership, fostering economic growth and encouraging Nigeria's democratic trajectory (national elections are scheduled for for February 2019). Nigeria has also requested more security assistance for the fight against Boko Haram and further support in recovering looted Nigerian funds now parked in the U.S.
The big picture: Scandals aside, the Trump administration's relationship with Africa shows continuity with past administrations. It has encouraged economic development and investment, proceeded with the sale of light aircraft (which the Buhari administration wanted badly), expanded U.S. security assistance to those fighting violent Islamist extremism in Africa and continued support of the President's Emergency Plan for AIDS Relief and other medical assistance programs. Buhari's visit in itself is also bound to enhance Nigeria's leadership position in West Africa.
John Campbell is the Ralph Bunche Senior Fellow for Africa Policy Studies at the Council on Foreign Relations.
Go deeper