5 highlights from Trump's return to Fox & Friends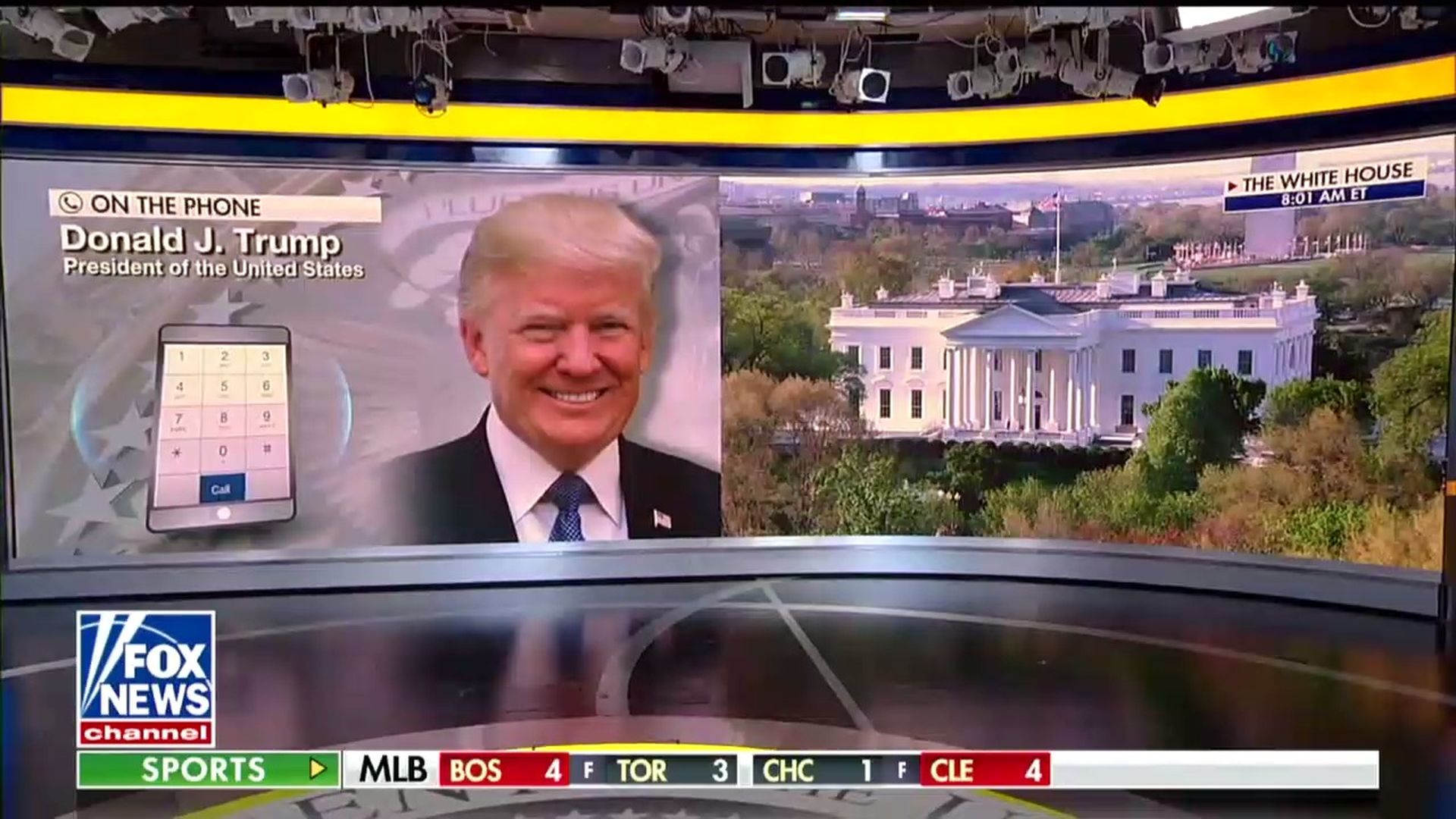 In an expansive interview with the hosts of Fox & Friends this morning, President Trump addressed some of the biggest issues of his presidency, publicly using Stormy Daniels' name for the first time and providing additional details on his potential upcoming summit with North Korean leader Kim Jong-un.
Between the lines: Trump was clearly in his element. He held forth so freely that it was the Fox & Friends hosts who had to end the call after half an hour, telling the president, "We could talk to you all day, but it looks like you have a million things to do."
Stormy Daniels
Trump publicly used Stormy Daniels' name for the first time — and confirmed that Michael Cohen had worked for him on the issue: "As a percentage of my legal work, a tiny, tiny little fraction, but Michael would represent me and represent me on some things. He represents me, like with this crazy Stormy Daniels deal, he represented me. You know, from what I see, he did absolutely nothing wrong. There were no campaign funds going into this, which would have been a problem."
On Cohen pleading the Fifth: "Because he's got other things. He's got businesses, and, from what I understand, they're looking at his businesses."
Kim Jong-un
Trump mentioned that Secretary of State-designee Mike Pompeo and Kim Jong-un talked for "more than an hour" during their meeting in North Korea earlier this month. He added that there are "incredible pictures" of the meeting, musing in real time that he'd like to release them.
James Comey
On Comey's memos: Trump said that he never told former FBI Director James Comey that he did not stay overnight in Moscow when he traveled there in 2013 for a beauty pageant: "Of course I stayed. I stayed there a very short period of time, but of course I stayed. His memo said I left immediately. I never said that."
Trump's stay in Moscow is central to the most salacious of the Steele dossier allegations against him, which state that he viewed obscene acts by prostitutes in a Ritz Carlton hotel room previously occupied by President Obama.
Ronny Jackson
"I even told him a day or two ago. I saw where this was going ... You could take the head of the biggest hospital corporation of the world, and it's peanuts compared to the VA. So nobody has experience. You know it's a big monster."
Kanye West
"When you go back to the Civil War, it was the Republicans that really did the thing. Lincoln was a Republican. Somehow it's changed over the years ... Kanye looks and he sees black unemployment at the lowest it's been in the history of our country, okay? ... He sees that stuff and he's smart."
Go deeper