How China trapped Sri Lanka under a mountain of debt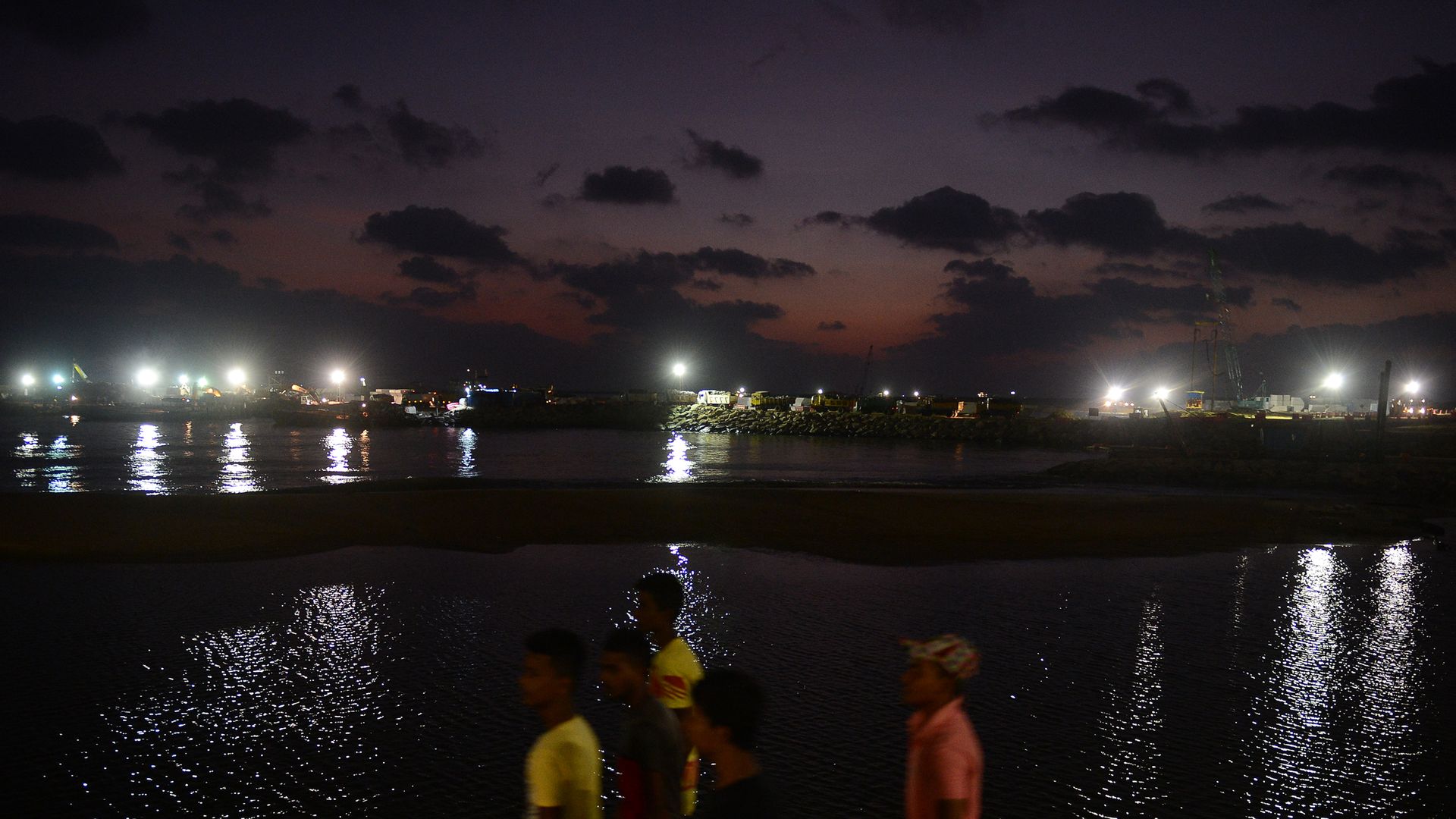 Sri Lanka's economy is struggling under the weight of massive debts owed to China, with the rupee hitting an all-time low on Monday.
The big picture: As the small South Asian country's economy spirals downward, it's freeing itself from debts by selling Chinese-funded infrastructure projects back to China, giving Beijing influence over strategic ports close to its rival India's shores.
The trap
There are two big economic problems in Sri Lanka. Shailesh Kumar, a South Asia expert at the Eurasia Group, broke it down for Axios:
Huge debts, largely due to big-ticket infrastructure projects that China funded as part of its trillion-dollar Belt and Road Initiative.
Falling foreign currency reserves, which it uses to buy imports. That's an indicator of poor economic health, and it's leading to a drop in the value of the Sri Lankan rupee.
Shrinking foreign currency reserves forced Sri Lanka to lease the Hambantota port — largely funded by the Chinese — to Beijing for 99 years in December 2017. India fears that China will use its control of the port to establish a military presence in the Indian Ocean.
The depleted reserves have also pushed the International Monetary Fund to step in and offer to replenish the funds to keep Sri Lanka out of an economic crisis.
But the IMF's cash comes with conditions that Sri Lanka modernize its tax code and raise gas prices to increase government revenue. Sri Lanka's leaders, caught in a tense political climate amid the economic downturn, are reluctant to agree to those terms.
What to watch
The IMF could stop sending cash to Sri Lanka if its government doesn't play by the rules.
Sri Lanka could sink deeper into debt with the Chinese if it picks up more infrastructure projects. "At the end of the day, the Chinese keep showing up with money, and Sri Lanka needs to accept it because they need to have economic development," Kumar said.
Go deeper: South Asian flash points in the India–China rivalry.
Go deeper