Some Democrats want to punish opioid makers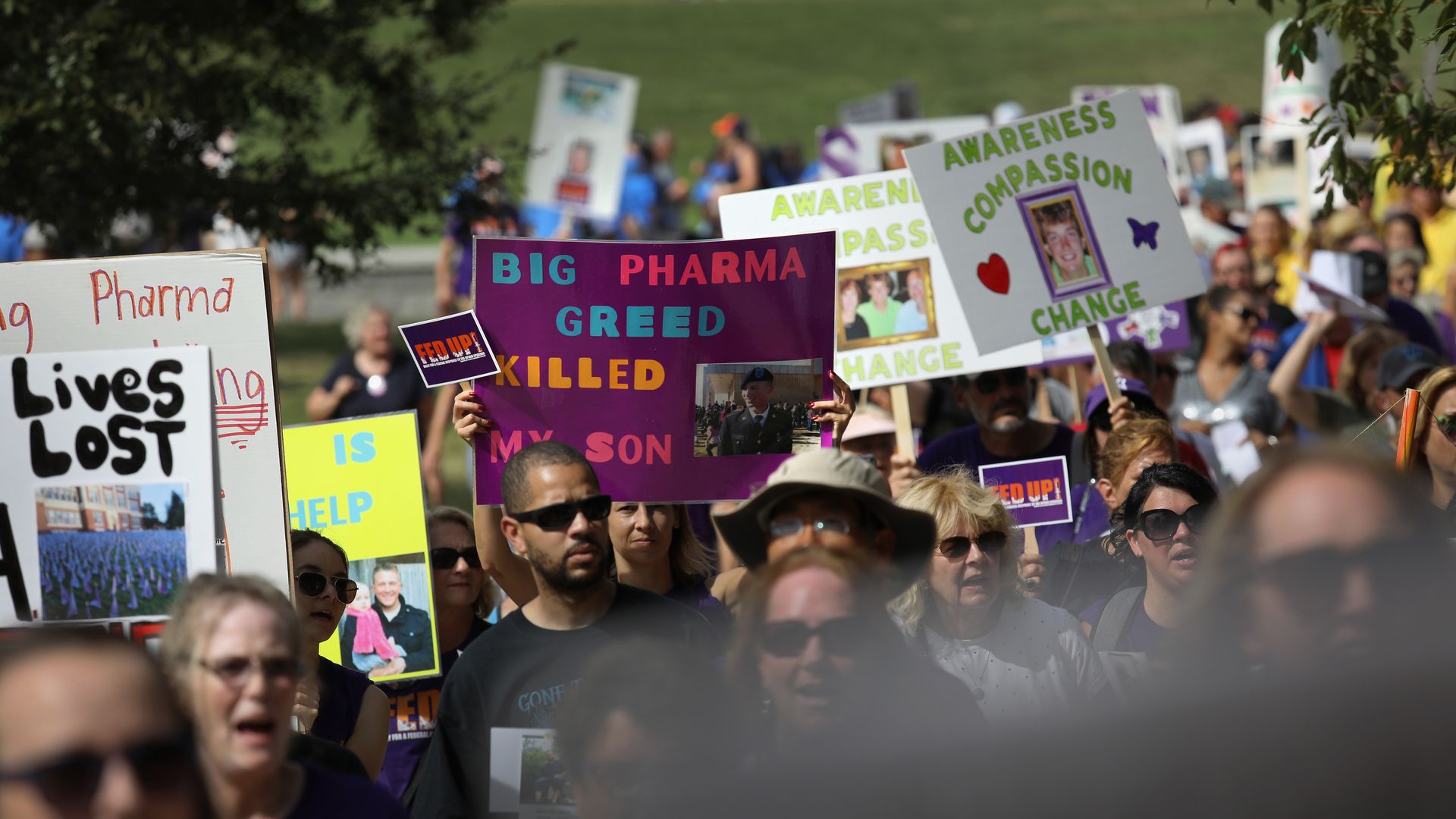 Some liberal lawmakers want to add more punitive action — like fines and heavy industry regulation — to Congress' response to the opioid epidemic.
Between the lines: This congress isn't going to pass anything like the bill that Sen. Bernie Sanders introduced last week. But liberal support for such a measure could grow as the industry players who pushed and profited from opioid sales continue to go undisciplined by Congress.
Where it stands: Congress' work right now is largely focused on curbing the epidemic and treating those addicted.
The Energy and Commerce Committee is also investigating drug distributors in West Virginia. Committee chairman Greg Walden has said bad actors should be held accountable, and drug distributor CEOs will testify before the committee next month.
Sen. Claire McCaskill is leading an investigation into opioid manufacturers and distributors. She told me this week she'd like to see the results before she comments on whether punitive action should be taken.
There are several pending court cases against opioid makers across the country.
Yes, but: Some Democrats – like Sanders – want to go further. He has proposed fines on drug companies that falsely market opioids as nonaddictive; criminal liability for top executives; and a $7.8 billion fine for any company that is found liable for contributing to the opioid epidemic.
Why you'll hear about this again: Cosponsors of the Sanders bill include Kamala Harris and Kristen Gillibrand.
But it's not just the presidential hopefuls getting on board. Sen. Ron Wyden last week compared opioid makers to tobacco companies and said that "the executives need to be brought before [Congress] and held accountable."
"Congress would be derelict in its responsibilities if it pretends there is no profit motive or corporate scheming behind this addiction crisis," Wyden said.
And the moderates? Sen. Joe Manchin has a bill that would impose a one-cent tax for each milligram of opioids in a pain pill. The funds raised by the tax would then be used for substance abuse treatment. Cosponsors include Democrats across the ideological spectrum, like Amy Klobuchar, Heidi Heitkamp and Elizabeth Warren.
"I view it as, the justice system will take care of part of this with lawsuits, but I think the other piece of it is doing something to get money for treatment," Klobuchar told me last week.

Go deeper