Trump's foreign policy tangles with his own cabinet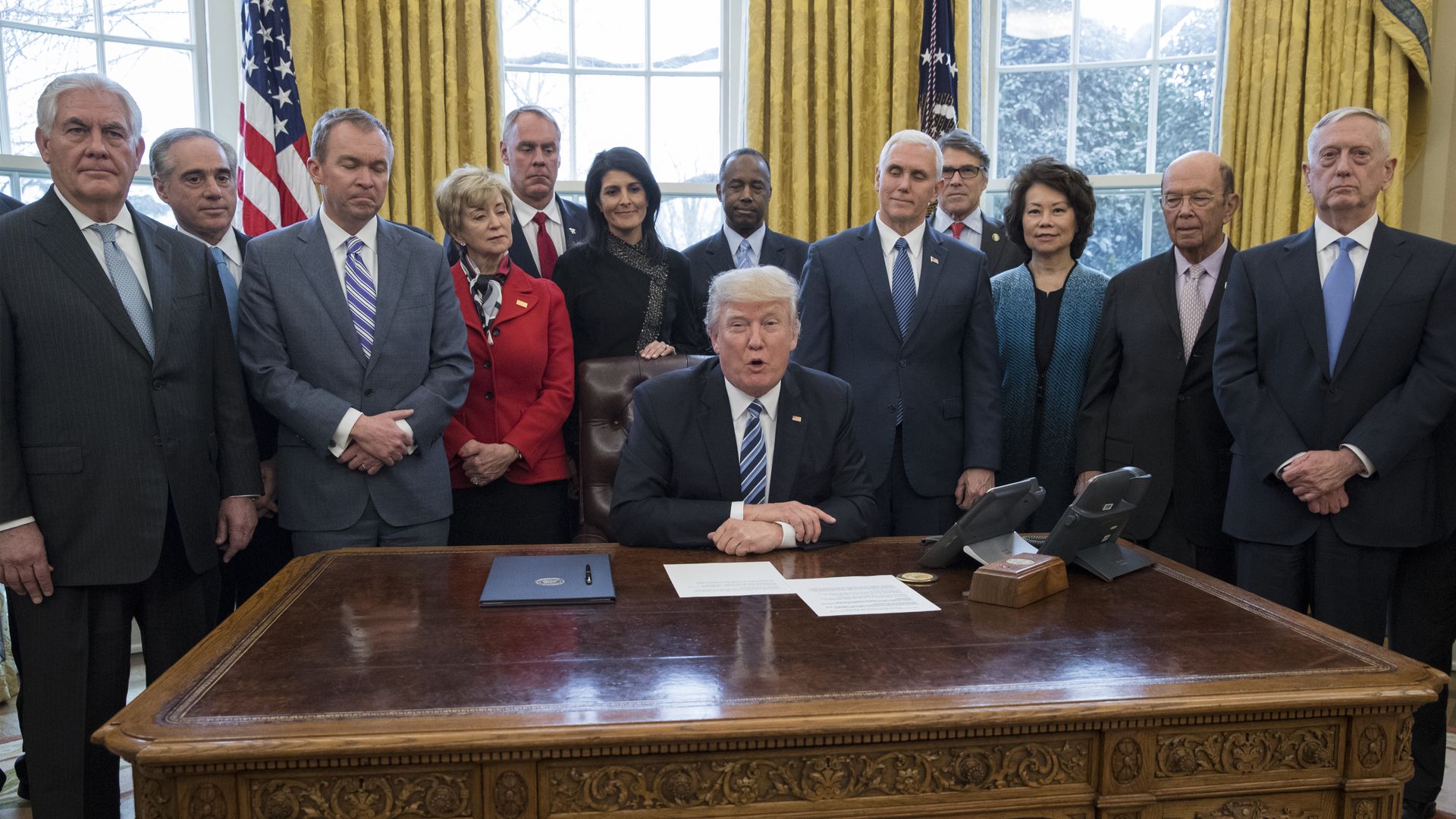 President Trump is striking back against his cabinet over foreign policy decisions, crossing UN Ambassador Nikki Haley on Russia sanctions and overruling Defense Secretary Jim Mattis on congressional approval for Syria airtstrikes.
The bottom line: These conflicts with top aides — one of them unfolding in the open — show that, in the end, the president will govern how he wants.
Trump vs. Haley: "Sanctions Flap Erupts Into Open Conflict Between Haley and White House," per N.Y. Times' Peter Baker, Julie Davis and Maggie Haberman:
"Trump was watching television on Sunday when he saw Nikki R. Haley, his ambassador to the United Nations, announce that he would impose fresh sanctions on Russia. The president grew angry."
Why it matters: "It was not the first time Mr. Trump has yelled at the television over something he saw Ms. Haley saying."
Trump vs. Mattis: "Defense Secretary Jim Mattis urged President Trump to get congressional approval before the United States launched airstrikes against Syria last week, but was overruled by Mr. Trump," per N.Y. Times' Helene Cooper:
"Trump, the officials said, wanted to be seen as backing up a series of bellicose tweets with action, but was warned that an overly aggressive response risked igniting a wider war with Russia."
"Friday night's limited strikes on three targets, which lasted under two minutes, were the compromise."
"The debate reflects a divide between Mr. Trump and the defense secretary, who, like no other member of the cabinet, has managed to maintain a cordial relationship with the president even while reining him in."
P.S. An apology: After White House economic adviser Larry Kudlow said at a briefing near Mar-a-Lago (press center at Hilton West Palm Beach) that Haley might have suffered "momentary confusion," Haley told Fox's Dana Perino: "With all due respect, I do not get confused."
Kudlow told Axios' Mike Allen from Mar-a-Lago that he called Haley to apologize after hearing her response: "I intended to call her, anyway. I've known her for years — she came on my show. On second thought, I don't think she was confused. I'm not sure she had all the information. ... It's over. She's very effective."
Go deeper