Trump and Abe's scandal-stained summit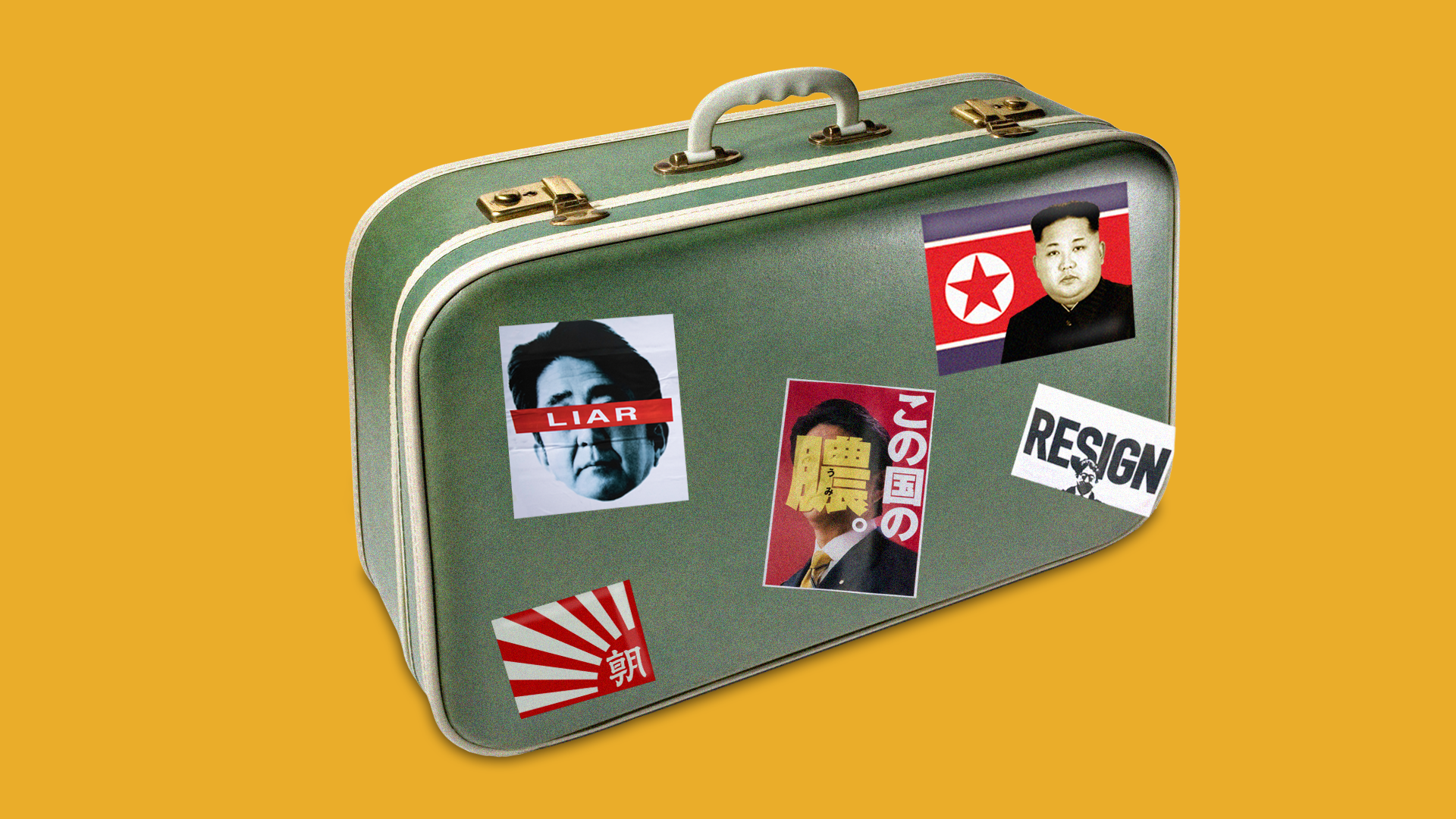 The Mar-a-Lago summit beginning today between President Trump and Japanese Prime Minister Shinzo Abe brings together two leaders mired in scandal — and itching for political wins.
The bottom line: By all appearances, this is a summit on foreign policy and the North Korean nuclear threat, but everything these two leaders put on the table is going to be framed by their respective domestic woes.
If you're looking at Abe standing there at the podium in Mar-a-Lago, you need to know that a large part of his brain is occupied by his own political troubles.
— Dan Sneider, a Japan expert at Stanford
What's on Abe's mind
The scandals:
Accusations of cronyism are plaguing the Japanese leader after it was revealed that his name and his wife's name were wiped from government documents relating to the discounted sale of state-owned land to a close friend of the family.

The Japanese finance ministry admitted to falsifying the documents, though Abe has denied any involvement.

And a top finance ministry official is facing allegations of sexual harassment from several female journalists, reports Reuters' Linda Sieg. He has denied the claims.
Where things stand:
Public support for Abe has reached a six-year low, with opinion polls placing his approval ratings below 30%. His popular predecessor, former Prime Minister Junichiro Koizumi, told a Japanese magazine that he predicts Abe will be out by the end of June.
Abe's biggest selling point to Japanese voters is that he's a Trump whisperer, adept at managing Japan's crucial alliance with the United States, Sneider says.

But that's being called into question. Tokyo was not exempted from Trump's steel and aluminum tariffs, and just days before the leaders' summit, Trump tweeted that Japan "has hit us hard on trade for years!"
The issues on the table
The two nations are attempting to work together to address the North Korean nuclear crisis, but they're sparring on trade.
The U.S. is looking to negotiate a bilateral free trade agreement with Japan, according to the Council on Foreign Relations.
But the Japanese staunchly oppose that idea, as it would strip away leverage and could force them to make concessions to the U.S. on access to the global agricultural and automobile markets.
Trump is flirting with the idea of re-joining the Trans-Pacific Partnership, which Tokyo is encouraging with caution. After Trump pulled the U.S. out of TPP, Japan led the negotiation of a new deal among the 11 remaining signatories and struck an independent trade deal with the EU.
Tokyo will be reluctant to give up its new power and once again let the U.S. take the top negotiating spot. And "Japan exercised its leadership to shape a new bargain in the TPP and believes any attempt to reopen the agreement will endanger those hard-won gains," says Sneider.
Abe needs two things from Trump on North Korea so he can show voters back home that he's still capable of negotiating with the U.S.:
Support of Tokyo's effort to rescue Japanese abductees from North Korea.
Commitment to keep Tokyo in the loop as plans for a summit between Trump and Kim Jong-un move forward.
Go deeper